Valorant is soon to enter Episode 5, and it's been a hot minute since developer Riot Games has added a new map to its hit competitive FPS game. However, that is soon to change, with map number eight – called 'Pearl' – on the way. Indeed, the Valorant Pearl map release date is coming real soon.
As with anything shiny, new, and Valorant-related, data miners and leakers have been hard at work bringing to light as many details surrounding both the Valorant Pearl map release date and what the new map entails as possible. Originally codenamed 'Pitt', it looks like we could soon be heading below Portuguese waters into a whole new sub-aquatic arena.
Naturally, we've scoured only the most reputable sources when putting together this guide, which will prep you with everything you need to know about the new Valorant map, including all of the teasers Riot has sneakily been dropping about it, any trailers the developer has dropped, details on the map itself as well as its location, and of course that all important release date.
VALORANT PEARL MAP RELEASE DATE
The Valorant Pearl map release date is June 22, 2022. Riot has confirmed that the map's release date coincides with the arrival of Episode 5 Act 1.
As with previous map releases, Pearl won't immediately enter the competitive map rotation for a couple of weeks – until July 12 with Valorant patch 5.01, to be precise.
To give players time to warm up to the map before they take the plunge, Pearl will be getting its own dedicated queue in the meantime.
VALORANT PEARL MAP DETAILS
Pearl is set beneath the Portuguese waves on Omega Earth. Riot says there are no special mechanics like doors or teleporters, just three simple lanes – one small mid lane, and two long range lanes on the flanks. However, there is an element of verticality, as Attackers have to descend into Defender territory on this two-site map.
In-keeping with its Portuguese roots, Pearl will also feature murals from Portuguese muralists, and the map's music is a piece of traditional Portuguese fado, produced by local artists.
VALORANT PEARL MAP TRAILER
You can check out the Valorant Pearl map trailer below.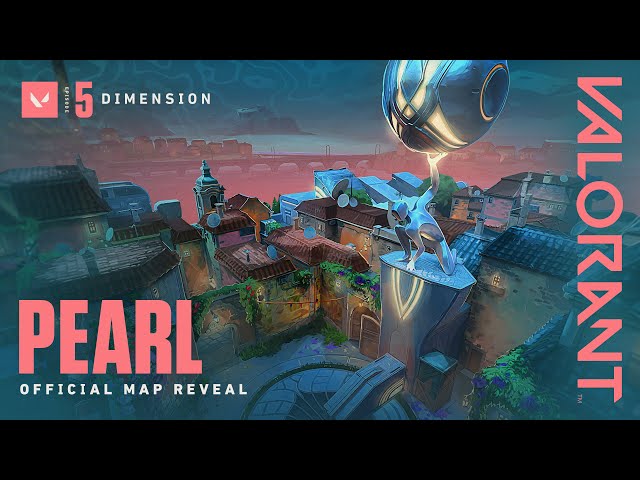 Alongside the trailer, Riot has dropped a number of screenshots showcasing Pearl in its full glory.
VALORANT PEARL MAP LOCATION
The Valorant Pearl map is set in Lisbon, Portugal on Omega Earth. Although we know for sure that the map is based in Portugal, a number of teasers – both in-game and on social media – have heavily hinted that its capital is where the new map is more-specifically located. More on those below.
VALORANT PEARL MAP TEASERS
The teasers for Pearl can be sorted into two categories: those officially shared by Riot on social media, and those hidden by the developer in-game.
IN-GAME TEASERS
While we could go through each in-game teaser for Pearl, we'll leave it to the pros this time. Below you'll find a comprehensive Twitter thread put together by Valorant associate narrative writer and lore maestro 'Cynprel' in conjunction with ValorLeaks.
Here, you'll find the clearest hints that the next map will be based in Lisbon, Portugal.
Teaser 1 // Oct. 2021

The first teaser was delivered in a dev blog post about Fracture's development.

The standout email was this one from Rúben's niece, Aurora. It detailed a Lusophone country with a geo-dome used to avoid a harsh climate on Ω-Earth. pic.twitter.com/SyybF5ieCo

— ValorLeaks | Valorant Leaks & Info (@ValorLeaks) May 19, 2022
Teaser 2 // Nov. 2021

In Killjoy's Lab, in the Arcane visual novel, a set of coordinates could be seen on a support beam.

38º 42' 5.4" N 9º 8' 24.19" W

This helped us narrow down the list of Lusophone countries to just Portugal. Landing us in the capital, Lisbon. pic.twitter.com/midyAwc5Ax

— ValorLeaks | Valorant Leaks & Info (@ValorLeaks) May 19, 2022
Teaser 4 // The Alpha-Omega Bridge

This isn't so much a single teaser, but rather the progression of the narrative telling us fairly explicitly, that the next map will be on Ω-Earth.

Chamber, undoubtedly with ulterior motives, provided blueprints for a teleporter — pic.twitter.com/LOpbs8mKM6

— ValorLeaks | Valorant Leaks & Info (@ValorLeaks) May 19, 2022
Teaser 5 // Yellows on Rails

This card, found at the end of the current battlepass, depicts the Eléctrico 27 Tram carrying Rúben and Oran through an underwater tunnel.

There's a ton of lore to unpack here. Avoiding a tangent: These yellow tram cars are famously from Lisbon! pic.twitter.com/gmGi5nzfMl

— ValorLeaks | Valorant Leaks & Info (@ValorLeaks) May 19, 2022
There is a ton more to say about the lore in and around this next map, but Twitter is not the ideal platform for it.

Want to know more? Have questions? Catch me live on Twitch *right now!* Also, stay up to date with VAL Lore by following me: @cynprel ♥️https://t.co/8TngRIXzIi

— ValorLeaks | Valorant Leaks & Info (@ValorLeaks) May 19, 2022
SOCIAL MEDIA TEASERS
The first inkling that Valorant's new map would be nautically-themed came at the end of May, with Riot sharing that "something special's bubbling up" in the popular competitive FPS game. In the attached image, a trio can be seen huddled around a large tank of various marine life. Some have been quick to point out this could be Lisbon's Oceanarium.
Something special's bubbling up in VALORANT. Get ready for Aquarium week. pic.twitter.com/xuDUoT4B1X

— VALORANT (@PlayVALORANT) May 23, 2022
However, a day later the studio throws us off the scent, revealing the Neptune bundle.
Pick up the Neptune bundle before it sets sail. Available in your shop tomorrow. pic.twitter.com/RpMKgTRtI4

— VALORANT (@PlayVALORANT) May 24, 2022
But Aquarium week continues, and players are soon asked to name Neptune's familiars. Seems… fishy.
Neptune's familiar friends need names. Whatchu got? pic.twitter.com/RYmdtSg73N

— VALORANT (@PlayVALORANT) May 26, 2022
As Aquarium week ends, Riot leaves us with a final glimpse at those four Neptunian familiars, leaving a kelpful (sorry) hint that we could be about to discover "an entirely different world" underwater. The final two words are in Portuguese – Até logo, 'see you soon'. Uh-huh.
There's lots to discover under the water–it can almost feel like an entirely different world.

Até logo. pic.twitter.com/U5saea5XBk

— VALORANT (@PlayVALORANT) May 28, 2022
Last week, Riot was back at it again, dropping a Portuguese Kingdom Industries poster captioned "prepare to dive." The text, as helpfully translated by Twitter user 'gaberillaz', reads (from top to bottom): "Celebrate our city, the wonder beneath the waves. Sanctuary Day. Kingdom Industries, your future is safe."
Prepare to dive. pic.twitter.com/USlBF0jJWi

— VALORANT (@PlayVALORANT) June 9, 2022
Then there's this flagrant little number. "Which agent would you rather go scuba diving with?" Riot isn't even trying to hide it at this point.
You gonna dive in without a buddy? That's just bad scuba. Pick an Agent to take with you. pic.twitter.com/Inet8uT81i

— VALORANT (@PlayVALORANT) June 11, 2022
Finally, and most recently, we get this gorgeously-festive shot, with the Sanctuary Day poster displayed on a window.
— VALORANT (@PlayVALORANT) June 14, 2022
And that's all we have for now on the Valorant Pearl map release date, alongside all of the details and teasers currently available in-game and out. While you're waiting for the new map to drop, make sure your best Valorant crosshair is set up properly, and take a look at our how to get better at Valorant guide if you're still struggling in the Valorant ranks.