Sova mains will be breathing a sigh of relief after Valorant developer Riot Games announced last night via Twitter that it would be pulling some of its planned changes to the Initiator ahead of Valorant patch 4.08. The proposed tweak to Sova's bow animation had been criticised by his most ardent players for the effect it would have on a number of his lineups.
Early access footage from the upcoming patch has confirmed a number of nerfs to Sova's kit, but an unintentional nerf came through a new animation Riot had added to the agent. The updated version of Sova would see the agent obscure the left side of the bottom portion of the HUD when he took out his bow. With Sova mains using this area as a point of reference for a slew of lineups, hours upon hours players spent perfecting them were gone in an instant.
Among the biggest critics of the proposed change was Team Liquid content creator and lineup aficionado Jonas 'AverageJonas' Navarsete, who yesterday took to Twitter to ask for its reversion. Fortunately, his prayers – and the prayers of Sova mains all over – were answered last night when it was announced that the change would be removed – much to the joy of AverageJonas.
You can see the pulled change compared to how Sova's animation currently looks on the live servers at 2:28 and 2:35 in this video from 'GameLeap'.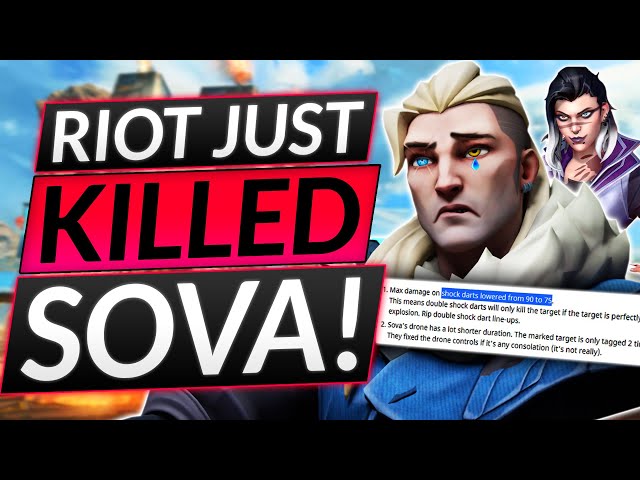 This does not, however, mean Sova is off the hook in the next Valorant patch notes. (Q) Shock Bolt's maximum damage has been dropped to 75 from 90 – making double shock kills only possible if the enemy is directly in the center of its explosion. Meanwhile, Sova's (C) Owl Drone now only lasts for eight seconds, and enemies you tag with the drone will only have their locations pinged twice instead of thrice as it was before.
While Sova is still getting hit with the nerf hammer, his most fervent players can rest easy knowing that those all-important lineups aren't going anywhere for now.