Everyone, be nice and say hello to Killjoy, Riot's next agent for its FPS Valorant. Incredibly stylish and smart, Killjoy looks like a heavily defensive character whose abilities allow her to engage the enemy without even seeing them.
Riot had already ruined the surprise of Killjoy through leaking her abilities, but now we have official confirmation of her being the next agent, what she looks like, and more importantly how cool her yellow jacket is.
In the previous leak, she talks to Brimstone, teasing him on how overcomplicated his plans are when she's already prepared for any tactical situation. Now we know that she's that confident because she's an inventor with an arsenal of inventions at her disposal that both attack enemies, and debuff them.
The final wording of her abilities says this:
Alarmbot – EQUIP a covert Alarmbot. FIRE to deploy a bot that hunts down enemies that get in range. After reaching its target, the bot explodes, applying Vulnerable. HOLD EQUIP to recall a deployed bot.
Turret – EQUIP a Turret. FIRE to deploy a turret that fires at enemies in a 180-degree cone. HOLD EQUIP to recall the deployed turret.
Nanoswarm – EQUIP a Nanoswarm grenade. FIRE to throw the grenade. Upon landing, the Nanoswarm goes covert. ACTIVATE the Nanoswarm to deploy a damaging swarm of nanobots.
Lockdown (Ultimate Ability)- EQUIP the Lockdown device. FIRE to deploy the device. After a long windup, the device Detains all enemies caught in the radius. The device can be destroyed by enemies.
As with any agent you can work to unlock her through XP, and doing the Agent contract gets you three sprays, two titles, a gun buddy, a player card and of course the agent herself. She's even got her own Spotify playlist.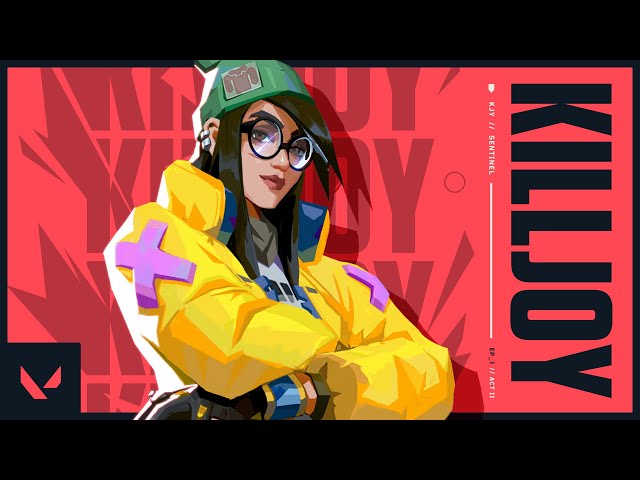 When will Killjoy be released? She'll be up and running in the game on August 4, according to Riot. We can't wait to have a play with her and see what she can do – no doubt she'll be a game-changer.