Valorant Episode 6 is almost here and we've got plenty of thrilling updates to look forward to. One of which is the arrival of the new map Lotus, bringing a new three-site experience to Valorant for the first time since the game's launch.
Developer Riot Games will debut Lotus on the Valorant Episode 6 Act 1 release date, which is the ninth map to drop for the popular competitive FPS. According to the developer, Lotus is set within the "Western Ghats of Omega Earth's India." To bring Lotus to life a wide range of inspirations have been used, such as "Indian step-wells, rock-cut architecture, and Dravidian style structure."
Like one of the game's launch maps, Haven, Lotus utilises three-sites for maximum action thrills rather than the standard two. Around the map, players will be able to experience "new environmental mechanics such as rotating doors and destructible walls" as they strive for victory.
"We aimed to make a map with high flexibility and movement for both teams," says level designer Joe Lansford. One of the map's biggest influences, to our surprise, is the fictitious legendary adventurer Indiana Jones.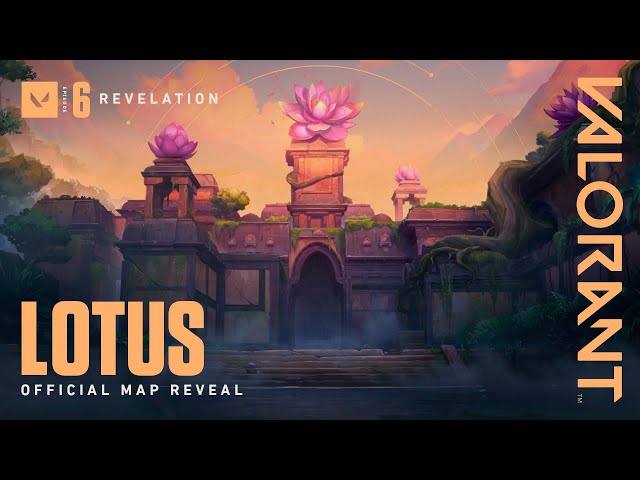 Lansford explains that "Indiana Jones was one of the thematic inspirations we drew from. Visually, we found the rock-cut architecture fascinating because it evokes a mystical and ancient vibe to the theme."
However, Lotus' more fantastical aesthetic almost wasn't to be, as Lansford reveals that Riot was "originally envisioning a space station and [it] had an airlock mechanic that shut down large areas of the map." Though this idea was scrapped, who knows, maybe we'll be going galactic in the future.
The year ahead for Valorant is already shaping up to be promising, with Valorant finally gaining approval in China signposting big changes going forward. Esports stars are having their say too, as they detail what they want to see in 2023's season. In the meantime, keep in the loop with the latest Valorant Night Market dates.