2021 has shown once again that Riot Games can do lots of things aside from making videogames really well, with its music team in particular showing why it's one of the best in the game right now. Netflix series Arcane was a smash hit, as was its absolute banger of a soundtrack. And let's not forget the League of Legends Worlds 2021 anthem, 'Burn It All Down', which was an inspired collaboration between the studio and pop rock duo PVRIS.
But that's all in the past, and what Valorant esports fans are eager to know is 'what about the Valorant Champions anthem?' Well, the wait is over, and now Riot has debuted 'Die for You' – produced in collaboration with electronic music producer, instrumentalist, and vocalist Nicholas 'Grabbitz' Chiari. Trust us, it slaps.
Accompanying the track's deep electronic rock soundscape is its beautifully-animated video. Set on Split's B Site, Brimstone, Phoenix, and Sage are pushing into an Operator-wielding Chamber for a retake. Sporting a Judge, Spectre, and Sheriff respectively, it looks like our defenders are on a half-buy at best – desperate times.
Like any good duelist, Phoenix pops his ultimate to push the site and figure out where his team's assailant's hiding. Chamber lets off a round, which heads straight for Phoenix as Brimstone and Sage look on aghast. For much of the video, we then see each agent – and the players piloting them – appear to overcome their internal quandaries, culminating in one final push to defuse the spike.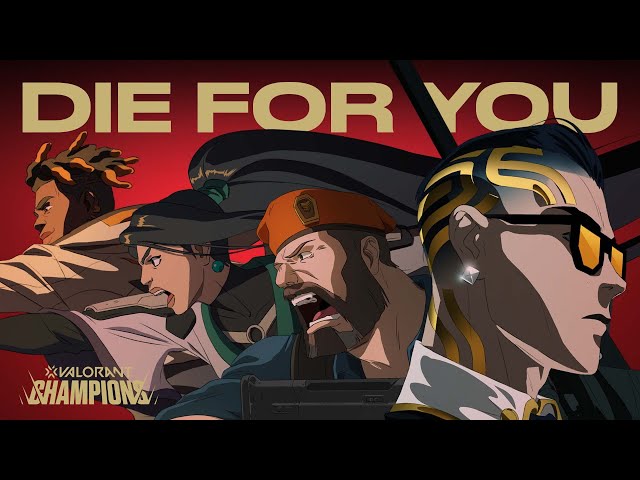 According to Riot, this year's Valorant Champions Tour finale will be Die for You-tinged at various points throughout. "When the final kill is recorded on a map, the Die for You music video will appear. When players look at the exclusive Championship skin for the popular Vandal rifle, the anthem will play." Sounds like we'll be parting with our hard-earned VP for spicy new Valorant skins soon.
On top of all of this, Riot says that Die for You will be mixed into other events, including a live concert at Berlin's Verti Music Hall with a 'surprise lineup of artists'. With Mike Shinoda recently appearing at the Arcane premiere event, we're hoping that a little bit of Linkin Park action is on the way.