Excel Esports' League of Legends team finally broke its curse in the LEC this past spring, and made playoffs for the first time since its entry into the league in 2019. Though it faltered at the first hurdle against Team Vitality, the team is clearly moving in the right direction. During the lengthy break between the 2022 LEC Spring and Summer Splits, Excel shipped its team, including springtime addition Mihael 'Mikyx' Mehle, off to Korea to boot camp ahead of the second half of its 2022 campaign
Although Mikyx's voyage east got off to a rocky start, with the Slovenian's luggage getting lost for the first few days of the trip, he tells The Loadout he was just happy to enjoy some quality time with his team and, of course, revel in the top-level practice promised by Korea's League environment.
"Soloq was much more enjoyable to play than in Europe," Mikyx says, "and we also got some good scrim partners, so we learned a lot from it." During one of Excel's boot camp vlogs, the player reveals the team had been performing well against some of the LCK's lower-tier teams. Finn 'Finn' Wiestål', meanwhile, proudly stated on Twitter that he had just witnessed Erlend 'Nukeduck' Holm "omega gap" Lee 'Faker' Sang-hyeok.
But playing League hasn't been the only thing Mikyx has been up to while in Seoul. Between catching up with fellow countrymen Tim 'Nemesis' Lipovšek and Juš 'Crownshot' Marušič, pulling up a pew in LoL Park, and meeting up with DRX duo Hong 'Pyosik' Chang-hyeon and Hwang 'Kingen' Seong-hoon, Excel's Korea trip has been both a culturally and socially-enriching experience for the player.
Slovenian reunion after 2 years 🥺🥺 pic.twitter.com/L7qlFkc0eC

— Crownshot (@CrownshotLoL) May 16, 2022
"It was really nice to see both of them [Nemesis and Crownshot] because we hadn't seen each other for a few years," Mikyx says. "The only awkward part was we were far apart, and I really can't be arsed to drive an hour to their place because I'd prefer to play soloq, but they were down to come to my place so that was nice."
Mikyx also managed to reunite with former G2 coaches Fabian 'Grabbz' Lohmann and Christopher 'Duffman' Duff as Team BDS was also bootcamping over in Korea, though Luka 'Perkz' Perković was unable to make it. By the looks of Perkz's Twitter, however, it seems he and Mikyx have been spending plenty of quality time on the Rift together to make up for it…
But this isn't the only back and forth over social media Mikyx has been enjoying recently, regularly bantering with fellow team mate Mark 'Markoon' van Woensel on the bird app like an old married couple. "Markoon thinks he only tweets out bangers," he says, "so whenever he tweets something out I have to respond. I don't really respond to people except for those that I can make fun of a little bit on Twitter – he just happens to be the prime suspect."
Though Mikyx enjoys lightly ratioing his jungler from time to time, the bond between himself and the rest of the team has clearly grown since the spring. The player says that his relationship with his comrades on the Rift is "quite natural", and they spend a lot of time together. Remaining on-brand, Mikyx has even gotten some of the team – Finn, Markoon, and occasionally Joey 'YoungBuck' Steltenpool – watching anime.
"So the first one that I introduced to the squad was Ranking of Kings," Mikyx notes, "but we stopped halfway for now because it's hard to align our schedules. Other than that, Finn, Mark and I watched Haikyuu – that's really hype – and Attack on Titan. Next we're planning to watch Fate/Zero."
Perhaps the thing Mikyx spoke most enthusiastically of while he was in Korea wasn't to do with League, nor was it to do with the cultural centres – such as the stunning Gyeongbokgung Palace – the team visited. No, it was the food, and there was one not-so-local delicacy which the player tells us with a chuckle he voraciously consumed throughout the trip on a regular basis: meatball subs from Subway. "Subways in Korea have meatball sandwiches which I can't get in Germany," he says, "so that was my most eaten meal because it's fast and it's good as fuck." Fair play.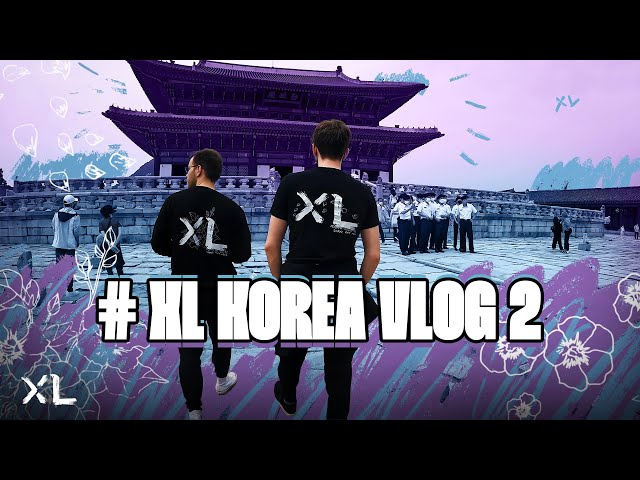 So with both good food and a fire stoked by top-level practice in the bellies of Mikyx and Excel, where does this leave the team coming back into the 2022 LEC Summer Split?
Well, considering the stacked superweek lineup of Misfits, Fnatic, and G2 Esports the team is set to face in Week 1, Mikyx remains unsure how well the team will transition its scrim successes onto the stage. One thing he is certain of, however, is that Excel "can completely destroy" G2 – though it depends on if Mikyx's former side will perform like it did in its MSI 2022 Rumble Stage wins over RNG and T1 or not.
As for the rest of Europe's teams – many of which have strengthened their rosters during the break – Mikyx is expecting stiffer competition for those all-important Worlds spots. "I feel like most teams got better," he notes, "and hopefully we're much better than last split as well, so it'll be interesting."
The tides of change haven't washed only over the LEC teams, but over League's meta as well. With patch 12.10's Durability Update shaking up the Rift, it'll be fascinating to see how pros take to its altered landscape when the waters settle.
Mikyx is also excited by the changes, and says current patch 12.11 – which the team is currently playing on – "is gonna be a nice little patch with a lot of variety." He specifically notes that champions with weaker laning phases have been emboldened by the patch and are more likely to feature than before – a cursory glance even at current soloq win rates can go a long way to confirm that hypothesis.
Although the Durability Update can be considered a mini-preseason, Mikyx hasn't felt strained by the changes coming so close to the Summer Split. If anything, he relishes the opportunity to figure out what's broken on the latest patch.
"The most fun part about playing League is, whenever there's a new patch, you want to be the first one to find something that is OP so you're theorycrafting all the time," Mikyx says. "I think we have a pretty decent idea of what's strong, and we're probably gonna show it in Week 1."
You'll be able to see what Mikyx and Excel bring out against its trio of opponents when the LEC returns for the 2022 Summer Split this Friday. In the meantime, check out our interview with lead gameplay producer Ryan 'Reav3' Mireles on new League champion Bel'Veth.