If you can believe it, Warframe developers Digital Extremes are going to release a new game in the future called Soulframe. Yes, that's right, the team behind the ever-popular action RPG MMO are developing another game. With the developer describing this new game as less of a sequel and more of a parrallel, there's a lot to look forward to. So, that's why we have absolutely everything you need to know about Soulframe below – release date speculation included.
Why should you care about knowing everything you need to know about Soulframe? Well, The Washington Post spoke to ex-Warframe director Steve Sinclair (who's now working on this new project) and it sounds like it's going to be a very exciting game.
" Warframe is a unique, flesh-mech-powered spin on the sci-fi genre; Soulframe will be a suitable strange take on fantasy." If you like the sound of that, and let's be honest who doesn't, then keep reading and we'll fill you in on all the details we know about so far when it comes to the interesting new RPG MMO.
Soulframe release date speculation
At the moment, Soulframe doesn't have a solid release date to talk about – and we don't think we're going to get one for a while. As you can see from this tweet about Sinclair's movement to working on Soulframe, it sounds like development on the title has only really just started.
It's an exciting time for #Warframe as Rebecca Ford transitions to Creative Director while Steve Sinclair and others focus their efforts on a brand new game, #Soulframe.

We'd like to share a letter from each about the future of #Warframe and more. pic.twitter.com/0F5c5nlt8J

— WARFRAME (@PlayWarframe) July 16, 2022
With that in mind, we would be surprised if we saw this game in 2023 – let alone 2022. 2024 seems like a more plausible estimation right now.
Everything we know about Soulframe's genre and setting
Despite there being a significant lack of information when it comes to Soulframe, we actually know quite a lot about the genre and setting players can expect to see Digital Extremes explore in this new title.
When Soulframe was announced, the development team released a six-minute cinematic reveal trailer on YouTube. As you can see below, Soulframe is going to dabble in high fantasy – however, it also looks as though it's going to preserve the slick sci-fi aesthetic ever-present in Warframe in some capacity.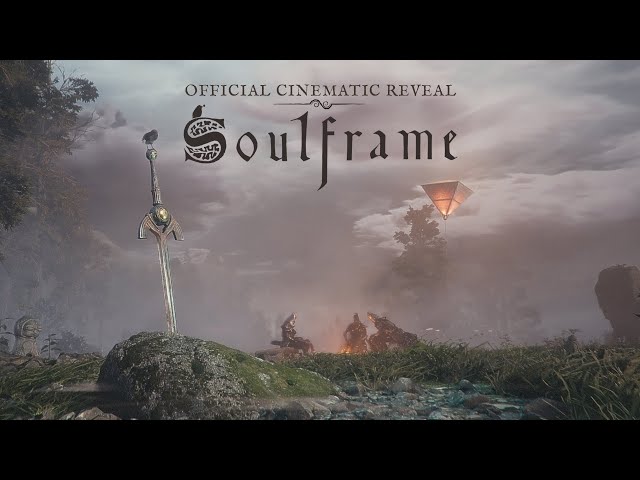 It's quite hard to pinpoint where exactly this game takes its' inspiration from, but it's safe to say that we're obsessed with how it looks and we can't wait to know more. In his interview with Washington Post, which we mentioned above, Sinclair explained that "the game will focus on themes on nature, restoration and adventure as inspired by works like Princess Mononoke and The NeverEnding Story" – however, it doesn't exactly look like either work from what we can see.
Where will you be able to play Soulframe?
Nothing has been announced officially, but Warframe's original PC release was followed by console releases on both current and next-gen consoles. So… We're expecting to see something similar for Soulframe – maybe just on PC, PS5, and Xbox Series X|S.
Xbox Game Pass Ultimate (1 Month) Xbox Game Pass Ultimate (1 Month) Microsoft $14.99 $1.00 Buy Now Network N earns commission from qualifying purchases via Microsoft and other programs.
What will Soulframe play like?
We don't have a lot of information on Soulframe's gameplay, but Sinclair did reveal a little more through his aforementioned Washington Post interview.
"[Soulframe] will share Warframe's focus on cooperative players-vs-environment combat and procedurally generated environments, but it will be the mirror universe version of Warframe… Where Warframe is focused on shooting, this one's focused on melee. Where Warframe is super fast and crazy high-speed, this one's going to be a lot more slow and heavy."
In addition to Sinclair's comments, creative director Geoff Crookes has also pithced in with the following comments.
" There's going to be proceduralism within the cave networks and crevasses and so on underneath the world… [Soulframe will have] a focus on exploration that Warframe never had."
How much will Soulframe be?
Much like Warframe, the current understanding is that Soulframe will be a free-to-play title when it launches. However, things could change so it's best to take this with a pinch of salt until we learn more.
Well, that's everything we know about Soulframe – hopefully we won't have to wait too much longer for a bit more. If you need something to play in the meantime, here's where you can find the best PS5 games and best Xbox Series X games – or at least our opinions on them.