Time really does fly when you're having fun, right? The last Rainbow Six Siege content drop for 2021 is just around the corner, and Ubisoft has revealed it's called Rainbow Six Siege High Calibre. This new operation, poised for Y6S4, promises plenty of new content from new operators, gadgets, and weapons to map remasters and long-awaited features.
While several leaks have surfaced in the run up to the official reveal, we can now confirm your suspicions. Rainbow Six Siege High Calibre will feature a two-armour, two-speed Irish defender called Thorn and she's well equipped to send attackers scrambling with well-placed traps. The operation also features the Outback rework, which should make it a viable Siege ranked map, as well as balance changes to things like Adrenal Surge.
So if you're desperate to find out more about Rainbow Six Siege Y6S4, read on. Here's everything you need to know about the new season, including the Rainbow Six Siege High Calibre release date, Thorn, the Outbreak rework, and more.
Rainbow Six Siege High Calibre release date
When is Rainbow Six Siege High Calibre coming? The Rainbow Six Siege High Calibre release date has not yet been revealed, although we'd expect it to be around mid-December. We do know, however, that High Calibre will be available on the test server on November 9 and there's usually a couple of weeks before the new season is released on test servers.
We'll update this section as soon as we have confirmation from Ubisoft.
Rainbow Six Siege High Calibre release time
Looking for the Rainbow Six Siege High Calibre release time? We don't have the exact date or time just yet, but we'll update this guide as soon as we have a concrete time.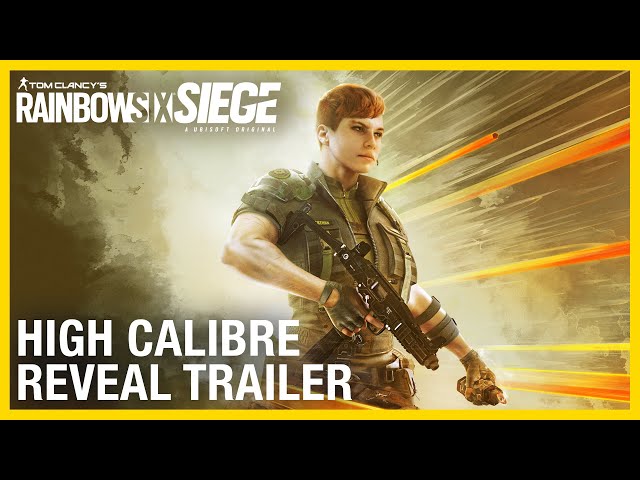 Rainbow Six Siege High Calibre operator Thorn
Thorn is the latest Rainbow Six Siege operator and she flies the green, white, and orange flag of Ireland. This defender, who apparently joined the Garda as soon as she possibly could, is the newest member of Caviera's team.
She fits perfectly into the anti-bully role as her trap gadgets, known as Razorbloom Shells, will have attackers second-guessing their entries. This gadget, of which she has three, is essentially a sticky device that you can throw anywhere – onto walls, floors, and ceilings – and it'll trigger after a short countdown once an enemy walks by.
Thorn has long been likened to Kapkan – one of the other major trap operators – but their gadgets operate in two very different ways. Kapkan's traps are static, and can only be placed in doorways at set heights, whereas Thorn's can be placed anywhere you like. This means the attacking team will find it very difficult to predict where Razorbloom Shells might be hiding.
The Shells can be destroyed before they've had time to detonate, but if one's triggered, the attackers have to make a split decision – take down the trap and reveal their position or run. If you choose the latter option, you'll have to move quickly as the Shells have a blast radius of three metres.
In terms of kit, Thorn boasts a pretty impressive arsenal – including a brand new gun. The UZK50GI is a small, custom-made, .50-cal-type SMG that is super destructive. While it is an SMG, the gun has a slow fire-rate and a small mag – so you'll want to consider your options.
Here's Thorn's loadout:
Primary: UK50GI or M870 Shotgun
Secondary: 1911 TACOPS pistol or C75 Auto
Tactical: Shield or barbed wire
As you can see, Thorn is built with destruction in mind – so you'll want to think carefully about where you want to lay your traps and where your rotation holes are.
Rainbow Six Siege High Calibre Outback rework
We've known about the Outback rework for a while, but we'll finally be able to get our hands on it in High Calibre. The map has been given quite the makeover because many players found it "hard to navigate" according to Jeremy Dowsett, senior level designer.
To help people get to grips with the map, which designers want to turn into a Pro League level, the outside has been decluttered, and the inside has been reworked to give it a more natural navigational feel.
Garage has been reworked completely as data suggested it wasn't picked as a bomb site very often, Office and Party Room have been adjusted so they're easier to defend, and Terrace is no longer completely outdoors.
There are a lot of changes coming to the map, but as you can see from the reveal video, the map has generally been tidied up, making the map cleaner and improving visibility for all.
Rainbow Six Siege High Calibre changes
There are plenty of other changes coming to Rainbow Six Siege High Calibre from balance changes to new features. Here are the key ones:
Adrenal Surge changes: Finka can now self-revive
Valkyrie changes: Defender cams no longer work outside and will disconnect after ten seconds, so they can only be used for quick intel.
Reporting changes: Issues with the reporting platform have been fixed and players will be able to speak directly to developers, while being rewarded for their efforts
HUD changes: A new HID is being introduced to make key information more accessible
Player protection changes: You can now set a nickname in game to keep your identity private – this is designed to help protect content creators, but anyone can use it
Elite skins changes: Customisable Elite Skins are coming allowing you to customise headgear and uniforms
So there you go, everything you need to know about Rainbow Six Siege High Calibre. As you can see, Ubisoft is making a lot of changes – some of which will really shake up the competitive meta in weeks to come.