When is the Pragmata release date? Well, that's what we're here to talk about. Capcom's upcoming dystopian sci-fi experience is set to transport us to a near-future Earth with some intriguing gadgets and abilities. There's also a strange cyborg cat, if you needed more convincing that this is going to be a game worth checking out.
Is this going to be one of the best PS5 space games out there, though? Well, it has the potential. This new IP from the Devil May Cry and Resident Evil developers is certainly positioning itself as one of the most interesting upcoming PS5 games and one of several upcoming Xbox games worth keeping an eye on. But, when does it drop?
Pragmata release date speculation
We expect the Pragmata release date to fall in 2025 on PS5, Xbox Series X|S, and PC. The game was delayed in November 2021 from its original 2022 release window, and then again in June 2023 – with no release date given. This suggests a more substantial delay than before.
Revealed way back in June 2020, Capcom has only released a handful of Pragmata trailers and an announcement on the initial delay. Communication is light, and we don't think we'll see anything more until Capcom can deliver us with more concrete information.
During a recent Capcom Showcase, the development team shared the following message – which seems to suggest that the game is not releasing anytime soon – with fans:
"It is with a heavy heart that we must further postpone the release of Pragmata. Our team is currently hard at work making the best game that we possibly can but we need more time. We will continue to do our best to ensure that the final product is one that is worthy of your patience. Thank you for your continued support."
Pragmata gameplay
Despite only showing us a small teaser during 2023's Capcom Showcase, we believe Pragmata is a third-person action-adventure game seemingly set in some sort of space station – or a facility with space-age technology. We get a glimpse of some boss battles, and of course the little girl – who we assume is the protagonist – but nothing concrete. So, it's hard to say what this game will actually look like when it drops.
Overall, it at least looks like a game now.
When we see more it could end up being similar to Resident Evil or Devil May Cry, especially since these games are mentioned in the PlayStation Store listing for Pragmata.
Pragmata story
As you might imagine, when it comes to a game without a release date and a handful of trailers, story details are sparse when it comes to Pragmata. But, we can speculate a few things. Based on what we have seen so far, the story will focus on a near-future dystopian reality, with the astronaut and young girl taking center stage.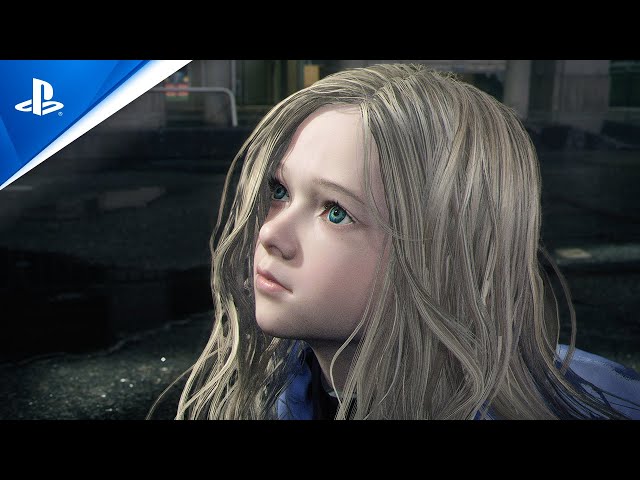 Within the announcement trailer, we see the astronaut walking through an empty New York, before firing a flare-like capsule into the air, which follows with them using a gadget to see holograms. After a few moments, the sky glitches, with a satellite crashing through the mirror-like skyline, which isn't as real as it initially looked. Everything on the ground starts floating toward it, with the astronaut grabbing the little girl and trying to use a gadget to catch the satellite before they are thrust toward the moon.
Frustratingly, there's really not a lot of plot points or narrative information to draw from the trailer. However, we believe the Moon will play a huge part in things – as it features heavily in the current key art for the game. However, due to a lack of synopsis, we can't confirm anything more at this time. So, you're going to have to use your imagination for now.
That's everything we currently know about the Pragmata release date. It's unfortunate that we haven't seen much of the game yet, but we're hoping that it can end up on the best games of all time list once it finally launches.