Alright, trainers, it's time to grab your Poké balls and get ready for the adventure of a lifetime. Pokémon Scarlet and Pokémon Violet are on the way and Nintendo are doing things a little differently this time around. We already knew that this generation of Pokémon games are going to feature open-world RPG gameplay like Pokémon Legends Arceus, but what we didn't know is this: Pokémon Scarlet and Pokémon Violet are going to feature four-player co-op.
Yep, you read that right. This is going to be the first Pokémon game that you can actually play with your friends – not just sitting side-by-side trading and battling. In Pokémon Scarlet and Pokémon Violet, you're going to be able to freely explore all the different locations this brand-new region has to offer.
You can still trade and battle, of course, but things just got a whole lot better and Pokémon games are finally going to take advantage of the Nintendo Switch's online capabilities.
If you're wondering what Nintendo said itself about these new features, you can check out the statement on the Pokémon Scarlet Pokémon Violet website below:
" Pokémon Scarlet and Pokémon Violet allow multiplayer gameplay with up to four players.​ Along with series staples, such as trading and battling Pokémon, you will be able to explore the various locations of the region in these games with other players. You can discover new Pokémon and explore unfamiliar areas with your friends and family, opening the door to an adventure more precious and fun than ever!"
The world of Pokemon has finally evolved and this generation of games is going to be driven by exploration over story. Of course, there's still going to be a story but expect this to feel much more like a traditional open-world RPG adventure than previous titles have.
Alongside the latest Pokémon Scarlet and Pokémon Violet trailer, which you can see below, Nintendo has also revealed two new legendary Pokémon and some additional details about the differences between the two games.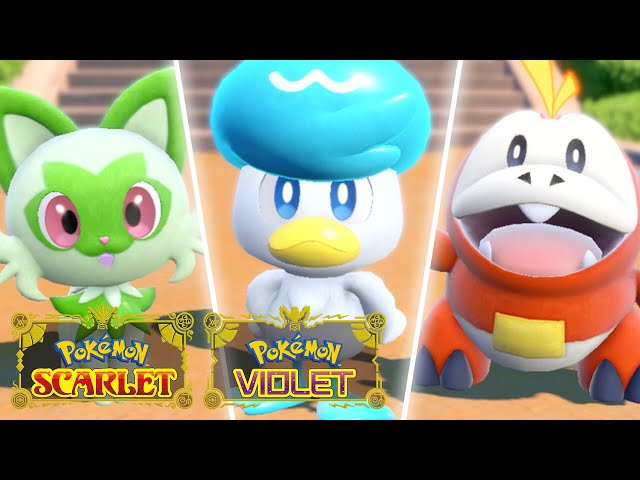 Firstly, your trainer's outfit is going to change colour depending on which game you choose to play. In addition to this, there are going to be two different professors – one for each game – for the first time in Pokémon's long history. Professor Sada will feature in Pokémon Scarlet and Professor Turo will feature in Pokémon Violet.
If you're looking forward to this adventure, check out more on the Pokémon Scarlet and Violet release date right here.