The PlayStation Showcase 2021 is this week with Sony set to lift the lid the lid on PlayStation Studios' upcoming games and detail their lineup in 2022 and beyond. What will be an exciting 40-minute long show will hopefully provide some reassurance to PlayStation fans that Sony have more than just Horizon Forbidden West and God of War Ragnarok coming in the near future.
With a lot of excitement, hopes, and wishes going into the show, fans are keen to know the key information about the PlayStation Showcase 2021. These details about the show include the date, start time, and where to watch the show live so not a single announcement is missed.
Below, we delve into all of that information and also highlight some key titles you should expect to appear at the show from both PlayStation Studios and third-party developers.
PlayStation Showcase 2021 Date
The PlayStation Showcase 2021 will take place on September 9, 2021.
The show will also be available to watch after it airs, if you aren't able to catch it live.
PLAYSTATION SHOWCASE 2021 Start Time
The PlayStation Showcase 2021 will start at 1:00pm PT / 4:00 pm ET / 9:00pm BST / 10:00pm CEST on September 9, 2021.
PLAYSTATION SHOWCASE 2021 Where To Watch
The PlayStation Showcase 2021 will be available to watch on PlayStation's official Youtube channel and Twitch channel. You can also catch the stream below and watch right here live: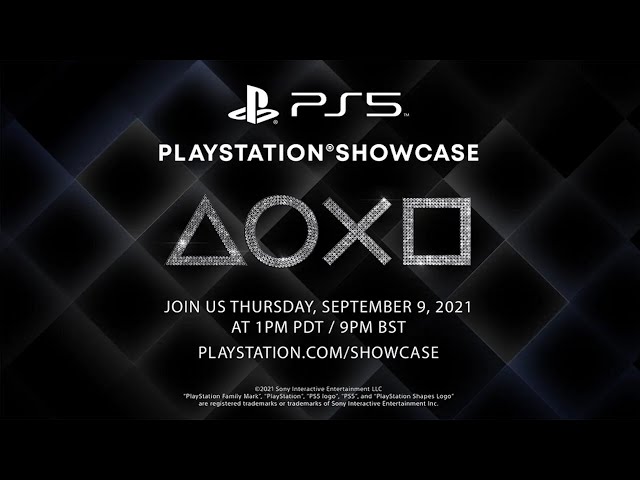 PLAYSTATION SHOWCASE 2021 WHat To Expect
When it comes to what we can expect at the PlayStation Showcase, Sony has already announced that PlayStation Studios will be sharing updates on a number of titles. Therefore, we can expect to see the gameplay reveal for God of War Ragnarok, with an update on Gran Turismo 7 as well.
But, PlayStation Studios hopefully won't stop there. Naughty Dog has been working on Factions Multiplayer for The Last of Us Part 2 for years now and after some leaks, now would be a good time for the developer to show off the standalone multiplayer experience.
A number of third party developers will also be there, but it isn't clear who. We could see Square Enix's ambitious RPG Forspoken, which is a PS5 showcase title. Ghostwire Tokyo also seems like a good choice for the show. The Ghostwire Tokyo release date is currently set for early 2022, so we could see confirmation of a firm date at the PlayStation Showcase 2021. Just, please, Sony, no more Deathloop trailers.
There you have it. Everything you need to know ahead of the PlayStation Showcase 2021. You can take a look at some more upcoming PS5 games ahead of the show in our comprehensive list.