Last Sunday we saw arguably the biggest match of the 2020 Overwatch Season so far: San Fransisco Shock against Philadelphia Fusion. The 2019 champions took on the 2018 champions, but it didn't quite go the way we were expecting.
Sadly for Fusion Shock proved too strong and the team came out on top with a 3-0 win. Shock proved once again their powerful roster, including MVP Widowmaker Seon-Chang 'Ans' Lee, that they're the team to beat this season.
This doesn't count Philadephia Fusion out though, as they're still one of the most successful teams in the league, before the match, on Sunday we had a little chat with one of the best D.Va players in the league Gael 'Poko' Gouzerch. While Poko was left on the bench for Sunday's clash he's one of the best-known members of the team and has stuck with them since 2017.
The Loadout: You've been part of the Fusion roster for over three years now, and there are core players which have been with you that whole time. Do you think that having a team that has stuck together that long gives you an advantage?
Gael 'Poko' Gouzerch: Having strong core players in a team is a necessary element for success, especially when you recruit very talented but also very young players. We are all good friends by now and I feel like it's a lot easier for newer teammates to integrate into a friendly group as opposed to a group that only maintains somewhat unfamiliar relationships as professional colleagues.
Do you feel the added stakes of seeding position for the Summer Showdown tournament will make you and your team play differently?
For us, the tournaments provide practice on what to do and not do in a playoffs format. We, of course, are also trying to win. But it's important that we learn from these tournament matches so as not to repeat any mistakes in season playoffs.
How do you feel about Hero Pools?
Hero pools impacted the meta quite a lot, especially at the beginning, but now teams understand how to deal with these changes and what comps are the best depending on the week's bans. There are three styles of compositions who are really strong in Overwatch (Poke/Brawl/Dive); so you just have to decide which one is the best for your team's playstyle depending on which heroes are banned in a given time period.
Were there any lessons you learned in the May Melee tournament that you plan to apply in the upcoming Summer Showdown tournament?
We learned that we are better than everybody else when we mirror our opponent. So instead of always trying to find a counter-strategy, we focus on mirroring and winning.
With a third tournament set for later this summer, what are your overall thoughts on this seasonal approach?
I think the tournaments are refreshing and exciting for viewers and players. We have so many games during the regular season that sometimes it feels like winning or losing doesn't matter week to week, but in the tournaments, if you lose you are out. You can see how players perform when they are under pressure.
When it comes to how the OWL has adapted to the pandemic, are there any changes you think you'd like to keep? Any positive changes to the way you train or prepare for matches?
The Fusion organization provides us with a wonderful office where we have everything available to be the best. But now, we have to practice from home. I don't mind it, but it gets kind of boring from time to time. I miss hanging out with my teammates after our practice sessions at the office and travelling to exciting cities and meeting amazing fans. When the pandemic has passed, I want to go back to the way we trained and prepared in person.
How are you getting on with playing online? Do you think it's having a positive or negative impact on your performances each week?
It feels like three years ago when I was playing Contenders from my parents' basement. It is more chill, but I'm not a big fan. I'm really sociable and like discovering new places and meeting different people from all over the world. So when I heard the news that Homestands were cancelled that made me sad. I think this impacted some players' motivation, but we have to stay strong and prove that we are a good team no matter what.
There's been a lot of talk of burnout in the esports industry at the moment. What do you do to mitigate symptoms of prolonged stress?
I try to go outside as much as possible, call my family and friends, eat healthy and play sports. I think the success to be good at whatever you are doing is knowing when you have to take breaks and when to give it your all.
We've seen some former Overwatch pros leave for Valorant recently. What do you think Overwatch has that Valorant doesn't that you're happy with?
Overwatch is such a unique game. Every character is different, and they all have an identity. Blizzard knows how to make characters likeable and charismatic and I think it's really important, especially to attract new players to the game.
I have never played another game like Overwatch, where everything goes so fast that you can never lose focus during a round. There's always something happening somewhere on the map, so it's very rewarding to successfully predict a series of events and come up with a plan on your own to counter it.
It's been a while since a new tank has been added to Overwatch, and now we know Echo is the last hero for the game until Overwatch 2, what do you think of the status of tanks in competitive play?
I think Tanks are really well balanced right now. Almost all of them are playable (even Roadhog!) I'm not sad to not see another Tank until Overwatch 2. And the D.Va buffs are really exciting. I can't wait to play more of her in the future.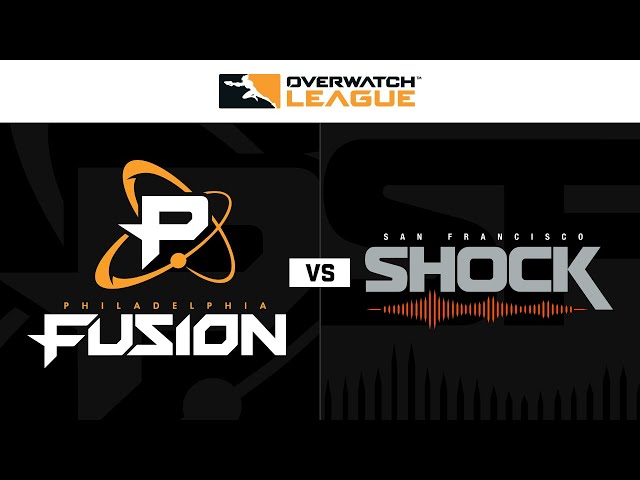 It'll be interesting, after the results of Fusion's last match, to see what they'll change and improve on in their upcoming games. If you want to watch their performance against San Fransisco Shock, or any future Overwatch League game you can do so on the OWL YouTube channel here.