It feels like just yesterday that we were getting a good look at Rain's gameplay in Mortal Kombat 11. Last night, NetherRealm Studios dropped the gameplay trailer for the second character in Kombat Pack 2: Rambo, and he looks like a zoning character's worst nightmare.
The initial trailer hinted that he would use his assault rifle a lot. This is not the case, but boy does Rambo love his traps and attacks that actively make him avoid being hit by projectiles. In this new trailer, we see him go prone to launch multiple traps, all of which hit at quite a long range. We even see him crawl under Erron Black's enhanced pistol shots.
He does seem a lot more limited when facing off against brawlers though. His regular attacks look a bit sluggish compared to those more used to fighting up close. That said, we're impressed that Rambo isn't just a muscle lad that shoots a massive assault rifle while screaming his lungs off. Well, most of the time anyway- after all it is his one of his moves.
His X-Ray attack is also quite a nice nod to the films, even if Kabal should blatantly have been blown to smithereens at the end of it. You can see Rambo in all his shouty glory for yourself, but we don't think you should be eating while watching this trailer. While the fatality isn't especially gruesome, the finer details are pretty ugly and will most definitely put you off your breakfast.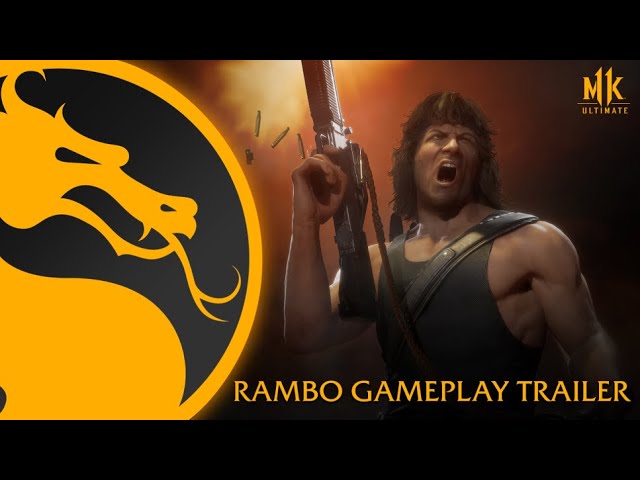 While experienced voice actor Chris Cox was a stand in for Arnold Schwarzenegger as The Terminator, NetherRealm has opted to use Sylvester Stalone's own gruff voice for Rambo. It'll be very interesting to hear what Rambo has to say to both The Terminator and Robocop before fights.
Mortal Kombat 11's second Kombat Pack is released on November 17 on Switch, PlayStation 4, Xbox One, and PC. An Ultimate Edition for Mortal Kombat 11, that includes all the expansions, will be available on the same day for PlayStation 5 and Xbox Series X.