We know Marvel's Midnight Suns is going to throw Earth's mightiest heroes up against some of their toughest foes yet, like Lilith and a strange demonic Hulk, but that doesn't mean this game has to be hard. But, it can be. In a recent Developer Livestream showcasing new gameplay from this tactical RPG, Firaxis Games confirmed that Marvel's Midnight Suns is going to have eight difficulty modes – that's twice as many as XCOM and XCOM 2.
Responding to a fan's question on the number of difficulty modes available in Marvel's Midnight Suns, creative director Jake Solomon explained that "there are eight difficulty modes" coming to Firaxis Games' superhero game.
Going into a little more detail on how this will work, Solomon continued by sharing that the easiest difficulty available, Story mode, is for "people who want to experience the narrative and not get bent out of shape about difficulty". This is then followed by Normal mode, which Solomon feels "everyone should be able to play on" as a mode that's "about how well you can play the game, not about worrying about losing it".
Upwards of this, Marvel's Midnight Suns is going to have "three Heroic difficulties where it gets tougher" and "three Ultimate difficulties".
If you want to jump straight into the deep end, we have some bad news for you. Solomon made it clear that "difficulty modes unlock over time" in Marvel's Midnight Suns and you'll be able to unlock harder difficulty modes in-game by playing well at one difficulty mode to unlock the next one.
Why does all this matter, though? Why does Marvel's Midnight Suns need twice as many difficulty modes as XCOM? Well, we suppose that has something to do with the lack of probabiltiy when it comes to attacks.
In Marvel's Midnight Suns, you know that every attack is going to land – no matter what – and the game's combat has often been described as solving a puzzle, more than anything else. So, without the chance that Iron Man will miss his ion blast or Wolvering will miss a slash with his Adamantium Claws, we feel like it makes a lot of sense to offer an increased variety of difficulty levels for players to find the perfect challenge for them.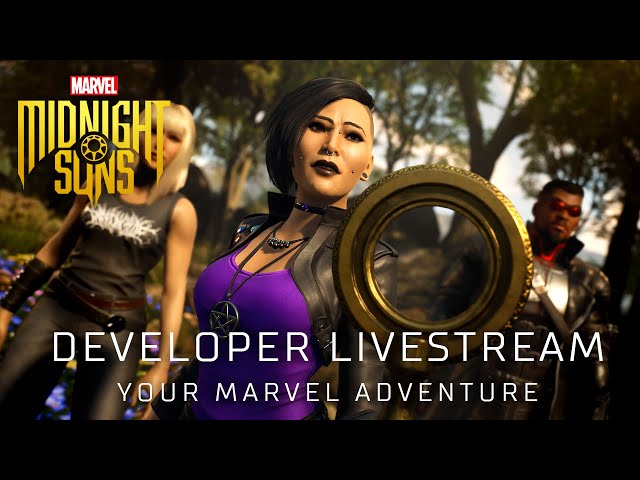 In the Developer Livestream, which you can watch for yourself above, Solomon does also state that "you will earn more Gloss… and you earn more experience" at higher difficulty modes. Gloss is an in-game currency used to purchase cosmetics for your characters and The Abbey itself – and, we all know how important general XP usually is in these sorts of games.
So, while Marvel's Midnight Suns is "not nearly as stressful" as XCOM, you can still make sure that you and all your Marvel's Midnight Suns characters are faced with a challenge – if you want.