Are you looking for a post-apocalyptic shooter that combines base-building mechanics with co-op FPS raids to create a unique balance where players need to steal from one another to create their own labyrinthian bases to trick and trap other players? If you are, then we want to know why that's what you were thinking of going into Behaviour Interactive's first Behaviour Beyond showcase. If not, but you're open to the idea, then you'll be pleased to know that this is – almost – exactly what Meet Your Maker is, a new game from the studio behind Dead By Daylight.
Described as something of a somewhat "devious take on first-person building and raiding" by a developer during a press event prior to its' public reveal, Meet Your Makers is a genre-blending experience that combines the creative elements of Orcs Must Die, Super Mario Maker, and Minecraft with the bombastic FPS gameplay of Doom Eternal and Serious Sam to create something unlike anything we've seen before.
Due in 2023, there's still a little bit of a wait before the majority of us can get our hands on this game. However, that doesn't mean we can't talk about it after such an exciting reveal from Behaviour Interactive.
As a survivor in a strange dying world, the ultimate goal of Meet Your Maker is to collect Genetic Material – by any means necessary – to feed the unusual Chimaera you're custodian of. This means that you, and a friend if you want to experience what this game has to offer in co-op, will need to head out and try to steal Genetic Material from other players. Does this mean it's going to rise to become one of the best co-op games on PS5 when it launches? We don't know for sure, but it's looking good.
Of course, if you can go out and steal this rare resource, so can everyone else playing Meet Your Maker – and that's where things get interesting. The Dead By Daylight developers' upcoming game is introducing a never-before-seen level of detail to the tower defence-like gameplay you would see from similar titles like Orcs Must Die and Super Mario Maker.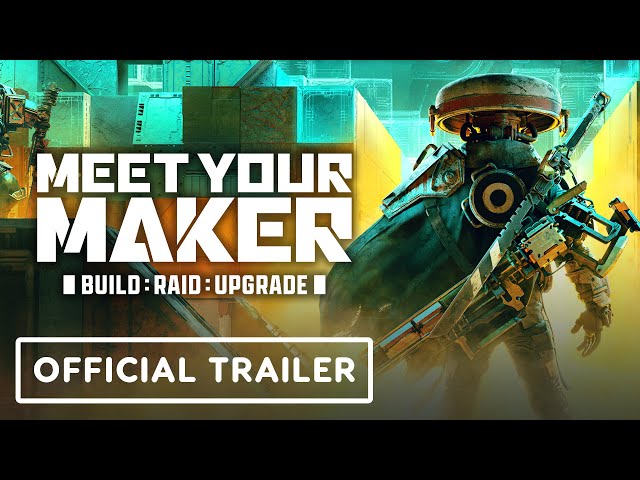 With an ever-growing selection of building blocks, deadly traps, and lethal guards, players will be able to construct an elaborate maze of death and chaos that both protects their Genetic Material stores and ensnares any players foolish enough to try and steal from them. In Meet Your Maker, you can collect on anyone who has fallen victim to your deadly Outpost – so, exploring this side of the game is just as important as going out raiding if you want to build up your resources.
What makes this game even more exciting is the fact that each building block, trap, or guard, can be customised with an augmentation of some kind. While we don't know all the details on what this will mean, it's clear that the development team wants players to have as much control as they can when creating their Outposts in-game. Similarly, players will be able to input custom patrol paths for guards – something you don't often see in this genre of games.
If you want to play Meet Your Maker for yourself, a Closed Playtest is starting on August 23 on PC. You can find out more about that right here. The full game is scheduled for a 2023 release on Steam, Xbox One, Xbox Series X, PlayStation 4, and PlayStation 5. We expect we'll hear a lot more about this game in the months to come and, who knows, it could be one of the best competitive FPS games out there when it launches -it's just competitive in a completely new way.