When is the Lightyear Frontier release date? The colorful farming game caught people's attention when it was announced in 2022 and you might want to know more about it, especially with a Game Pass release.
Frame Break Studio puts its own spin on farming and wholesome games by inviting you to collect materials, craft tools, and construct buildings on an alien planet while using a giant mech. Intended to provide a relaxing time for players, Lightyear Frontier is all about the vibes and Lightyear Frontier also avoids some of the grindy trappings you would find in other games in the genre.
Lightyear Frontier release date window
The Lightyear Frontier release date hasn't been announced yet, but the game is confirmed it's coming to Xbox One, Xbox Series X|S, and PC. Although the game was initially set to be released in Early Access Spring of 2023, the developers have decided to delay it as stated by the studio on Twitter.
Based on what the official statement says, it seems that the decision of delaying the Early Access launch was made in order to improve certain aspects of the game. The studio hasn't decided on a new release date though. It reads, "Video game development is tricky and while we can't commit to a launch window right now, we'll communicate a new one as soon as we can."
Lightyear Frontier story
In terms of story, in contrast to other games of the same genre such as Stardew Valley, Lightyear Frontier doesn't seem to have a structured narrative for you to play through. We know that your character came from outer space and the whole premise is to start a new life in this uncharted world.
Some of the trailers published indicate that the planet has mysteries and a whole history that you enter into contact with while exploring the different regions. We can see not only the remains of a giant creature but one flying on the horizon, as well as a glowing-purple door that might hide some of the secrets of this planet.
Lightyear Frontier gameplay
Lightyear Frontier is described by Frame Break as an open-world adventure farming game with elements of survival games but with no risk of getting your character killed at all. To offer this experience, the game focuses on exploration and farming mechanics. It also can be played solo or co-op in a group of a total of four players.
The first thing we should talk about when it comes to Lightyear Frontier is the mech. Different from other farming games, in this one your character controls a mech that has many tools which help you collect materials or construct structures. You can modify the mech, changing at least some of its parts, like swapping the pair of legs it has for a continuous track system. It's unclear how many modifications you can make and how variable they are. What we know is that mechs can use tools as well as weapons. And it's through your mech that you can take care of your farm.
The game allows you to create a complete farm with crops and even barns with alien animals. You can collect seeds of undiscovered plants to cultivate and each of them requires specific conditions to grow, making having a good harvest a challenge in itself. Besides that, your crops might get attacked by animals, so building a structure to protect them is fundamental. Some of these animals can be tamed so you can have them at your farm too. All your effort in taking care of your farm pays itself off since you can use the materials to craft new items or sell them to earn some money and buy new upgrades for your mech.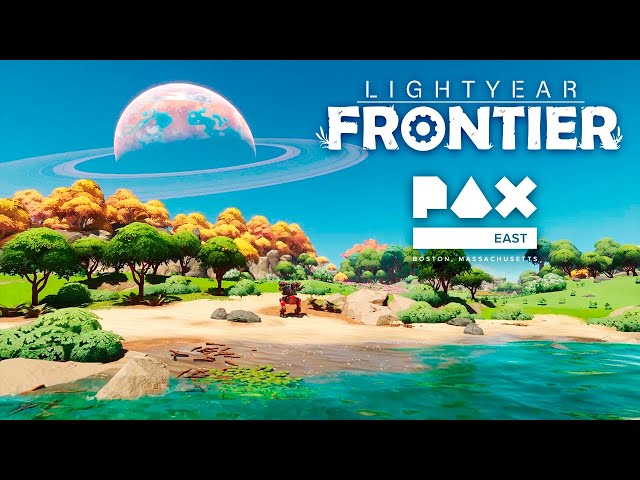 Another big part of playing Lightyear Frontier is crafting structures. More specifically, you can craft structures, such as retro-futuristic windmills, or buildings, such as a house that can be upgraded as you progress through the game. Crafting, however, involves getting new materials and to do so you must, then, explore the world looking for them. The game has different biomes and materials to discover. While the open-world aspect of the game might sound daunting to some players, the game is not intended to demand hours of grind.
And that covers what we know about the Lightyear Frontier release date, as well as its story and gameplay. With the game also coming to Game Pass, why not check out the full list of Xbox Game Pass games you can play on the service while you wait?