2022 wasn't Matyáš 'Carzzy' Orság's year to say the least. As part of the doomed Team Vitality 'superteam', the botlaner failed to perform to the level we had previously seen from him in the League of Legends EMEA Championship. But, if there was any team that could help the Czech rediscover his form, it would be former organisation MAD Lions. Fortunately, this is where Carzzy landed for the 2023 season, and so far it looks like the reunion is paying off.
Like ships passing in the night, as Carzzy returned to MAD his former support, Norman 'Kaiser' Kaiser, was on the way out to Team Vitality. When Carzzy made port, he was instead greeted by none other than former Fnatic star Zdravets 'Hylissang' Galabov. Hylissang isn't the only new face at MAD for Carzzy, either. LEC Summer 2022 MVP Yasin 'Nisqy' Dinçer and former X7 Esports man Kim 'Chasy' Dong-hyeon were also there to welcome him back into the MAD pride.
As it stands in the 2023 LEC Winter Split, MAD is sitting pretty in joint-second place with a 4-2 record. Indeed, the team may have completely switched up its bot lane duo, and brought in a new toplaner, but it has managed to hit the ground running.
To learn more about Carzzy's return to MAD, what makes its coaching staff so great, and muse on the meta, we caught up with him following the team's victory over KOI.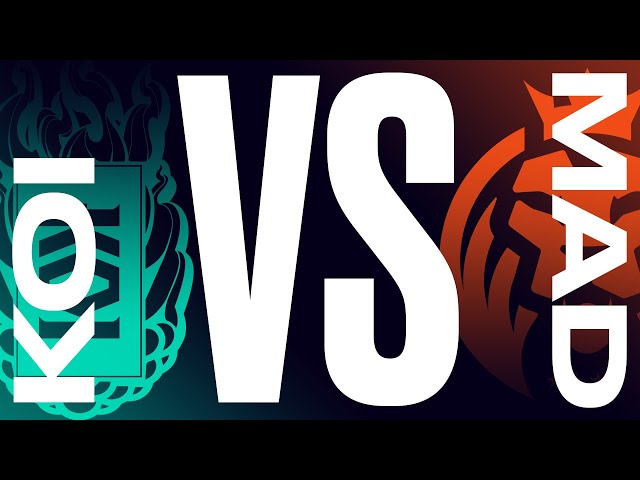 The Loadout: Carzzy, massive congratulations today. It's another big win, how are you feeling right now?
Carzzy: I feel great because I didn't expect us to perform this well on stage. And now we beat KOI which is supposed to be a decent team, so I'm happy.
What makes you say you weren't expecting to do so well on stage?
We had some rough practice so my expectations weren't really high. But then on stage we played completely differently, so that's great.
You turn it on when it matters, that's the most important thing. Tell me more about the preparation coming into this one.
So we scrimmed for three days after last week, which weren't the most useful days – we didn't make them the most useful at least. We don't really prepare anything especially, since it's best-of-one – just the draft and that took like half an hour.
Well it did the job and you got the win. You're back with MAD now which is great to see. Something I've always wondered is what the process is like when it comes to players coming back to a team they have previously left. How was it for you?
It was pretty simple. I chose to go back to MAD Lions because I knew everyone, and I don't like how the environment was in Vitality, and how it would be in other teams – or at least that's what I thought. So I just went to where I knew it. I knew all the people – I like them, they like me. So it was an easy choice for me.
You've spoken very positively of MAD's coaching staff – both in the past and just now – what is it about the people here that really stands out and makes them so good at what they do?
I think it's because they're great people. I haven't met a player that wouldn't like working with them. I think they're really good humans; they understand human emotions. And they [James 'Mac' MacCormack and Patrick 'Pad' Suckow-Breum] were both teachers in high schools I think, so they know how to work with kids.
I love that. Thinking about the game more generally, this meta has definitely been one of the more interesting ones we've had in a while. What are your thoughts on it?
I think it's kind of crazy right now. I'd appreciate it if we came back to melee supports. For me, personally, that's more fun, because there is a lot of brawling and a lot of team fighting. So I like that meta. And right now I think the teams that don't have good enough supports to play all this stuff [ranged supports] are in a really difficult position.
Speaking of supports playing ranged champs, this was Zdravets 'Hylissang' Galabov's first official Ashe game. How would you rate his performance out of ten?
I would give him a ten, honestly.
A supportive duo, we love to see it! Although it's early, from your performances so far, where would you rate yourselves against other LEC bot lanes right now?
I'd say we have the second best bot lane in the LEC after Steven 'Hans Sama' Liv and Mihael 'Mikyx' Mehle, but we will see when we face them.
Aside from Hyli there are a couple of other new faces at MAD this time round in Nisqy and Chasy. How's it been working with these new players so far this year?
It's been fun, although sometimes it's really rough in scrims because we might not have the best mentality, and then the scrims are rough when we are losing. But overall I think we're all fitting in well with each other, and I think that's the most important thing.
That's really good to hear, especially considering what you were saying about not having the best environment at Vitality. With that said, I did want to ask if there were any learnings that you took from your time there?
I just learned that I have to work way harder than I was to be the best – that's the most important thing. Also that I want to work with people that I have a really good relationship with.