Horizon Forbidden West is the highly-anticipated follow up to 2017 science fiction RPG Horizon Zero Dawn. Developed by Guerrilla Games, the first instalment was a blend of the natural world and robot dinosaurs – and we're expecting more of the same from the sequel.
If you are keen to know the Horizon Forbidden West release date, check out some gameplay, or just check whether your console will be able to run it, then you're in the right place. We've assembled the latest trailers, news, and important information in one handy place for you.
With lush jungles, underwater coral reefs (that you can swim through), and a post-apocalyptic San Francisco, Horizon Forbidden West looks stunning in 4K resolution, and the new climbing, diving, and gliding mechanics will all be as smooth as you like at 60 frames per second. Devs have promised exciting haptic feedback from the DualSense controller to make it feels like you're really pulling back a bowstring, and the PS5's powerful SSD will make loading screens a thing of the past.
Here's everything you need to know about Horizon Forbidden West: release date, gameplay, you name it.
Horizon Forbidden West release date
The Horizon Forbidden West release date is February 18, 2022. The game will release on PS5 and PS4 and was delayed from 2021 due to the development issues caused by the COVID-19 pandemic.
Just announced at #OpeningNightLive: Horizon Forbidden West by @Guerrilla will ship on February 18, 2022. pic.twitter.com/kwBdqtbtkl

— Geoff Keighley (@geoffkeighley) August 25, 2021
The game is now available to pre-order on the PlayStation Store.
Horizon Forbidden West trailer
You can watch the Horizon Forbidden West trailer here: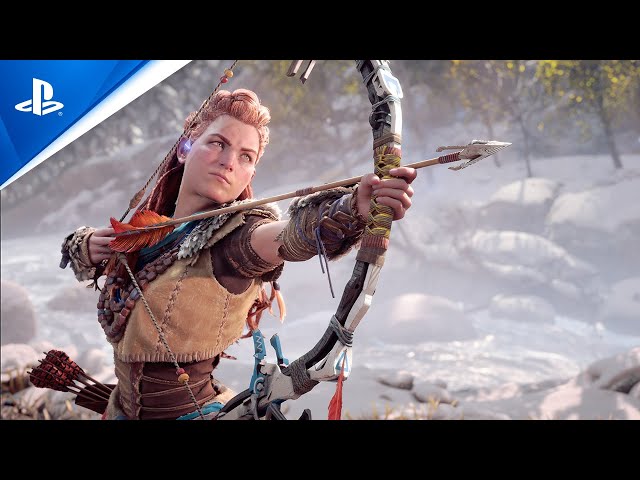 The Horizon Forbidden West trailer shows everything you need to know about the game's themes, ideas, and general vibes. Protagonist Aloy is on a quest to stop the rot that is killing her country and perverting the natural beauty of post-apocalyptic America.
The story puts the environment front and centre, which makes perfect sense as the open world looks stunning. You can't forget the robot dinosaurs, of course, but it's safe to say the natural world is the focus here.
Horizon Forbidden West gameplay
You can watch 14 minutes of Horizon Forbidden West gameplay here: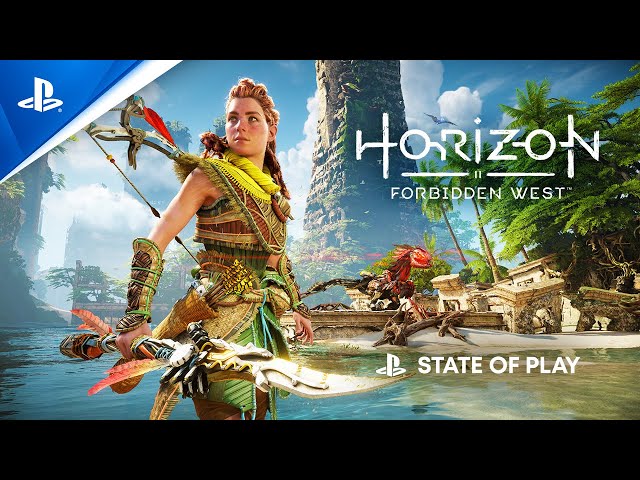 The gameplay showcases a bunch of new additions from the first game, most noticeably the underwater section. Swimming was somewhat limited in Zero Dawn, but the addition of a proper diving mechanic allows Guerrilla Games to add a whole new beautiful environment for you to explore.
Aloy can also grapple, and the climbing looks like it has been significantly improved to allow her to free climb. She also has a technological glider for when she's jumping from great heights (think Breath of the Wild).
Other than mechanics, the gameplay trailer also gives us a glimpse of a giant mechanical mammoth, which is great.
In an interview with Game Informer, devs revealed that Horizon Forbidden West will have 3D audio and DualSense support on PS5, an overhauled skill tree, and a new melee system based on achieving combos. Additionally, the game is confirmed to have different biomes and a new workbench system for upgrading Aloy's gear.
Horizon Forbidden West is confirmed to have a 60fps performance mode on PlayStation 5.
Horizon Forbidden West PS4
Horizon Forbidden West will release on PS4, so those of you who haven't managed to get your hands on Sony's latest console needn't worry about missing out.
Some aspects of the game won't be quite the same on last-gen consoles, however, and Aloy's "hero lighting" is sacrificed other than in cutscenes. The PS4 version also has a different technique for rendering the game's water.
Horizon Forbidden West PC
Horizon Zero Dawn was released on PC three years after its initial release on PlayStation 4. That could potentially happen with the sequel, but at this point we have little to go on.
Horizon Forbidden West DLC
Horizon Zero Dawn received The Frozen Wilds DLC around six months after the base game's release. While we don't have any news on Horizon Forbidden West DLC at present, we'll keep this page updated if we hear any rumblings.
That's everything you need to know about Horizon Forbidden West. Make sure to check back to stay in the loop with development.