If there's one thing Epic Games does well when it comes to Fortnite, it's collaborative content – and the upcoming Kid LAROI content is going to be unmissable if you're a fan of this battle royale shooter. You might be sitting there wondering "when is the Fortnite Kid LAROI concert date", but there's more to this collaboration than just a show. The Fortnite Kid LAROI quests and rewards are going to give you something to play for when the Kid LAROI skin hits the store. Not only this, but the Fortnite Kid LAROI quest rewards include two lobby tracks based on his music – one of which is a brand new song.
According to notable Fortnite leaker and data miner 'iFireMonkey', the Fortnite Kid LAROI quests – that will be available during the Kid LAROI's Wild Dreams event – will offer up lobby tracks based on the Australian's 2022 hit "Thousand Miles" and his new single "Love Again" – which is expected to drop on January 27.
If you're looking for a little more, you'll be pleased to know that you can also pick up the "LAROI and The Rogue" loading screen, and both the "LAROI Was Here" and "LAROI's Tag" sprays during the Wild Dreams event.
If you're looking forward to the concert itself, you'll be able to access it starting 13:00 PST / 18:00 EST / 21:00 GMT on January 27 using the Fortnite island code 2601-0606-9081. Then, the Kid LAROI Wild Dreams Afterparty will be available from the same time using the Fortnite island code 4294-0410-6136.
Three unreleased songs will feature during both Fortnite Discover performances, so it's going to be an unmissable event for fans of Kid LAROI's music. You can find out a little more about the event in this Fortnite blog post – or check the short teaser below: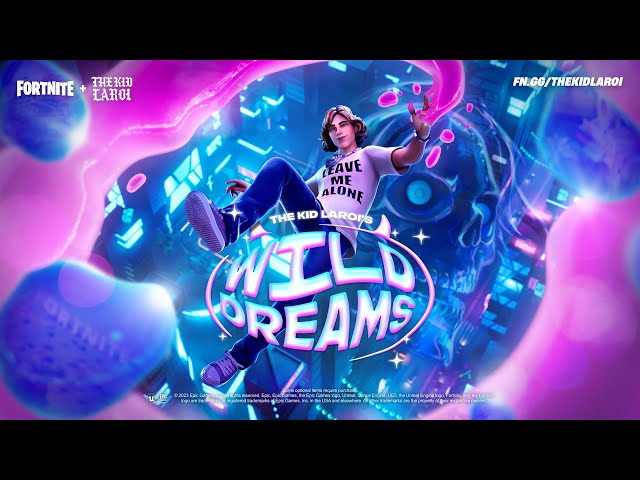 Much like Ariana Grande's Fortnite appearance, fans can expect this to be an immersive one – and one that features some truly spectacular visuals. Don't worry if you're busy on Friday, though, you'll have until April 27 to experience – and re-experience this event in-game. That should mean the Kid LAROI quests and associated rewards are available until then, too. However, there's no confirmation of this just yet.
We know it's worth knowing the best Fortnite landing spots for this season, but this is one of the best battle royale games out there for more than one reason and sometimes it's worth checking out what else this game has to offer.