Indiana Jones (yes, the Indiana Jones) is finally available in Fortnite and, to celebrate the fact that this awesome skin is now available, Epic Games has thrown together a handful of Indiana Jones challenges for Fortnite players to complete in-game. Like other in-game challenges, they're not the hardest thing to do in the world, you just need to know where to look. If it's any consolation, you're not alone if you're struggling to open the secret door at Shuffled Shrines.
Why is that? Well, because this challenge is actually a little more complex than first thought. Finding and opening the secret door in Shuffled Shrines is just one part of the Indiana Jones challenges, but it's one part that's going to require you to do quite a few things – all while dodging incoming fire and praying the circle pulls the right way.
In Shuffled Shrines, you're going to stumble across four rune stones – these are always located in the same place, but the four symbols they show change each game. Classically, that means you're going to have to go through the following steps every time you want to open the secret door.
But, thankfully, finding these symbols on other rune stones isn't going to be too complicated. There's one in the temple ruins in southwestern area of Shuffled Shrines, one inside more ruins up a hill to the north, another one just the otherside of the Reboot Van, and then a fourth inside some wooden pens.
When you work out which four symbols you need to use, you can head back to the secret door with the four rune stones and start turning them to match the four symbols you've just found.
Just like an Indiana Jones adventure, the doors will open to reveal a hidden chamber when you've got this right and you can head in to get your loot. There are some traps, though, so you're going to need to be careful. However, when you get to the end and get through a crumbling wall covered with vines and plants, you'll get two rare chests and Indiana Jones' Dustoff emote.
If you need something a little more visual, you can find a walkthrough from 'postboxpat' below: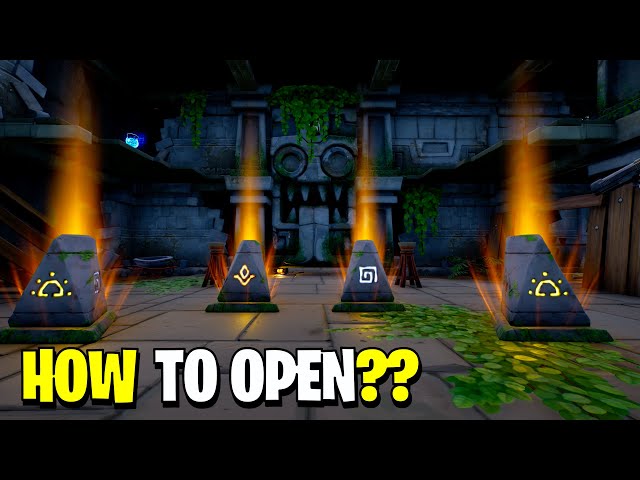 So, there's what you need to know about this strange puzzle. If you're not a fan of Fortnite (or shockingly not a fan of Indiana Jones), you can find something else to play on our best free shooting games list here. We have also thrown together a list of the best battle royale games – you know, if you still want to play that genre of games.