When is the Firewall Ultra release date? If you're a fan of VR, and PSVR in particular, then you've probably played the hit FPS game Firewall Zero Hour. Firewall Ultra is the sequel and latest entry in the series, so strap in as we talk about all things the game has to offer ahead of the Firewall Ultra release date. It's certainly not one to miss if you've got the capabilities to play it.
While the first game allowed players to team up and duke it out in virtual reality deathmatches, when the Firewall Ultra release date drops, it will bring new modes with it and updated gameplay features. It may even be one of the best competitive FPS games when it finally arrives, but for now, you'll find everything we currently know about the VR shooter below.
Firewall Ultra release date
The Firewall Ultra release date is Thursday, August 24, 2023 on PSVR 2, as confirmed by the official PlayStation UK Twitter account.
This comes after news of a 2023 release date for the game was confirmed in February 2023. While it was assumed it would be a launch title for the PSVR 2 headset, and it evidently missed that mark, August is earlier than we expected after news of a release late this year.
Even more excitingly, Firewall Ultra pre-orders are now live as well ahead of the release date, with two version of the game available. If you're been itching to dive into this intense VR shooter like none other, then your time has come.
The Firewall Ultra Standard Edition costs $39.99 (USD) and includes the full game and the Reaper X75 legendary weapon pre-order bonus.
The Firewall Ultra Digital Deluxe Edition includes early unlock of four of the game's contractors – Meiko, Skip, Fang, and Node – alternative outfits for each of them, four camos, and one free post-launch Operation Pass. Alongside this, you will also receive the Reaper X75 legendary pre-order bonus if you do so.
Firewall Ultra gameplay
During our Firewall Ultra preview, we mentioned that the game is unlike any other FPS title out there. Firewall Ultra offers eye-tracking features, thanks to the PSVR 2 headset, which allows you to do some pretty exciting things, like close your eyes to avoid flashbangs or view cameras after dying to spot enemies for your team.
This leads to it being one of the most immersive VR titles we've ever played. But don't take our word for it, as you can see what to expect below:
Firewall Ultra modes
As well as the PvP gameplay we saw in the first game, Contracts, Firewall Ultra will also now feature PvE modes that allow you to partner up with fellow players and friends and take on computer-controlled opponents.
We know the game will feature "tactical multiplayer objectives," which means that we'll be getting modes that go beyond simple team deathmatches too. The trailer demonstrates some of these objectives, such as hacking a computer while trying to avoid enemies making for some intense VR action.
The official PlayStation blog also notes that you will have several tools at your disposal to catch people by surprise, fortify your position, and even more. This will come in handy with the variety of maps available, like Oil Rig and Office which can be dark.
You can take a look at the PvE and PvP gameplay below: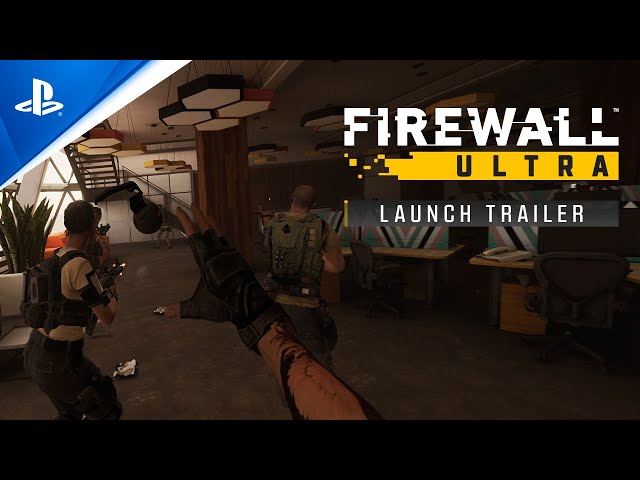 That's everything we know about the Firewall Ultra release date, as well as what gameplay we've seen and the modes that the game will have. Read our list of all the best PSVR 2 games available right now if you can't wait for Sony's next VR experience, or you can read our best competitive FPS games guide if you need that shooting itch scratched.