With Far Cry 6 releasing later this week, content creators have been sharing the early hours of the game and finding some of the secrets hidden throughout Yara. One of those secrets is a small teaser video that has sparked speculation that Ubisoft could be developing a new, multiplayer Far Cry game that might take the form of a battle royale or a survival game.
As highlighted by 'JorRaptor' on YouTube, a QR code that can be found on boxes in the Costa Del Mar region will take you to the video in question when scanned with your real phone.
This video is very, very brief, but shows a Fallout-esque mascot of a revolver chamber, followed by a map that has multiple red arrows and counters showing different species of wild animals. Then, an image of some kind of big cat, wearing armour, attacking someone pops on screen. All of this is overlaid with radio static and broken up audio of a song playing in the background.
The image of the map is the catalyst for the speculation this video has created, with many suggesting that it looks a lot like a battle royale, especially given the multiple red arrows, which JorRaptor suggests could indicate other players. The three arrows also are worth highlighting as the series has only ever supported two-player co-op.
But, the focus on the lion and animals could also just as easily suggest that this is some kind of survival game, where you have to fend off wildlife while taking on other players, or playing alongside your friends. Or, maybe it is a mix of the two, similar to something like Scavengers, where you have enemies (and in this case) wildlife roaming around the map as you take on other players.
As for the setting of this game, JorRaptor says the colours and architecture on this map remind them of Far Cry 4, and we would have to agree. In the corner of the image of the big cat, the location 'Sky Temple' is shown, and the final letters of that name can also be seen on the map.
While Sky Temple is not strictly a previous location in previous Far Cry games, Far Cry 4's Valley of the Yetis DLC did feature the locations Temple of Yalung and the Sky Shrine.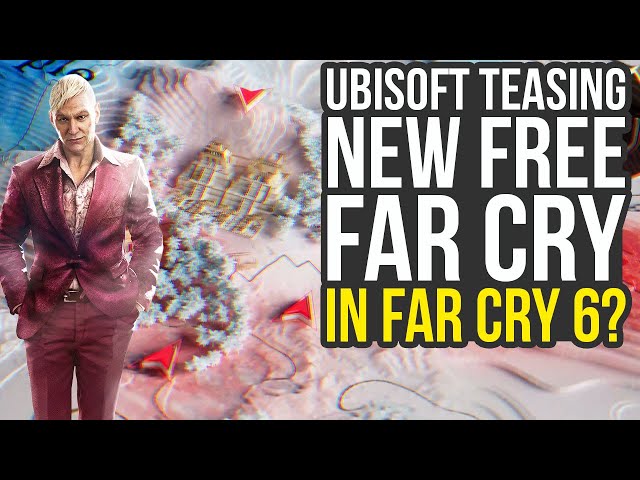 Of course, all of this is speculation right now, but it definitely does seem like this is hinting towards a future Far Cry project, especially as another QR code in the game reveals a description for the upcoming Far Cry Netflix show Captain Laserhawk: A Blood Dragon Remix.
Be sure to stick around in the coming days for more Far Cry information, including our Far Cry 6 review.