EA has just teased an F1 23 Braking Point sequel in – quite frankly -the most creative way ahead of a full reveal of this year's official Formula One racing game. Featuring Sky Sports F1 commentator and racing driver Naomi Schiff and Red Bull Racing content creator Durk Chocolate alongside Konnersport Racing Team's senior vice president Tim Fellows, F1 superfan Matt Gallagher, and the voice of fictional racing driver Devon Butler, EA has hosted a mock car launch event for the Konnersport Racing Team – a fictional Formula One team set to make it's debut in the upcoming racing game. This is something that suggests a sequel to F1 2021's ever-populat Braking Point story mode is on the way in F1 23 – and we're very excited.
Kicking things off with a logo reveal for Konnersport Racing Team, which seems to be sponsered by a company called Butler Global (which may be a rather large clue as to how Devon Butler got his seat), Schiff – assisted by quotes from commentator David Croft and racing drivers Charles LeClerc and Max Verstappen – was quick to discuss Konnersport's star driver with Durk before getting the man himself on the phone.
If you've played F1 2021 and the narrative-driven Braking Point mode, you'll be more than familiar with Devon Butler's mannerisms and confidence – he's not the nicest chap.
However, Fellows (acting as Konnersport Racing Team's senior vice president) was quick to follow up on this phone call with Devon Butler to reveal the full livery for Konnersport Racing Team's Formula One car – on an actual Formula One car!
As you can see for yourself below, the Konnersport Racing Team Formula One car sports an unusual – but stand-out – combination of yellow and purple on a livery complete with sponsorship logos, and Devon Butler's driver number. It certainly looks like a car we'd like to see racing down the start-finish straight in Baku, or the twisting turns of Suzuka.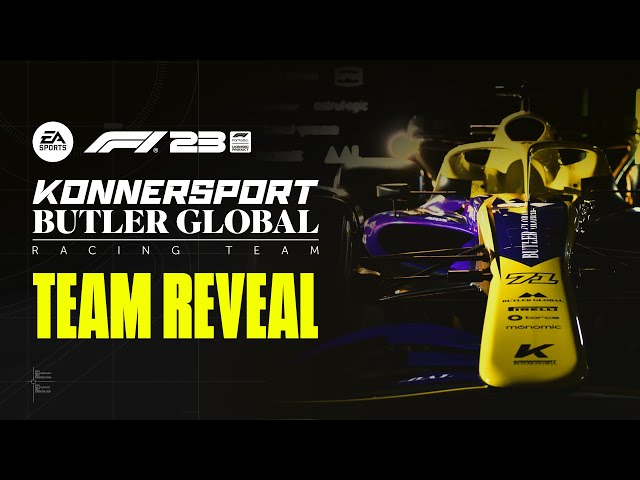 Explaining the "Konnersport dream", Fellows has explained that fictional-driver Devon Butler "is so well respected in the F1 world" – even going as far as to describe him as a "future world champion". If that isn't a hint of where the Braking Point story sequel is going, we don't know what is.
Despite the fact that you play as Aiden Jackson in F1 2021's Braking Point, there has been no mention of a second driver joining Devon Butler at Konnersport Racing Team yet – and the mock car reveal event itself is eight minutes long. So, this could hint that players will be able to take advantage of F1 22's F1 Life features – which we're sure we'll see built upon in F1 23 – to create their own teammate for Devon Butler.
As you can see for yourself, the mock event ends with an announcement that more information is due on May 1. However, if you want to know more about the F1 23 release date and the best racing games out there right now, you can find that here.