F1 22 is almost here and ahead of launch, the developer has shared the complete F1 22 driver ratings list with fans. It's safe to say that it's already causing controversy, with Daniel Ricciardo dropping six points overall and George Russell climbing nine! One thing that is interesting, and should help settle any debates among fans, is this: Lewis Hamilton and Max Verstappen have exactly the same overall rating.
The two drivers' stats aren't identical, but the difference between the two makes an identical overall rating somewhat unexpected. Verstappen dominates Hamilton in Pace, with 97 points to the eight-times World Champion's 93. However, both his Experience stat (72) and Awareness stat (79) are dwarfed by Hamilton's 93 Experience and 92 Awareness.
With there only being two points between them when it comes to the Racecraft stat, giving both drivers the same overall stat seems something of an unusual conclusion to come to. We know they're both fantastic drivers, but the numbers don't really add up!
Elsewhere in the F1 22 drivers ratings, which were revealed with a fun video on the official Formula One YouTube channel where the drivers have to guess their teammates' ratings, it was confirmed that Nicholas Latifi and Guanyu Zhou are the joint lowest-rated drivers in F1 22's Formula One. This seems harsh given Zhou's current 16th position in the Driver's Championship, but it's safe to say that the likes of Mick Schumacher and Lance Stroll have not been helped by their cars this season.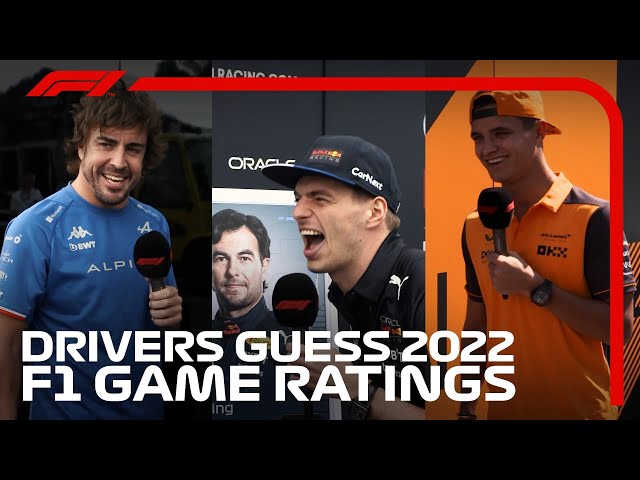 One thing that is interesting, though, is both Lando Norris and George Russell being given an overall rating of 90, despite both drivers having a fairly low Experience stat. In addition to this, despite being second place in the Driver's Championship, Sergio 'Checo' Perez is only rated 88 – the same as Valtteri Bottas, one more than Carlos Sainz, and one less than Fernando Alonso.
Looking at each driver's ability and looking past the car they are driving isn't easy, but it feels as though in some cases, a driver's rating is being limited by the car they're racing in. And, ultimately, it feels as though some drivers are being given a higher rating than they deserve due to the car they're in. Either way, it looks like your grids in F1 22 should line-up more or less like they do now – Red Bull and Ferrari dominating with Williams bringing up the rear.
If you're wondering where the F1 22 Icons fit into this line-up, you can find that out soon – we're not too far away from release now.