Codemasters is shifting things up a gear with F1 22, the latest official Formula One experience from the veteran racing game developers. There are countless new features being introduced, like the F1 22 supercars challenges titled Pirelli Hot Laps, and improvements across the board. A new era of Formula One is beginning and F1 22 is going to reflect that. If you're worried about being left behind as someone new to the franchise, the sport, or racing games in general (or, maybe you're just not that good – neither am I), then you'll be pleased to know that F1 22 is going to cater to you just as much as it will hardcore players. How? Well, the new F1 22 Adaptive AI system is going to play an important part in this.
There are so many fantastic options in Formula One games when it comes to player assists, but F1 22's new Adaptive AI system might be one of the most important we've seen in a long time.
Speaking to James Braland, social and creator manager on F1 22, senior creative director Lee Mather, revealed that the game's upgraded offline AI system will "essentially wait for you to a degree" when you make a mistake.
" People want to play the game differently, some people want the challenge of racing against the AI and they have the ability to cope with that," Mather began. "But, for some of our newer players, people who have come in through a love of Drive to Survive or people who are just picking up on the sport… We have added a feature called Adaptive AI."
" The concept behind Adaptive AI is very-much to cater to what you're looking for from the experience. Which is, you want to be part of the battle. If [players] are not battling with other cars, then they're just driving round. Adaptive AI allows you to stay in the battle, it allows you to be racing other cars."
Formula One games have had scaling AI difficulty settings for a number of years now, but it's almost too easy to find yourself lagging behind – even if you're playing with a competitive level of AI drivers offline. Hitting an inside kerb and spinning out can cost you 10 seconds here and braking late into a tight corner, forcing you to make a front wing change pit stop, can cost you even more. In the space of a couple of laps, you can be looking at a positive delta of 30 seconds or more – something that is very hard to come back from in a race.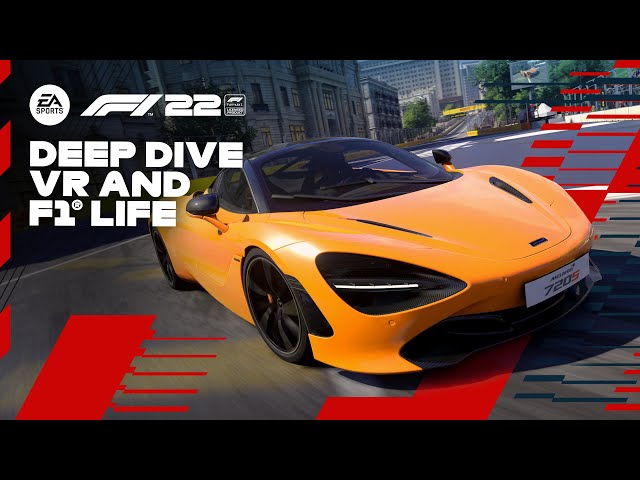 So, F1 22's Adaptive AI system – if you choose to use it – will prove invaluable to players who want to maintain the high-speed wheel-to-wheel action that Formula One races offer, even if they slip up once or twice. This is also going to mean that you're unlikely to be shown a blue flag, which is always a pain.
Continuing his discussion on the new system, Mather confirmed that "it is scalable" and "automatically scales in its' first instance so you can stay in the race." If you don't want to take advantage of F1 22's new Adaptive AI system, you don't need to. That's the beauty of it – Codemasters is making sure that you can fine-tune the offline experience to suit your needs.
The F1 22 release date is fast approaching, and the F1 Manager 2022 release date isn't far behind. There's so much Formula One to look forward to this summer – and we can't wait.