Dragon Age Dreadwolf has been in development for a long time. It's been almost a decade since its predecessor, Dragon Age Inquisition, launched and it's finally time to start talking about the Dragon Age Dreadwolf release date as it comes out of the shadows.
Fans of the role-playing series know that Bioware delivered a giant bombshell at the end of Dragon Age Inquisition, and we've been (im)patiently waiting for the next instalment to see how the story is going to play out. With all of that said, we've compiled everything we know about the Dragon Age Dreadwolf release date, the game's story, and what we've seen of it so far. There are spoilers for the series ahead, so be warned.
Dragon Age Dreadwolf release date rumours
We don't know a release date for Dragon Age Dreadwolf yet, but rumours suggest it will release in late 2023. These rumours come from GamesBeat, who spoke to some with insider knowledge on that game. GamesBeat's source made it clear that the role-playing game was on track for a 2023 release.
Given how close we are to the end of the year, we suspect that if this date still holds true, we will most likely see Dragon Age Dreadwolf release in late 2023 – most likely just before the holiday season.
The game was officially revealed at The Game Awards 2018 and has continued development ever since. The last entry in the series, Dragon Age Inquisition, came out in 2014, so it has been almost a full decade since we've played a Dragon Age game.
Dragon Age Dreadwolf story
Dragon Age Dreadwolf is set after the cliffhanger events of Dragon Age Inquisition and its DLC. The "Dreadwolf" refers to the revelations that (spoilers incoming; turn back now) Solas was the villainous Dreadwolf who had been opposing you the whole time. So, we can expect this game to revolve around combatting Solas and his Darkspawn antics.
Bioware has released a Codex entry from the game in a blog post. The Codex entry refers to Brother Genitivi, a Chantry scholar who appears in the previous games and is a historian who writes about the culture and events of the people of Thedas.
During the trailer (below), we see an idol between the figures of a wolf and elf with an outstretched hand. Details are light on the ground, but we can assume that this is an important reference to Solas and his heritage, and the idol will most likely play a central role in Dragon Age Dreadwolf.
Dragon Age Dreadwolf gameplay
The latest we've seen of Dragon Age Dreadwolf is in the trailer from The Game Awards 2020. It hints at the return of Darkspawn and ends with a teaser about Solas.
While it isn't gameplay, it does tee us up for a brief overview of the game and what we can expect from its tone.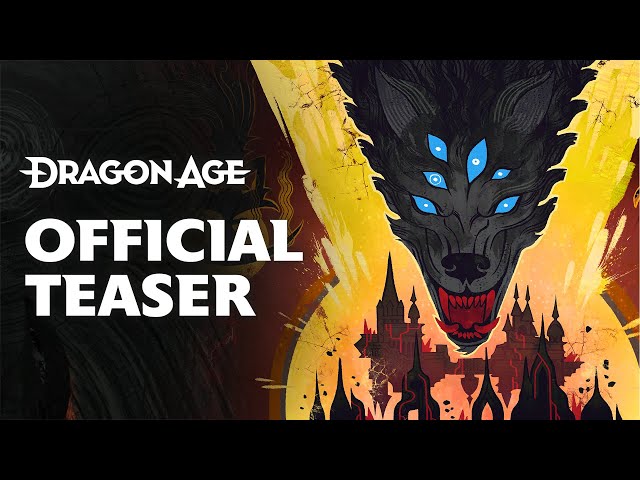 The game did not appear at The Game Awards in 2022, so we may start to see more in the Spring and Summer of 2023 as EA ramps up towards release.
That's everything we know about the Dragon Age Dreadwolf release date, gameplay, and story. If you're looking for more upcoming games, you can read our full lists of upcoming PS5 games and upcoming Xbox Series X games for comprehensive lists.