Have you ever wondered what Animal Crossing would be like if it was full of Disney characters? Well, Disney Dreamlight Valley is just that. Billed as a life-sim and adventure hybrid, the Disney Dreamlight Valley character creator lets players create the avatar of their dreams and plunges them into the Disneyverse.
In a similar way to Kingdom Hearts, Dreamlight Valley was once a place where Disney and Pixar characters lived together peacefully. Now, however, things aren't so peaceful and it's up to you – and the avatar you created in the Disney Dreamlight Valley character creator – to solve the mystery.
Below, you'll find our guide on how to use the character creator in Dreamlight Valley and what customisation options it offers you.
Disney Dreamlight Valley character creator
The Disney Dreamlight Valley character creator allows for extensive customisation of your in-game character. When you first create a character, you will be offered a choice of 15 avatar presets. These presets offer different body sizes and skin tones to pick as a base for your character.
Once you've selected your preset, you can then customise your body shape, eyes, brows, nose, mouth, jaw, hairstyle, face paint, and facial hair all independently. Each of these facets has many different styling options to select from, so you can really drill down and make a character you're happy with.
After carefully crafting your character, you will be taken to the wardrobe menu. This is where you can select what clothes your character wears. The selection of adornment on offer ranges from hats to earrings to bracelets, as well as all the usual fare like tops, bottoms, shoes, and more.
When you're done outfitting your Disney Dreamlight Valley Character, you can then select a name for them. Once you have completed this step, you're done with the character creator and can begin playing Disney Dreamlight Valley.
You can see the full creator in this video from 'Kuriie' below: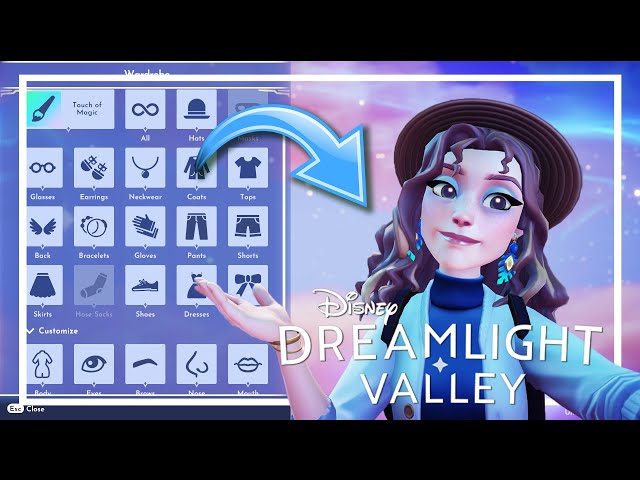 That's everything we know about the Disney Dreamlight Valley character creator. For more tips and tricks, check out our Disney Dreamlight Valley Game Pass guide that tells you when the game comes out and one what platforms and services.