he Warzone 2 Season 2 release time is a hotly-anticipated moment. Not only will the battle royale receive all of the standard goodness a new season brings, but for a lot of players, there's a far bigger reason to get excited – Resurgence is back.
For all of those mourning the death of Resurgence and the vaulting of the smaller Rebirth Island and Fortune's Keep maps in the original Warzone, fear not – your long wait for some fast-paced action is almost over. Warzone Season 2 brings back Resurgence mode on the all-new Ashika Island map, where you'll be able to zip around on redeploy drones, battle it out in an ancient castle, and cosplay as DJ Khaled thanks to the new jet ski vehicles. But when exactly will you be able to drop in?
The Warzone 2 Season 2 release time will be at 9am PT/ 12pm ET/ 5pm GMT on February 15, according to the official Call of Duty blog. At this time, players will be able to download the update or jump straight into the action if they've pre-loaded the update file.
As well as causing mayhem on Ashika Island, Al Mazrah will be getting a spruce in Season 2 with a new POI based on classic CoD map Afghan, a train to ferry people around above ground, and some form of underground cave system connecting some points of interest.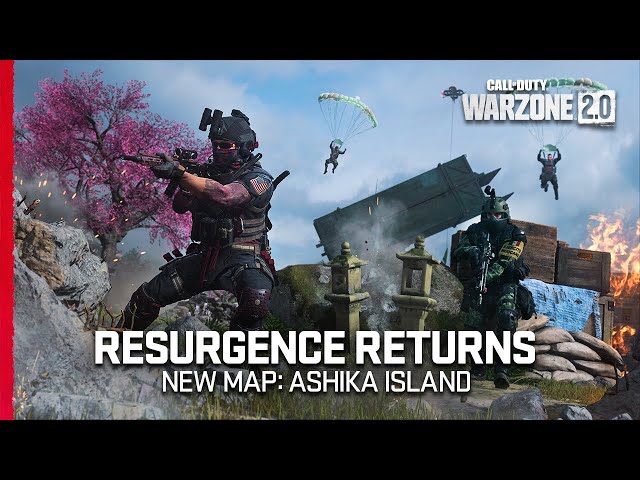 On launch day, there will also be a themed event called Path of the Ronin, which offers rewards in exchange for completing seven specific challenges.
For those that enjoy DMZ, there's plenty for you too – not only will the mode experience its first reset, but it'll also introduce a new boss called Bombmaker who resides on Ashika Island.
While not confirmed, there's a good chance that there will also be some balance changes, so what might have been one of the best Warzone 2 guns last season may not be for Season 2. So, if you're diving into the new content, be sure you're not running a loadout that's been hit with a bunch of nerfs.