Glitches and brutal bugs can be the ultimate enemy in Modern Warfare 2. Every Call of Duty game comes with its own caveats, yet some issues manage to elude a permanent fix. The latest opponent to challenge players is the Hueneme Concord MW2 error, which denies COD players access to the game due to internet issues. However, Modern Warfare 2 community members aren't letting the error stop them in their tracks.
The Hueneme Concord MW2 error appears to be a consistent bug in the latest COD game, appearing as far back as October last year. The peculiar issue prevents players from logging onto Modern Warfare 2, claiming that there is an error with their server connection. Of course, there are numerous factors that could feed into this. Determined Call of Duty soldiers suggest the Hueneme Concord error can be solved on PlayStation and Xbox consoles.
YouTuber 'TechHQ' recommends a fix that is usable for console users, which is to alter your DNS settings. On PS5 and Xbox, players will need to go into the advanced settings menu on their chosen internet router. From there, head down to the primary and secondary DNS settings, changing them to the following:
Primary DNS: 1.1.1.1 or 8.8.8.8
Secondary DNS: 1.0.0.1 or 8.8.8.4
Once this has been implemented, restart your console and the issue should be resolved. However, this might not be the case for every player.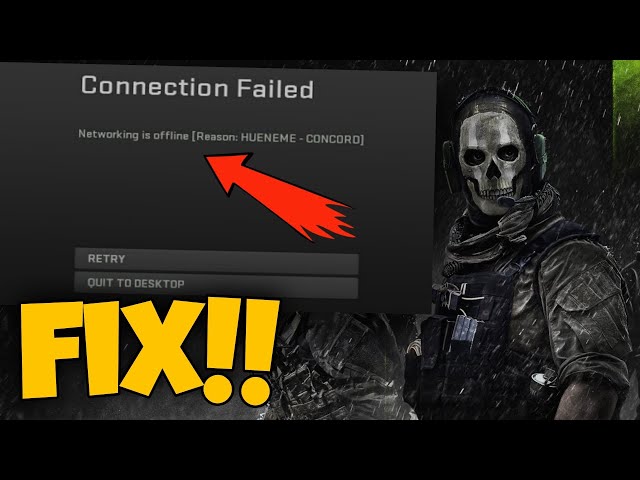 Alternatively, there is another simple fix: restart your internet router. It might seem like an obvious suggestion, but the reliable trick can often defeat any gremlins lingering with your internet connection. Either way, the Hueneme Concord error will hopefully be a thing of the past after trying these tweaks.
Call of Duty has seen its fair share of bizarre problems but with the Modern Warfare 2 Season 2 release date arriving soon, the upcoming update should patch plenty of the game's persistent bugs. But there are new developments to look forward to. After months of absence from the game, the MW2 museum map is rumoured to return in Season 2.
With the Hueneme Concord error out of the way, we recommend getting the best Modern Warfare 2 guns equipped to battle your way through Shoot The Ship.