A sleek new bullpup battle rifle is here to fight for the top spot. If you're looking for the best Modern Warfare 2 Cronen Squall loadout then you're in the right place. Find out all the attachments and class setup you'll need to rein in this unwieldy weapon in both full-auto and semi-auto.
We've got you covered with everything Call of Duty Modern Warfare 2. If you're looking to get your hands on this battle rifle, then you can find out how to unlock the Cronen Squall in Modern Warfare 2 right away in Modern Warfare 2 Season 3 Reloaded. With the right loadout, it can even compete amongst the Modern Warfare 2 best guns to be the Modern Warfare 2 best battle rifle.
Modern Warfare 2 Cronen Squall loadout
The best Modern Warfare 2 Cronen Squall loadout is:
Receiver: Cronen Squall
Optic: Cronen Mini Pro
Rear Grip: XTEN Grip
Laser: FSS OLE-V Laser
Muzzle: Sakin Tread-40
Underbarrel: Edge-47 Grip
This Cronen Squall loadout, suggested by 'WhosImmortal' but with our own spin, balances the long range power of the weapon with closer range aggression and stability. If you're looking for a battle rifle that can go toe to toe at nearly all ranges, then this is the loadout for you.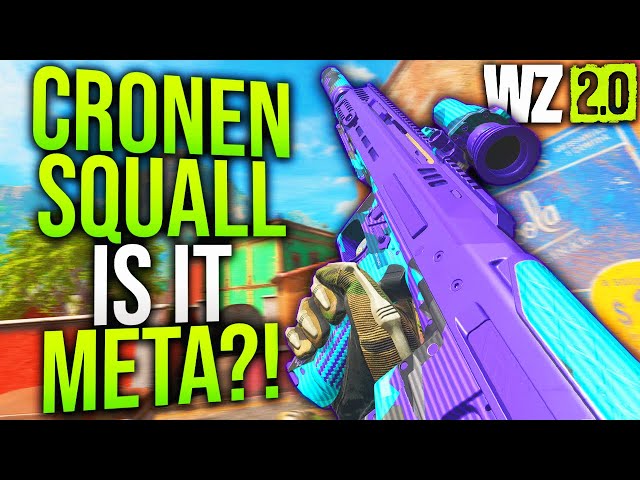 To kick things off, you're going to want the Cronen Mini Pro optic. This is the staple sight in Modern Warfare 2 as it excels on nearly all weapons. It's sleek optic is great for target visibility at all ranges. If you don't want an optic, you could use the 30 round magazine attachment instead or the HR 6.8 barrel. The larger magazine can be particularly useful if you prefer to use the weapon in full-auto fire.
Next up, the XTEN rear grip will further improve the effectiveness of the weapon in an aggressive playstyle. This grip provides bonuses to sprint to fire speed and aim down sight speed at the cost of recoil control. With further tuning to improve both of these stats, you'll be closer to the best Cronen Squall loadout and class setup in MW2.
The FSS OLE-V Laser will help us stay agile in close range engagements. This attachment improves aim down sight speed, aiming stability, and sprint to fire speed, making it a great option for an aggressive playstyle. In terms of tuning, reining in the kick with added stability is a good idea. Pair that with bonus sprint to fire speed tuning and you're good to go.
Moving onto the Sakin Tread-40 muzzle, this will help with both vertical and horizontal recoil control to rein in the kick of this powerful battle rifle. This will hurt aim down sight speed and aiming stability but our other attachments more than make up for this penalty. Tuning for additional recoil stabilization and gun kick control, you'll have a much easier time staying on target.
Lastly, the Edge-47 Grip will counteract the recoil penalty of the XTEN rear grip while also providing extra aiming idle stability at the cost of aim down sight speed. With all our other attachments improving aim down sight speed, this isn't a downside to worry about. You can tune this for even more recoil stabilization and aiming idle stability to round out the weapon.
Best Modern Warfare 2 Cronen Squall class setup
As for the best Cronen Squall class setup, you're going to want to Battle Hardened and Scavenger, with Fast Hands as your bonus perk and Quick Fix as your ultimate perk. Pair this with a Stun Grenade tactical, and Grenade lethal, along with Dead Silence field upgrade and you're good to go.
Battle Hardened will reduce the effects of enemy tactical equipment. This is especially important with this battle rifle as you will need to stay agile in closer ranges.
Scavenger will allow you to resupply frequently, which is great if you're going on long streaks. The last thing you want is to find yourself with no ammo or equipment, right before a big killstreak.
Fast Hands will let us reload, use equipment, and swap weapons faster. This is vital to staying on your toes with this powerful but clunky battle rifle, particularly in close to medium ranges.
Quick Fix is the age old ultimate perk, beginning health regeneration after kills. This will let you play aggressively and get you back in the fight as soon as possible. It's also great at turning the tide if you're outnumbered or caught off-guard.
Stun Grenades and standard Grenades are great for zone control and flushing out opponents. With the long range capabilities of the Cronen Squall, these will come in handy.
Lastly, Dead Silence is a great ability for repositioning and catching your enemy off-guard. You'll be able to get into the perfect position without your opponent knowing a thing, letting you take full advantage of the raw power of the Cronen Squall.
And that's the best Cronen Squall loadout in Modern Warfare 2 right now. The fun doesn't end there though, find out the other best Modern Warfare 2 loadouts you can use right now in Season 3.