Battlefield 2042's redacted game mode has finally been revealed and it's exactly what it says on the tin: the ultimate love letter to fans both new and old. Ripple Effect Studios takes everything you love from Battlefield 1942, Battlefield Bad Company 2, Battlefield 3, and, of course, Battlefield 2042, and serves it up to you on a platter in the form of a new custom mode, named Battlefield Portal.
Revealed at EA Play, Battlefield Portal has its origins in custom modes and mods, putting the power of creation firmly back into the hands of players. In this new mode, fans will be able to create their very own Battlefield, with their own rules, all while earning XP for Battlefield 2042.
Players also won't be limited to pre-existing game modes in Portal either. Like Fortnite Creative, players will have the chance to create their own sandbox adventures from sniper-only battles to PvE experiences with AI bots, with the best ones making the spotlight on the game's main menu via a simple share code.
The creation process has been opened up via a handy web app, known as the Builder, meaning anyone, regardless of what platform they play on, can take advantage of Battlefield Portal. Via this app, players will have the option of choosing modes, maps (and smaller versions of maps), and teams. From there, players can pick the lobby size, the player distribution, the factions and classes they want to play as – and yes, you can pick 1942's anti-tank class – and much more.
As for Battlefield Portal maps, players will be spoiled. The development team has painstakingly remastered Caspian Border, Noshahr Canals, Battle of the Bulge, El Alamein, Arica Harbour, and Valparaiso in 4K, even adding destruction to the 1942 maps. Loads of Battlefield Portal weapons, Battlefield Portal vehicles, and Battlefield portal gadgets will also be brought over from three theatres of war.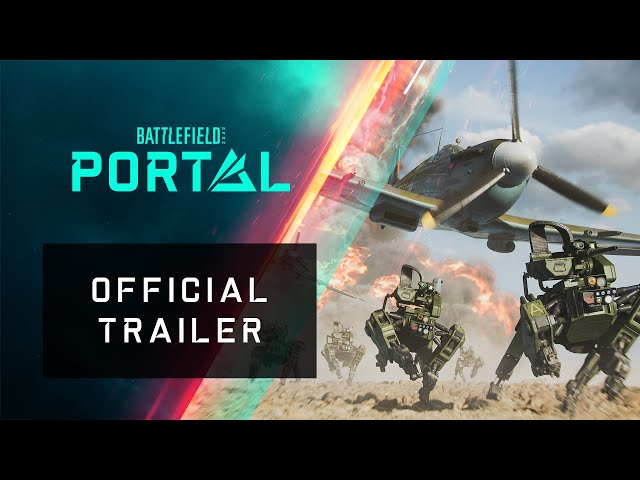 The most exciting part of this all though is the logic editor where visual scripting comes into play. It might look complicated, but here you can create set rules for actions to really personalise your game and the way people interact with it. These rules can be saved and shared between players, allowing for collaboration in the wider community.
Oh, and you'll be glad to know that you don't need to rent a server to host custom lobbies like the old days. All Battlefield Portal games will be hosted on EA's cloud, giving you the freedom to create as many experiences as you want through the game's life cycle – although we can tell you now that there won't be any battle royale modes.
Battlefield 2042's release date is quickly approaching. You can preorder the game here.