Designing a new Rainbow Six Siege operator takes about nine months to complete, but when Ubisoft started designing Thunderbird, the game's newest operator, her background hadn't been identified. That was until the team decided on her voice actress.
When Sera-Lys McArthur finished her audition, Ubisoft knew she was the right person for the job. But her voice wasn't the only thing that caught Ubisoft's attention – her background as a Nakoda woman did too. "We ended up casting McArthur before deciding on the operator's heritage and identity," Marie Roy, Ubisoft's user research lab coordinator, tells The Loadout. "We based Thunderbird's background on her. We wanted to create an indigenous character that other Nakoda folks could relate to."
Although Thunderbird was based on a Nakoda woman, Ubisoft wanted to make sure that they captured the essence of what it is to be a Nakoda inside a game. Instead of just speaking to McArthur, Ubisoft spent time scouring the web, speaking to game developers, universities, and cultural centers, looking for Nakoda people who'd be able to help them during the design process. After a short while, Roy and her team locked down the people they needed and got to work.
"It took some time to find the right partners," Roy says. "We wanted to work with folks that are Nakoda themselves rather than people who studied their history. It's important for us to have their perspective of growing up in the culture having that lived experience. The consultants [we found] thought this was a great opportunity to give visibility to their language and their culture, and they're pleased with the results."
Roy tells us that the consultants didn't lay out any rules or guidelines, but they liked to consult their communities before advising Ubisoft on certain topics. She feels this was an "outstanding collaboration" that resulted in an operator that everyone can be proud of.
"They influenced [the design] of this character from the beginning," she says. "It was important for us to work alongside them rather than ask for a seal of approval at the end." While the consultants helped influence both the visual design and the background of the operator, their biggest contribution came when they named her.
The operator has two names – her real name, Mina Sky, and her codename, Thunderbird. To the average player, this might not mean very much, but to the Nakoda people, her name takes on a very different meaning: the bringer of water.
"There is a lot of significance behind naming in indigeous communities, therefore it was essential that Thunderbird be named by the Nakoda consultants we worked with – and that meant a lot to the Siege team."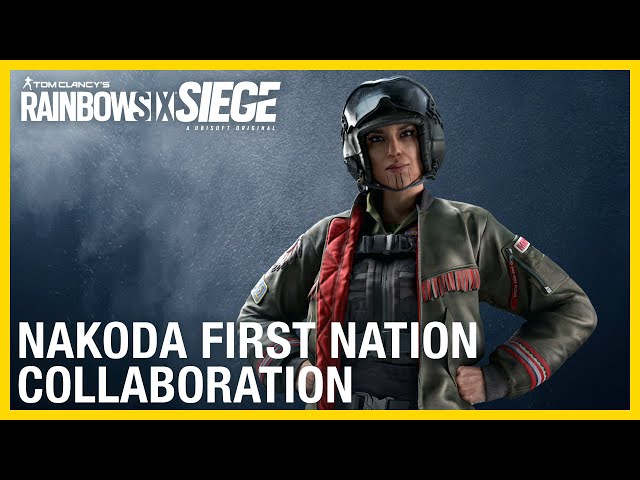 That theme of water runs through every strand of Thunderbird's identity. First Nation territories often have difficulty getting access to clean water, hence the decision on Thunderbird's code name. If you look a little deeper into the her background, you'll also find she studied hydrology.
It's an impressive amount of work for a team that cares so deeply about representation in gaming. And when you consider that lore is hardly at the forefront of a competitive FPS, that achievement is even more impressive. While Roy is clearly aware of that, her team have no plans on slowing down – especially as Ubisoft aims to release another 40 operators.
"Representation matters," Roy adds. "Our objective is that all players can find a character that they can identify with when playing our game. We put in a lot of time and effort picking the folks we work with on these characters, and I believe this is why we've been able to work with such amazing individuals."