One of the most surprising and exciting game announcements for 2022 came in the form of Teenage Mutant Ninja Turtles: Shredder's Revenge – a throwback brawler reminiscent of Konami's classic arcade co-op beat 'em ups. It was exciting news not only for its nostalgic look and feel, but also because of the attachment of publisher Dotemu, the company behind 2020's stellar Streets of Rage 4.
Now, it's been revealed in a studio profile by Edge in the latest edition that it was thanks to Streets of Rage 4, as well as Dotemu's remake of Wonder Boy: The Dragon's Trap, that the company caught the eye of the TMNT license holders in the first place. "Nickelodeon came to us for Ninja Turtles," Cyrille Imbert, CEO of Dotemu, says when discussing the difficulty of getting the rights to work on such famous IPs.
It appears the TV network reached out in hopes of collaborating with the retro games-focused company, and it seems Imbert didn't have to think very hard before landing on the idea of making a new Turtles game. He says, "I Googled Nickelodeon just to remind myself [of its IP]. I saw TMNT and I was like, 'yeah, that's it, no need to go further'."
The project was then handed to developer Tribute Games, known for its work on similarly retro-styled games like the Metal Slug-homage Mercenary Kings. Tribute is also comprised of developers who once worked at Ubisoft on brawlers such as Scott Pilgrim vs the World, and even the TMNT movie tie-in game on the Game Boy Advance, so evidently the project rests in some experienced hands.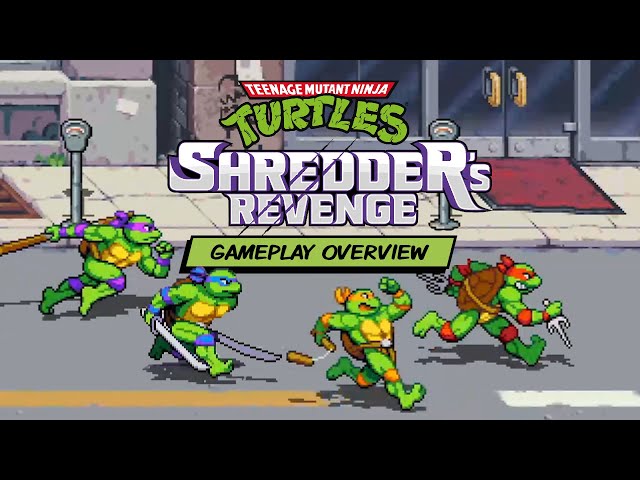 Nickelodeon has seemingly had a big resurgence in video games as of late, with last year's All-Star Brawl being a surprisingly robust Super Smash Bros clone. The fighting game featured Leonardo and Michelangelo from the Turtles, plus April O'Neill – who will be appearing as a playable fighter in Shredder's Revenge too – and even the Shred-head himself, joining the roster late thanks to some free DLC in February.
Due for release this summer on PlayStation 4, Xbox One, PC and Nintendo Switch, Shredder's Revenge was also reported to feature the original turtles' voice actors from the classic 1987 children's television series. With Konami's announcement of the Cowabunga Collection earlier this year as well, it seems 2022 is set to be one for the books if you're a fan of classic Teenage Mutant Ninja Turtle-themed brawlers.