Is it any surprise that The Bearded Ladies is making yet another game set in a post-apocalyptic world? Well, following on from its critical hit, Mutant Year Zero: Road to Eden, the developer is back, this time with a Tom Holland lookalike equipped with a mysterious gauntlet for Miasma Chronicles.
The game, first shown off at the 505 Games showcase back in May, follows a chap called Elvis and his robot 'brother' Diggs trying to break through and control the Miasma – an unknown force that shapes the world around them – in an attempt to find his mother and unravel the mystery of this strange new world.
But, like all good post-apocalyptic stories, that is just the tip of the iceberg and in this third-person action adventure, which blends turn-based combat with RPG elements, there's lots to uncover.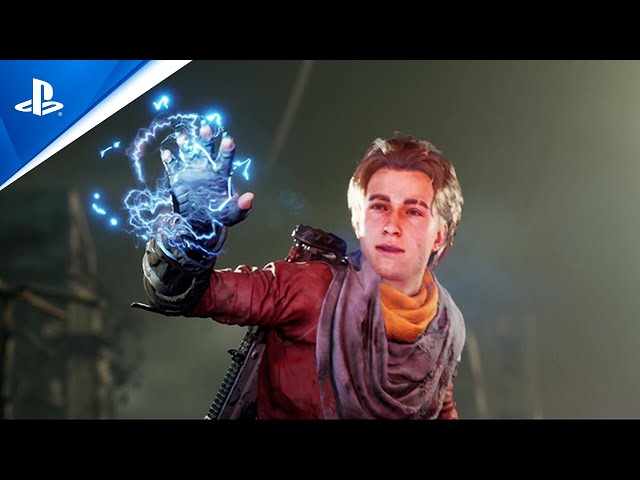 So much so that during my hands-on and subsequent developer demo at Gamescom, producer Mark Parker didn't really know where to start or what to show me first. That might sound like a bad thing, but The Bearded Ladies has really leant into the world building for this game and it works surprisingly well.
Before we can get to that point though, I need to fight some frogs.
Following the start of the game, which starts with Elvis breaking his glove while trying to break through a wall of the Miasma, the teenager and his brother start making their way back home. Except their long walk home along a broken motorway is rudely interrupted by an army of frogs who start a fight with someone you know. And, like all good action adventure protagonists, you decide to step in.
This is my first taste of Miasma's combat and it feels very XCOM like – something Parker tells me is intentional. However, Miasma basically takes the best bits of Mutant and the best bits of XCOM and blends them together, creating a simple, but effective turn-based strategy system that even XCOM-noobs like myself can understand.
This tutorialized fight, which introduces me to movement, engagement, and Miasma's shared backpack system, helps me defeat the frogs and get both Elvis and Diggs back to safety.
It's only when I walk into the town of Sedentary that I realise why Parker has choice paralysis. This place is enormous and it's full of individuals who want to speak to you. There's a shop called The Original Big Berthas, which Parker tells me has had to deal with an imposter Berthas shop elsewhere, a mine full of hard workers and robots much like Diggs, and plenty of houses.
"A lot of people who played Mutant really linked the world building, but we were a smaller team back then and we couldn't expand on the things we wanted to," Parker tells me. "But now we're bigger, we've got the opportunity to do that and here we're punching above our weight."
In Miasma Chronicles, there are plenty of characters you can interact with and potentially bring on board. Elvis can deploy three characters in battle at any given time and you'll have the opportunity to recruit people as the story progresses and you unlock more questlines.
Despite having branching dialogues and stories, Miasma isn't going to be like a Far Cry RPG – there are some limitations that stop the world from becoming too bloated. While that means you can dive into side missions at your leisure, you won't be playing the same ones over and over again on repeat 200 hours in.
And that's really important in a world that's sprawling with interactions. While I didn't have time to talk to everyone during my time with Miasma Chronicles, I did come across a few odd looking fellows who gave me a good indication on where the development team pulled its inspiration from.
The first was the town's mayor, who is basically a floating head in a jar strapped to a Death Stranding frame. He 'smokes' a cigar in the same way that Nixon does in Futurama. It's a strange characterisation that feels a little out of place with Miasma's world, but in a weird way it works.
The second is the Collectors – a group who come to pick up resources from towns spread across Kentucky. The parts of the game I've played don't really explore this in great detail, but Parker tells me that each of the towns produce certain elements – a bit like the districts in The Hunger Games – that go to a central power. Sedentary's tribute is gold.
Now, I have no idea whether that's going to come into play at a later date, but given the Collectors come up a lot – in both my chat with Parker and with various characters in-game – I have a feeling it's only the beginning.
But that's something I kept coming back to during my hands-on with Miasma Chronicles: there's a lot of mystery – too much, in fact, to be fully understood during a 20-minutes hands on. By the time I leave New Lexicon to do some actual quests and fight yet more frogs – this time with stealth and a rage meter – I realise there's still so much that I don't know.
And that worries me.
With the Miasma Chronicles release date set for next year, The Bearded Ladies has much to do to bring fans into this puzzling world. While I enjoyed walking through Sedentary with Parker as my tour guide, I worry that the game's slow start and the fact it introduces so many characters and side quests so early on could well put people off.
Also, while mystery can be enticing, there also has to be some level of understanding before a player commits themselves to a new game. Hopefully, The Bearded Ladies open the door to Miasma a little wider before launch.