When is the Marauders release date? Small Impact and Team 17's upcoming first-person game is looking to muscle in on the extraction looter genre – but it'll be a while yet before Marauders hits full release.
This hardcore looter shooter, which is much more than just Escape From Tarkov in space, is still in its early stages. As a game originally backed by more than 3,000 people on Fig, Marauders has snowballed into much more than a pandemic project. Now with Team17 at the helm as publisher, Small Impact is looking to make a big splash with early access.
But when can you get your hands on the game and when is the Marauders release date? Here's everything you need to know about this intriguing new game, including when you can play it, what platforms it's coming to, and how to be the ultimate space pirate.
Marauders release date
When is Marauders coming out? We don't have a Marauders release date just yet, but we do know players are starting to get their hands on it through the first of the closed betas. Beyond that, the game will be going into early access on PC for an undefined period of time in 2022.
Around 3,000 players have been testing the game since March 2020. These are the original Fig backers, which Small Impact has stayed in touch with.
Marauders early access
To whet our appetite for the Marauders release date, Small Impact and Team17 is launching the game in early access soon. The first closed alpha took place on Steam in May 4.
The first closed beta is scheduled to take from July 20-25. Anyone who pre-orders the game will have access to this beta, as well as another one that'll take place in the summer.
Marauders platform
At the moment, Marauders is set for release on PC via Steam and PC Game Pass. The game has not been confirmed for console, although in an interview with The Loadout, Small Impact's Cameron Small says that the game would be current-gen only (Xbox Series and PlayStation 5) if the developer decided to port the game.
"I'd want to stretch the power and push the multiplayer graphics," he says. "I'm basically saying PS4 and Xbox One won't happen. It also wouldn't be cross-platform – I don't think I'd ever be on board with PC players fighting console players."
Marauders price
How much will Marauders cost? Currently you can pre-order the game for £24.99 on Steam.
Marauders trailer
At the moment, we only have two Marauders trailers, which you can watch below.
The first released for the game's announcement in March 2021 and shows players trying to escape a ginormous spaceship from shooting them down. It also shows players using escape pods and entering points of interest on foot, as well as gunplay.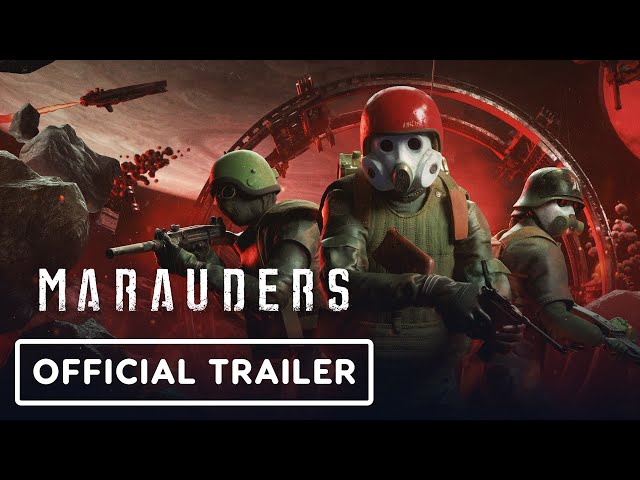 The second was released for the game's first closed alpha and shows off yet more space shenanigans and shooting in raid locations.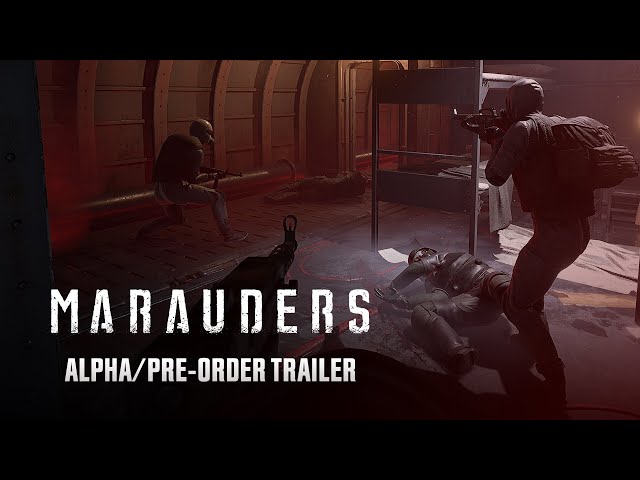 Marauders setting
Marauders is a dieselpunk game set in an alternative history universe. The finer details are a little bit sparse, but we know that Marauders in the early 1990s in which three factions are fighting in space. Apparently the Great War never ended in this world, hence why your arsenal is full of familiar weaponry.
Marauders Maps
If you're struggling to find your way around the Marauders map, you're not alone. Sadly there aren't specific maps for the space portion of the game since the world is procedurally generated each game. However, the Mine, the Space Port, and the Damaged Capital Ship are set locations and can be learned – although you'll have to rely on community made maps for this outside of the game.
Marauders factions
There are three warring factions in Marauders and you can work with them all simultaneously. Each faction has their own traders, which you can buy and sell goods from, as well as take on missions.
You can improve your reputation with each faction by taking on and completing in-game missions. This will reduce the cost of items by a small percentage.
The Marauders factions are:
United Allies
Kingdom Alliance
Central Empire
Marauders guns
At the moment there are around 50 weapons available in-game. Most of these hail from the First and Second World Wars, but some have minor differences from real-world weapons.
Here are all the Marauders weapons:
Hunting Knife
Bowie Knife
Machete
Combat Knife
Baton
Truncheon
Pick Axe
Hand Torch
1911
Welrod
Luger P08
Mosin Obrez
Mauser M712
BAR
M1941 Johnson
StG 44
SVT40
MG42
De Lisle
M50 Reising
DP28
M16
Bren Mk2
M1 Para
K1 Assault
Krasa
Heavy Thompson
Uzi
M45 Carl
PPSH
Thompson
Sten
MP40
Mat49
Viper Mk1
Mac10
Klubb Machine Pistol
Liberator
Terminator
Trench
Sawed-Off
Jackhammer
Flare Gun
Scrap Bomb
Anti-personnel Mine
Flamethrower
Blow Torch
Fire Extinguisher
Marauders ships
At the moment, there are six ships in Marauders, these are:
Rustbucket
Scout Frigate
Interceptor Frigate
Heavy Frigate
Vulture Frigate
Capital Frigate
Marauders news
Now that Marauders has officially been announced, you can expect more Marauders news in the coming weeks and months.
We do know a few snippets of info about the game, including that the AI players are based on the old Fear games. These characters will react to your actions – and will cower if you take the battle to them.
We also know that Marauders was inspired by a slew of films, TV programmes, and games. Cameron Small says Star Wars, Jin-Roh, and Star Citizen all served as inspirations to the game, along with titles like DayZ, Vigor, and more.
Oh, and the devs are feeling confident about Marauders. Small Impact believe it is at the "precipice of a new genre" and there's a clear hunger for more games.
The first closed alpha went down a storm, witrh Small Impact reporting the game was "three times" bigger than expected – even though they had a small cheating problem.
That's all we have on the Marauders release date for now. If you're interested and you want to find out more, make sure to check out our Marauders preview for our thoughts on the game, and catch up on all our Marauders news so far.