The League of Legends World Championship, or Worlds as you might better know it, has wrapped up for 2022, with South Korea's DRX taking an incredible win after becoming the only team in history to have won after starting at the Play-Ins. It's a truly magical feat, and watching some of their plays is sure to get even casual League of Legends fans psyched to jump into the game and try it for themselves.
But hold your horses there, partner. Are you sure you can pull off a trick like Faker if you just jumped into solo queue right now? And even before you can pull off those flashy moves, do you have your fundamentals down? If the answer to those questions is "no", then read on.
If you've never even watched a game of League of Legends before, then you might want to check out our beginner's guide to understanding the game before you start with these next steps. Ready to jump in? Then let's get going.
Know your role
If you've played a few games of LoL, you should know the basics of roles – toplaner goes in the top lane, midlaner goes mid, jungler goes into the jungle, botlaner and support head to the bottom lane.
The overall goal of any laner is to stop the approaching minion waves and take down towers. If you watch the pros play, however, you'll notice that the turrets don't really start falling until 15 or 20 minutes into a game. That's because the players are instead focusing on farming the minions for as much gold and XP as they can so that they can buy items and improve their level faster than their opponents.
If you're playing top or mid, you'll largely be left to your own devices, so learning how to manage a wave is essential – we'll come back to that in a sec. For bot lane, you'll want your botlaner to focus on gold and XP, and let the support pick up the scraps. Botlaners will be one of your main damage dealers as time goes on, while supports can wait longer before they need to start worrying about their level.
Junglers are on a whole other level. Not only do you need to keep clearing out your own jungle by yourself, you'll also want to venture into the enemy's jungle to mop up enemies and prevent your opponent jungler from getting gold. Junglers are also the main ganking force of the team, since they're roaming all around, so be prepared to kick off fights early on to reap even bigger benefits.
Ward a winner
Pro LoL players place wards all over the place. You might decide to put one in your lane's nearest brush and one in your nearest neutral objective pit and call it a day, but if you're heading to the big leagues, that simply won't cut it. You and your team need to be putting wards down constantly to know where your enemy is at all time, therefore avoiding getting ganked and losing neutral objectives like Drakes and Barons.
After a while, you'll also want to be picking up an Oracle Lens to start removing your opponent's wards from the map. Securing vision on key locations while denying it for your enemies is the key to successful plays – after all, how can they steal your Baron if they don't even know you're fighting it?
Give us a wave
If you're playing in the lane, then controlling the march of the minion waves is absolutely essential to victory. Your instinct might be to wipe out all of your opponent's minions as quickly as possible to push up to their tower, but this isn't going to be effective in the long-run.
By default, you'll want to "slow push" the minion wave. This means only last-hitting minions, and letting them battle it out amongst themselves the rest of the time. Last-hitting nets you the most gold, and keeping the pace of the wave as slow as possible means you won't end up in the turret's danger zone.
If you're looking for an advantageous gank, then "freezing" the wave near your turret is a smart play. This is similar to slow-pushing, but you allow your enemy a slight advantage to bring them closer to the danger area. Once they're in range, you and your jungle dive in for a gank, protected by the might of your turret.
Once your enemy laner has died or recalled, then it's time to "shove" the wave. This is simply eliminating every enemy minion in your path and rushing straight for the turret to start dealing damage. You don't want to do this unless the lane is clear of enemies – once you get under that turret, it gets a lot harder to escape its damage.
Get some help
They say that practice makes perfect, but it's more that practice makes permanent. If you're doing the same thing over and over in your LoL games and not getting any better, it's time to get some expert help.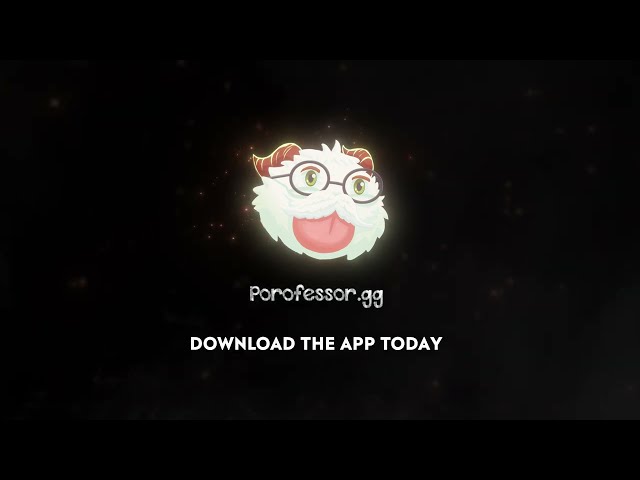 With Porofessor on Overwolf, you can keep an eye on in-game stats to help you adjust and refine your gameplay on the fly. Before you even get into the game, it'll be providing advice on bans and counterpicks, the current champion meta, and more. If you're trying to improve, it's an invaluable tool.
There are plenty of other apps to check out too – Facecheck is another popular one, offering up competitive builds for each champion and advice on dealing with your opponents.
Why not check out Overwolf today and see which app suits you? Whatever you choose, it's sure to help improve your LoL game before you know it.