Guilty Gear Strive's first DLC character is set to be released this month, and we now have details on when to expect the reveal.
Arc System Works' latest instalment in the Guilty Gear series has become the biggest yet, selling over 500,000 copies worldwide since launch last month. While it isn't comparable to the sales figures of titans like Mortal Kombat 11, for a niche anime fighting game with less brand awareness, it's a big success.
This is only the start for Guilty Gear Strive though, with the first season pass featuring five additional characters, new stages, modes and story content. The first character will be announced on July 21 in a special presentation, so here's everything you need in preparation, from start times to rumours over the fighter's identity.
Guilty Gear Strive DLC fighter stream start time
The presentation for Guilty Gear Strive's first DLC fighter will stream on the Arc System Works YouTube channel above across July 20/21 depending on your region. You can check out the start times below.
Tuesday, July 20:
West US – 6pm PST
East US – 9pm EST
Wednesday, July 21:
UK – 2am BST
Central Europe – 3am CEST
Australia – 11am AEST
#GuiltyGearStrive keeps on rocking with over 500K units worldwide!🎸🤘🤘

📣 We're announcing the 1st DLC character on our YouTube Channel!
📺: https://t.co/YqooUQQ6E0

Date
📅: 07/20 6PM PST
📅: 07/21 3AM CEST

You can also buy the Season 1 Pass currently at a special price! 🎁 pic.twitter.com/qF6E5cZbhI

— ArcSystemWorks ➡️ #GuiltyGearStrive 06.11.21 (@ArcSystemWorksU) July 16, 2021
Where can I watch the Guilty Gear Strive DLC stream?
You can catch the full stream over on Arc System Works' official YouTube channel. To save you a click, you can catch it when it goes live below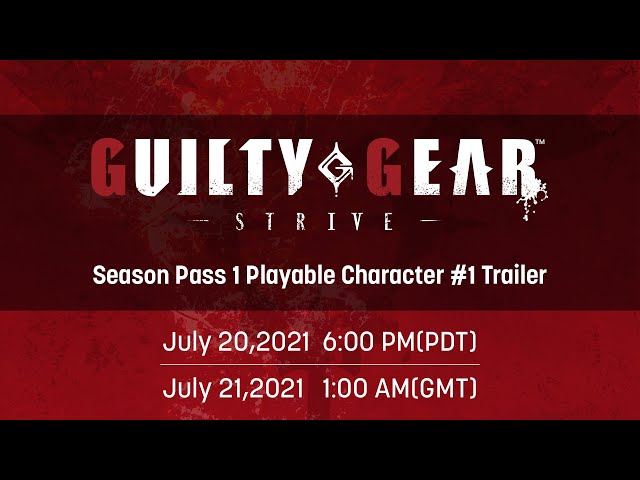 Guilty Gear Strive DLC leaks
While nothing has been confirmed, dataminers have discovered files in Guilty Gear Strive's PC version which potentially reveal every DLC character on the horizon.
If you want to remain unspoiled (potentially), avert your eyes!
According to files dug up by 'Lean_Buscaglia', the five DLC characters in the season pass are Happy Chaos, Asuka (That Man), Goldlewis Dickinson, Jack-O' Valentine, and Jam Kuradoberi.
This would point to Happy Chaos being the first DLC fighter. As the main antagonist in Guilty Gear Strive's story mode, it would make sense too. In the story, he's a mysterious being who thrives on chaos for the sake of drama – with the ability to possess guards and generally use magic to manipulate the environment.
We'll have to see if Happy Chaos officially becomes the next fighter though when the presentation kicks off on July 20/21.