After starring in his own Disney Plus show, Marvel's Loki is about to make his battle royale debut as a Fortnite skin. Now, the in-game skin's model has finally been revealed.
The God of Mischief will soon wreak havoc as the skin will release for those who are signed up to Fortnite Crew Membership in July on all platforms: PS5, PS4, Xbox Series X, Xbox One, PC, Nintendo Switch and Android phones. The skin will release in the early hours of July 1 and the skin will be available for the remainder of the month.
Crew members will receive a pack filled with goodies in addition to the Loki Laufeyson outfit including Loki's Cape Back Bling, his Scepter Pickaxe, a Chitauri Chariot Glider, and Loki's own loading screen. On top of that, Crew subscribers will be given their usual reward of 1,000 V-Bucks and will also automatically gain access to the Chapter 2 Season 7 Battle Pass.
How to get the Fortnite Loki skin
The Loki Fortnite skin will only be available with a Fortnite Crew membership subscription, which costs $11.99/£9.99 a month. The fee is recurring until the membership is manually cancelled. To sign up for the service, follow these simple steps:
Launch Fortnite on your primary device (console, pc or android)

Navigate to the Battle Pass menu screen
Select the icon for Fortnite Crew sign-up
Enter your details to complete the purchase and confirm your membership.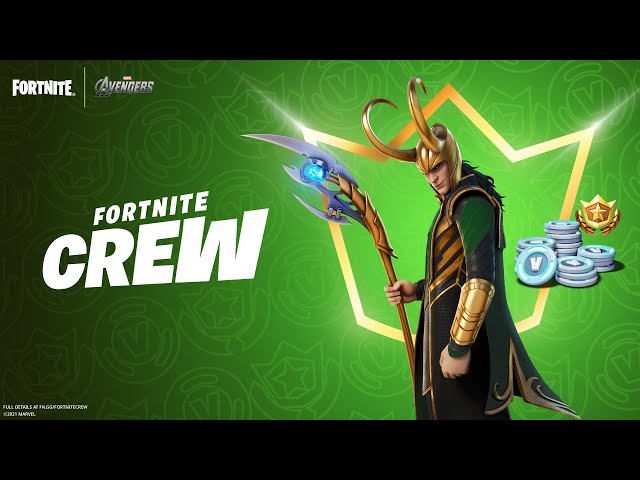 It's worth noting that your Crew account will only work on your chosen primary device and, therefore, will only work on one platform. So if you, for example, sign-up for Crew membership on PlayStation, you would not be able to use the same rewards on Xbox or PC without another membership.
So that's how you get this awesome looking Loki Fortnite skin. With plenty of other Marvel heroes and villains all currently sporting in-game skins, it won't be long before you can re-enact the battle in Avengers: Endgame in Pleasant Park!