EA Sports has just revealed some new information about gameplay in FIFA 21, promising that players will "get rewarded for your creativity and control with new gameplay features."
The additions are aimed at giving you more control of your team on and off the ball, as well as fixing some of the issues that have dogged FIFA for the past few years. There's nothing to dissuade the usual complaints that FIFA is just the same every year, but then… it's a game of football. How different can we really expect it to be? Whether these changes prove to be minor tweaks to the same basic formula or genuinely upend the meta of the game remains to be seen, but the truth is probably somewhere in between.
Most of these additions are likely to be folded into your playstyle without you noticing too much, while others might be sideshow distractions ignored at a competitive level. However, there are a couple which might actively evolve the game, if only slightly.
Player Personality
This isn't a definitive feature per se, but is a philosophy EA claims to have honed even further in FIFA 21, and is a big part of many of the more tangible elements EA is adding to this year's installment. An example offered is "in the past, a through pass used the Short or Long Passing attribute to determine quality. However, in FIFA 21, a through pass is a mix of Short/Long Passing, Vision and Composure attributes."
The basic idea here is that your Kevin De Bruyne isn't just an avatar with similar stats to the real life De Bruyne, but that he moves, thinks and reacts like De Bruyne would. Several of the other features offer a bit of depth on how Player Personality will actually influence in game performance.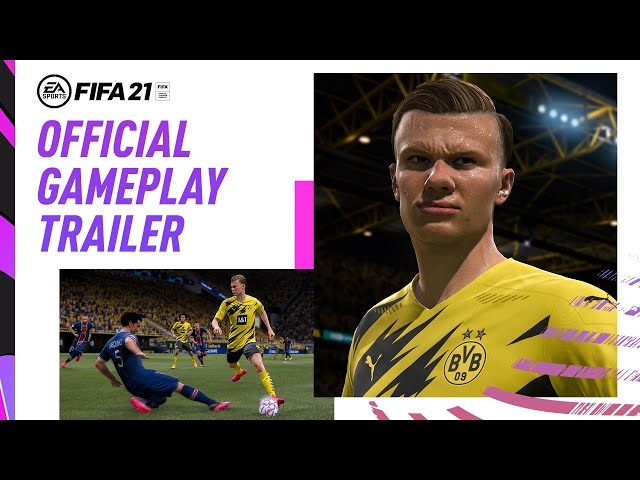 Agile Dribbling
Much like Allan Saint-Maximin with the ball at his feet, FIFA have been nudging the dribbling controls this way and that for the past few years. FIFA 21 is no exception.
Inspired by real life dribblers – the FIFA 21 trailer uses real life footage of Bernado Silva rinsing Eric Lamela and Danny Rose – Agile Dribbling is designed to let you move the ball with rapid and precise touches, working your way through tight gaps to find space. Activated through pressing RB/R1 and pressing the Left Stick, it lets you knock the ball around sharply to combat jockeying.
Player Personality comes back into play here, as Dribbling, Agility, Reactions, and Ball Control all determine a player's effectiveness here. Son, Mane, and Sterling were amongst those highlighted in the trailer. This will sit alongside the LB/L1 Strafe Dribbling system, rather than replacing it.
Creative Runs
EA seems to believe every feature every year is a game changing one for FIFA, but if this one works as intended, it could be the biggest development in years.
How many times have you found yourself running at the defense, only for Mo Salah to hug the byline instead of cutting inside where the space is gaping? With Creative Runs, these frustrations should hopefully be a thing of the past.
You can now control off the ball runners simultaneously with dribbling, with a few different options at your disposal.
Directed Runs
You can now take full 360° control over the direction of the runs of your teammates by flicking the Right Stick after triggering a run (L1/LB then flick Right Stick), or after calling a teammate short (R1/RB then flick Right Stick). This means your players should run exactly where you need them to.
Directed Pass And Go
Decide where your teammate makes their run after a pass by immediately flicking the Right Stick in the desired direction. This feature works with any type of pass; Ground Pass, Lob Pass, Through Ball, and even Crosses (Ground Pass example: X/A then flick Right Stick). The poor AI running meant one-twos never really worked in FIFA, but this idea has more promise.
If you're co-ordinated enough, you can have up to 5 directed runs going at the same time.
Player Lock
If you want complete off the ball control, you can have that too. Pressing both Sticks at the same time locks you to your current player when attacking, letting the CPU AI control the on-ball player. This frees you up to make truly creative runs with more control than ever.
Timing of these moves will need to be precise, otherwise you'll start activating skill moves and the likes instead, but done right, this is an update with real potential.
Positioning Personality
Defensive midfielders like N'Golo Kante, Fernandinho and Casemiro are a crucial part of modern football, but they've largely been a passenger in recent FIFA instalments. Hopefully, this injection of personality to the game will shake that up a bit.
Players who are more tactically aware in real life will read the game better in FIFA 21, and will naturally adopt more advantageous positions, both in attack and defence.
Attacking – Positioning Attribute Impact
Onside & Offside Runs – Players with higher attacking awareness will hold their runs more often, making them more reliable runners. However, this will be overridden when using Fast Build Up tactics and/or Get In Behind Player Instructions.
Passer Readiness Runs – Players who can read the game effectively will time their runs for ease of distribution, running into space ahead of possession at angles which make laying the ball off simpler. Again, these are overridden when using Fast Build Up tactics and/or Get In Behind Player Instructions.
Decision Making Time & Intelligence – Straightforward this one; players with the highest attributes don't just make these clever runs, they time them to perfection too.
Passing Lane Analysis – Again, better players don't just consider the destination of their run, but how many obstructions will block the route, and how to make passing easiest for their teammate.
All of the above features are available in some form to all players in the game, but the ones below are specifically for players with a high Positioning attribute only.
Ideal Crossing Positioning – These players find the best positions when they're racing into the box, awaiting an incoming cross. This is not active during set pieces.
Open Up Space – These players favour diagonal runs to make it harder for defenders to stick to them.
Fake Runs In The Box – These players move into the box then dart back out, leaving defenders stranded and giving themselves space for a pull back, meaning the pull back could be about to be spammed even more.
Chance Creation Support – AI forwards are more aware of the lack of passing options and will drop deep during build up play, adapting a Roberto Firmino role more frequently.
Defending – Defensive Awareness Attribute Impact
The Defensive Awareness attribute can impact many elements of Defending Personality, and the specific behaviours below scale according to to the player's attribute.
Run Tracking – Highly aware defenders do a much better job at staying with their runners, even when attackers make more intelligent runs themselves.
2-Man Marking To Prevent Counter Attacks – Defenders can double up on the best attackers to snuff out counter attacks. Both defenders need to have high stats for this to work effectively.
Defensive Midfielder Diligent Tracking – These players intelligently mark and track runs by attackers without giving up or leaving them open. They will track dangerous attacking opponents even if they are already marked by a teammate, due to the scale of the threat.
Defensive Midfielder Cutting Passing Lanes – Awareness to position themselves better in order to cut off passing lanes and limit the opponent's options. Very high awareness is needed for this skill to be effective.
Active VS Passive winger behaviours – Determines how active wingers can get when having to perform defensive duties such as marking, defensive positioning, and tracking runs.
Full back Cooperation -When one full back pushes up, the other will cover and become more aware to mark and track attackers, giving a more fluid and realistic feel to defending.
smoother encounters
Essentially, players will run into each other less in FIFA 21. By being more aware of the other players on the pitch and jumping or dodging a collision more often, we'll see less car crashes this time around. Even when players inevitably do run into each other, they'll be aware of it, and rather than an inescapable tangle of legs, we'll see them changing their body shape for smaller impacts. These should lead to more realistic scrambles.