Fall Guys was a huge hit when it launched on PlayStation consoles, but now it's on numerous platforms the game has only become more fun with crossplay now being enabled. We're getting seasonal content, too, and now the Fall Guys Season 3 release date is on the horizon.
Season 2 has been well underway for a while now. It introduced a plethora of new themed content to play, but as with all things live service, after a while the content gets stale and you want something fresh and new. So, below you'll find everything we know about the Fall Guys Season 3.
Fall Guys Season 3 release date
Fall Guys Season 3's release date is set for November 22, 2022. This means the season starts a little bit earlier than first expected. But, it does mean you will get to explore the Sunken underwater secrets on offer.
Within the Season Pass, you can expect a range of cosmetics to earn this season as well as crossovers with SpongeBob SquarePants, Skyrim, and Ultraman.
Fall Guys Season 3 trailer
Mediatonic hasn't yet released a gameplay trailer for Fall Guys Season 3, but as soon as they do, we'll be sure to add it to this section.
In the meantime, you can check out the cinematic trailer revealing some of the underwater Blunderdome action you can expect.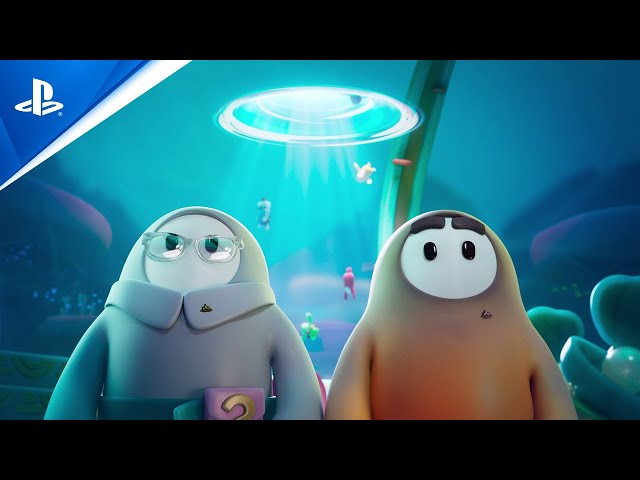 Fall Guys Season 3 stages
Fall Guys Season 3 is called Sunken Secrets and takes place underwater with a host of new levels focused on the arena. Five new rounds total have been added. These are:
Blastlantis: built from the wrecked ruins of an old obstacle course. Beans will need their sea legs under them to stay afloat the tilting pathways while being pelted with Blast Balls.
Hoop Chute: requires the ultimate belly flop to win! It's a long flume ride where you Dive Slide down the slick path, weaving through hoops to pile up points. Golden hoops are worth triple!
Puzzle Path: four labyrinths are there for you to navigate, one after the other. Follow the lines, avoid the other Beans, and make it over the finish line. But stay alert! The route isn't ever the same!
Kraken Slam: tentacles rise from the depths to smash at you, while fellow contestants stomping across the rafts will cause holes to form underfoot, and allow more tentacles to rise. Avoid a calamari calamity to take the Crown.
Speed Slider: Dive Slide down the Round, avoiding obstacles, and hoping to be the Bean with the speediest tummy.
That's everything we know about the Fall Guys Season 3 release date, as well as what stages we're going to see in the manic platformer. We've covered all the new Fall Guys Season 2 skins in another story, so you can catch up on what to expect.