The Season 3 content update for Call of Duty Modern Warfare 2 and Call of Duty Warzone 2 on PlayStation, Xbox, and PC is a lot closer than you might realise – so, it's about time we start talking about the new content being introduced to this FPS in the coming weeks. If you're a CoD fan with fond memories of 2009's Modern Warfare 2, you'll be pleased to know that it looks like MW2 Season 3 is going to introduce a couple of things you might recognise. That's right, it looks like the best MW2 map is set to return in Modern Warfare 2 Season 3 – just, not quite as you know it.
Ahead of a comprehensive Season 3 announcement, the Call of Duty team invited content creator 'FaZe Dirty' to check out some of the upcoming unreleased content. Not only has he, and Call of Duty itself, confirmed that the Intervention sniper rifle (now named the FJX Imperium) will be returning in Modern Warfare 2 Season 3, he has also seemingly confirmed that Estate – one of the best MW2 maps – is making a return. However, Call of Duty isn't directly remaking Estate for Modern Warfare 2 – like it has done Shipment and more-recently Dome. Rather, this new Modern Warfare 2 Season 3 map appears to be an amalgamation of Estate and a location from the FPS game's campaign.
If you want to know what we're on about, you just need to check out the Call of Duty teaser trailer below – and then FaZe Dirty's own video on his time testing the FJX Imperium.
As you will be able to see for yourself below, the FJX Imperium – which is an updated Intervention that aims to tap into the nostalgia this sniper rifle brings while delivering something fresh for the multiplayer experience – is going to be introduced in Modern Warfare 2 Season 3 alongside a new six-versus-six multiplayer map: Pelayo's Lighthouse.
Now, from the short teaser we see below, it's hard to tell what this map is about – we just know it's a dimly-lit environment with light drizzle and more than a handful of interiors to facilitate close-quarters combat.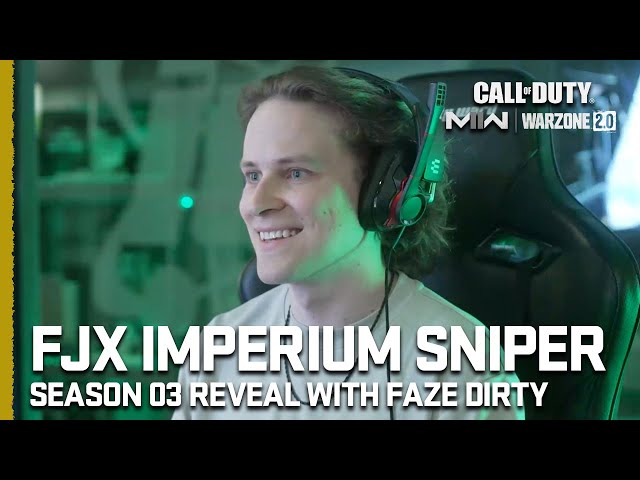 However, notable Call of Duty leakers like 'TheGhostofHope' and 'ModenasHD' both seem to suggest that this is going to be a remake of Estate – with a few changes to keep the map itself fresh. So, how accurate is that?
Well, it's certainly not completely wrong. We can't quite tell how much of Estate is being adapted for Pelayo's Lighthouse in Modern Warfare 2 Season 3, but it's not totally dissimilar. Just check out FaZe Dirty's own video below, at around the 02:25 mark, for a glimpse yourself:
Yeah, that's definitely one of the houses from Estate, isn't it?
Of course, it's worth keeping in mind that this is definitely not going to be the same map you played Mike Myers on in 2009. However, we can't help but feel that it's going to pair nicely with the FJX Imperium to deliver a quick shot of nostalgia to a game that, let's be honest, needs it.
If you're someone who needs to wrap up the Season 2 battle pass soon, you can check out our pick for the ultimate MP5 class for MW2 right here and a few other loadouts for the best Modern Warfare 2 guns available. We know a lot of this is down to personal preference, but this is one of the best competitive FPS games out there and having the right weapon builds at your disposal can make a huge difference.