It's crazy to think that we're just around the corner from the Xbox Series X and Xbox Series S release date. It really does feel like yesterday that we were caught up in all the excitement of hearing the first rumours of Project Scarlett. Now though, like many around the world, we're pumped to get our hands on what Microsoft is dubbing the most powerful console to date.
Like all new consoles, the Xbox Series X and the Series S will come with new controllers. Although Microsoft has confirmed that the old, but very capable, Xbox One controllers will still work with this generation and vice versa, the new controllers come with a new sleek design and fresh features for all to use.
Although the overall look is still in keeping with what we know and love about Xbox consoles, there are some subtle differences to the new series wireless controllers that you should know about.
So without further ado, here is everything you need to know about the new Xbox Series X controller:
Xbox Series X controller design
Whenever Microsoft refreshes its accessories, it always evolves the previous design and the Xbox Series X controller is no different. While it still looks like a classic Xbox gamepad, it's not as bulky. If anything the new wireless controller has slimmed down a bit, giving small handed gamers a bit of a boost.
In addition to that, the triggers at the back have textured rubber grips and the buttons have matte finishes giving it a really refined look. The D-pad has also been designed as a full circle, allowing you to flex big combinations without worrying about messing it up half way through.
According to senior designer Ryan Whitaker the change was all about boosting the performance of players. "When looking at the wide range of game genres and personal playstyles today, the D-pad is used in a lot of different ways," he tells the official Xbox blog. "Building on what we learned from Elite and watching how people use the D-pad, we designed a hybrid to deliver the best of both. It feels great."
As a result, the deep dish within the D-pad circle lends itself to comfort without making the angles too tricky for players to work with.
Xbox Series X controller connectivity
The new Xbox Series Wireless controller doesn't just work on your shiny new console, it works on previous generations, as well as your PC, mobile phone, and tablet. That's because the controller comes with the new Xbox Wireless and Bluetooth technology to make gaming wherever and whenever a much smoother experience for all.
The controller also comes with Bluetooth Low Energy (BTLE) which means that it'll use less energy without compromising on connectivity. This should make pairing a controller with your device much easier as time goes on.
Take a look under the hood: The Xbox Series X specs in full
Latency wise, things should be tighter too with the Dynamic Latency Input feature. This basically means that information is sent more frequently from the controller and matched with the frames on your screen. As a result, your input and movement should feel much smoother when you're running round in game.
Of course, all of these features aren't necessarily obvious features and happen behind the scenes. There are some more noticeable changes, though.
The controller will have a USB-C port to allow you to charge and play at the same time. It'll also come with a 3.5mm stereo headphone jack, so you continue to use your standard Xbox headset.
Xbox Series X controller share
We've all pulled off a 360 no scope in our time, right? So imagine if you could share that instantly with friends. With the new Xbox Series X controller you can since it has a dedicated share button that's placed slap bang in the middle of it.
You'll need to press it once to take a screenshot and hold it to capture a game clip. You can then go into your settings and share it directly from your console or phone to friends or social media.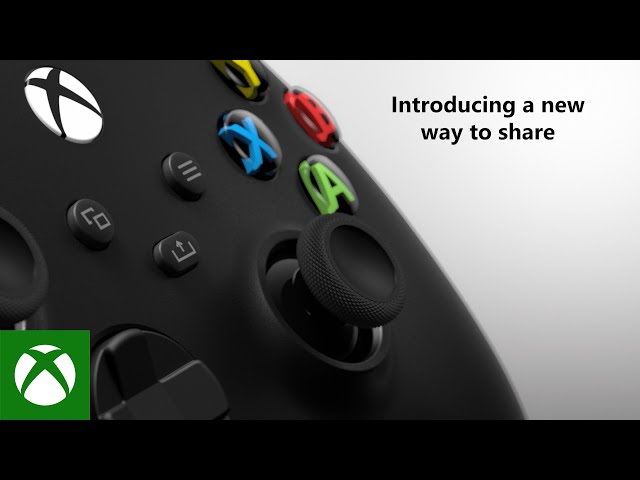 It's by no means a new feature, but it goes a long way. With gaming becoming a key way of sharing memories and moments with friends, especially in the middle of a global pandemic, having a button that does all the hard work for you is seriously understated.
Xbox Series X controller price
Like the console, the new Xbox Wireless controller can be preordered right now for $59.99 / £54.99. Since we're just weeks away from the official console launch, you might start seeing these products hit shelves soon, but they won't be officially sold in store until November 10.
That's all we know about the new controllers. Hopefully you'll be putting them to good use playing our best Xbox Series X games soon.