Valorant's Game Changers initiative has been, well, a game-changer for marginalised genders across the popular competitive FPS game's ecosystem. For the past year, top-tier talent within these gender groups from across the globe have been able to compete in a competitive circuit dedicated to giving them a safe space to grow and thrive.
There's been a solid appetite for it from an audience perspective, too. According to Esports Charts, in EMEA alone, an extra 6,000 people have tuned in at its peak on streaming platforms Twitch and YouTube between its inaugural 2021 series and the first series of 2022. Such is developer Riot Games' desire to support the circuit that it even announced back in January that this year would see the first global Game Changers LAN event, which was later confirmed to be hosted in Berlin.
To give us all a better understanding of what makes Game Changers EMEA tick, why it's important, and what Riot EMEA has in store for the region for the rest of the 2022 season and beyond, we reached out to the recently-appointed Game Changers EMEA product manager Ashley Washington.
Why is making esports and Valorant more inclusive so important to Riot?
Ashley Washington: Riot has done a lot of trailblazing in its time as a company. That work created a brilliant platform for players to connect in a variety of ways across what is now a healthy variety of titles.
With such a large platform, it just makes sense to leverage it in ways that allow us to highlight and honour the diverse player bases that have been growing around the games, Valorant especially. Valorant boasts one of our most diverse player bases! Creating competitive events and experiences that are appealing for the entire community is very much core to that desire to represent change in an industry that so desperately needs it.
We aim to truly reflect the diversity of our current player base, within the esports ecosystem, by elevating women with Game Changers.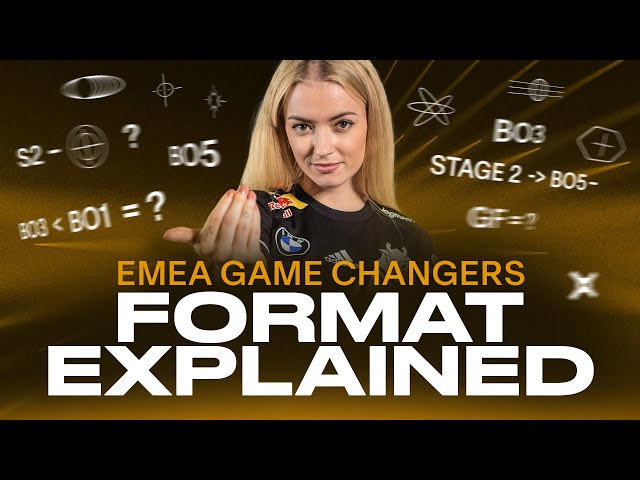 There's been a real expansion of casting talent this year, especially for Stage 2 which is great to see – why is it so important to introduce more talent to the broadcast?
The quest to increase diversity in the space doesn't end with the competition itself, this is simply the beginning. The problem exists beyond that space so the solution needs to as well. This is just another one of the many things that we can do to provide a platform for diverse talent within Game Changers.
The results of the initiative should be felt everywhere in the ecosystem–the game, the competitions, the community and the talent. In the coming iterations of the tournament, we are looking to expand our pool of talent even further and really showcase the personalities that exist in underrepresented regions within EMEA.
Viewership for Game Changers has, at least according to Esports Charts, remained consistent throughout the past year. What are some of the ways Riot EMEA is currently trying to drive an increased interest in Game Changers, and what do you think are the biggest drivers of growth?
In 2022, we have actually seen an increase in viewership from Series 1 to Series 2 of Game Changers. One of the most important things we do is explore the possibility of using different types of content to support teams and individual players to build their personal brands. Leaning into the expertise of the different regions within EMEA is also key to increase awareness and a holistic path to professional level play.
Improving our watch party strategy on an ongoing basis is also something we do to foster engagement with streamers, in order to create awareness and grow our viewership numbers.
What are some of the learnings you've taken from Game Changers EMEA this year so far, and what is your vision for it long-term?
We're looking at closing out the second year of Game Changers with our first global LAN and this is not only incredibly exciting but also highly motivating.
In terms of things we'd like to see moving forward, the normalization of mixed gender rosters is high on that list
From my perspective, we are at a key moment in Game Changers' existence where we can greatly benefit from leaning hard into the feedback that we've received over time regarding the various components of the circuit (format, inclusion, etc). It's time to focus on that insight and see where we can make a fulfilling experience even more fruitful for all involved, from the teams to the viewers and everyone making it happen in between.
In terms of things we'd like to see moving forward, the normalization of mixed gender rosters is high on that list. We do believe that, ultimately, this will be the way forward to providing underrepresented players the chance to gain that representation and prove their strength. It will hopefully also bring us that much closer to making a diverse ecosystem the standard which is the real dream, in the end.
Riot recently announced that Game Changers would be getting a major boost in 2023 as part of the new structure for Valorant esports – is there any more you can share on how this will materialise, especially with regards to training opportunities?
There isn't a lot that I can confirm just yet but I can definitely say that in addition to better highlighting the underrepresented parts of EMEA, we are also working to expand the Game Changers initiative to include opportunities for more amateur Valorant players as well. Ideally the newer experiences will also go beyond the immediate competition itself but stay posted to get the latest updates!
Is the ultimate goal for Game Changers to follow the same format as VCT will in 2023 with an international league, or will it continue to operate in its own way?
We won't be doing this kind of set up for Game Changers at this stage. For now, we want to strengthen the foundation of the series as it currently exists. Game Changers is meant to be a stepping stone for the rest of the ecosystem–we aren't interested in creating two different leagues.
We continue to encourage all Game Changers teams and players to compete in all tournaments and all organizations to scout the best players, regardless of background.
Your #VCTGameChangers Series 2 CHAMPIONS!

🏆 @G2esports 🏆 pic.twitter.com/iCHRBR1lmc

— VALORANT Champions Tour EMEA (@valesports_emea) May 8, 2022
G2 Gozen has been a vocal advocate of Game Changers – how important has this been to Riot's own promotion strategy, and will we be seeing more major orgs getting involved and adding their voices in the future?
What we can see for sure is that the Game Changers community and its fans have been enjoying the ability to participate through the lens of G2 Gozen.
I think it goes without saying that the dream is to have more major organizations getting involved with their own women's teams and I believe that G2's vocal presence here is really key to showing other orgs what the possibilities are for them as well. Just like Riot, these organizations have the platforms that will facilitate a more inclusive esports environment across the board.
Forbes recognised G2's Michaela 'mimi' Lintrup in its 2022 30 under 30 list. Why is having role models like her so important to Game Changers, not only from a branding perspective, but from the perspective of inspiring young women and non-male genders to get involved in competitive play, too?
We hope to see more "mimi"s pop up across the EMEA region
Having a strong message behind the tournament itself is one thing but, for many, it's the actions and concrete manifestations of that message that count and seeing stories like mimi's is very motivating for those who value the ability to see the results of this initiative.
We say that we provide a space and an opportunity for women to get into the game, what does that actually look like? Well, you can see it for yourself. This is worth more than the messaging and even the gesture of the tournament's existence. We hope to see more "mimi"s pop up across the EMEA region, we know those stories are out there.
G2 Gozen vs Guild X has become a firm rivalry, and is always a banger matchup that represents some of the best Valorant in EMEA. To what extent do you feel these teams (and teams across the region) have grown in terms of ability since last year?
What would Valorant esports be without some rivalry and spicy matches? We are happy to see that many esports organizations are able to provide women pro players with the support they need, in order to grow their abilities and brands.
How is Riot working with Game Changers teams to ensure they have the best environment to flourish?
Game Changers is unique to our other tournaments in that it creates a space within esports that ultimately welcomes many people who wouldn't otherwise feel comfortable participating.
This means that it is really important for us to maintain the utmost sensitivity in our interactions with teams and players as their feedback and concerns are integral to improving the current setup and it influences how we will approach the future. Checking in with players, working with them to feel empowered and equipped to present themselves as a team is a small part of that as well.
How do you see the strength of EMEA relative to other regions, especially to NA right now? (We don't mind if you're a little biased!)
It definitely depends on what you mean with "strength". I do think that we have really strong teams but the cultural diversity that defines the region is something that shines through in significant ways on all fronts. I like to think of it as a community of trendsetters that complement the vibrancy of the Valorant competitive scene really well. Also: EMEA > NA.
Do you know when we'll be hearing more about November's international LAN? And if so, are there any hints or spoilers you can share with us?
It's a busy time of year for the Valorant landscape, I would say to stay on the lookout for more news as we get through the latter part of the VCT season, Champions Istanbul specifically. All I can say for now is that we are looking forward to delivering a great offline experience for Game Changers teams and fans in Berlin. Maybe we will be able to witness some homeground wins? Looking at you G2 Gozen!