Brandon 'aceu' Winn is one of the most prolific aimers on Twitch. The former Counter-Strike: Global Offensive and Apex Legends pro made a name for himself on the platform thanks to his mix of quite frankly ridiculous movement and beautifully-crisp aim. Be it in Apex Legends or now Valorant, aceu is a walking highlight reel. Of course, if you're looking for ways to get better at Valorant, then you could mimic the aceu Valorant settings as a starting point.
Of course, locking in the aceu Valorant settings is only part of the equation. After all, the streamer has been practising his flicks and tricks for years. Between 2016 and 2019, aceu was clicking heads as a CS:GO pro, most notably for eUnited where he played alongside Sentinels Valorant star Michael 'dapr' Gulino.
After making the switch to Apex Legends, aceu was quickly snapped up by NRG, but retired from the pro scene after a year in the game. Since April 2020, he's been flexing his talents on Twitch, spending his time between Apex and Valorant, and currently commands a following of over two-and-a-half million people. Sheesh.
Aceu Valorant settings
Here are the aceu Valorant settings, including his video settings, in-game sensitivity, crosshair, and gaming setup.
Aceu Valorant crosshair
Like most players, Aceu chops and changes his crosshair from time to time. Here is the most recent aceu Valorant crosshair as of July 2022.
Colour: White
Outlines: Off
Center Dot: Off
Inner Line Opacity: 1
Inner Line Length: 3
Inner Line Thickness: 1
Inner Line Offset: 1
Movement/Firing Error: Off/Off
Outer Lines: Off
Import Code: 0;P;h;0;0t;1;0l;3;0o;1;0a;1;0f;0;1b;0
Of course, if aceu's crosshair doesn't quite do it for you, then treat yourself to one of the best Valorant crosshairs.
Aceu Valorant sensitivity
Aceu uses the following settings for his mouse:
DPI: 800
Sensitivity: 0.47
eDPI: 376
Polling Rate: 1000Hz
Scoped Sensitivity Multiplier: 1
Invert Mouse: Off
Aceu Valorant video settings
Here are the video settings currently used by aceu:
Display Mode: Fullscreen
Resolution: 1920 x 1080
Frame Rate Limit: Off
Material Quality: High
Texture Quality: High
Detail Quality: High
UI Quality: High
Vignette: Off
VSync: Off
Anti-Aliasing: None
Anisotropic Filtering: 8x
Improve Clarity: On
Bloom: Off
Distortion: Off
Cast Shadows: On
Aceu also has his Client FPS and Network RTT Avg (Max) – which can be found in the 'Stats' sub-menu under 'Video' settings – set to 'Text Only'.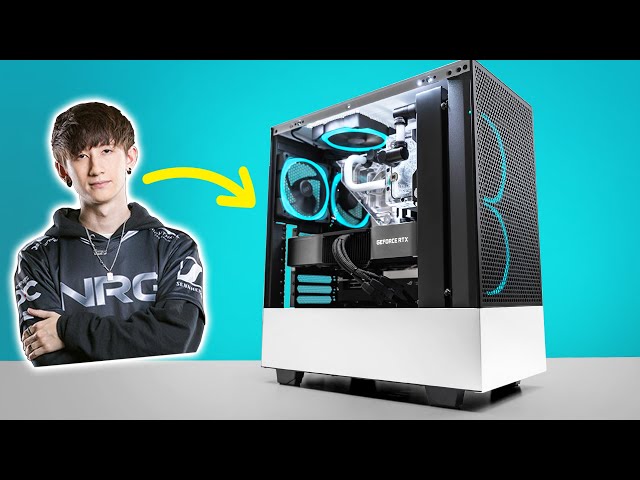 Aceu gaming setup
You can check out a scuffed tour of aceu's gaming setup here. According to aceu's Nightbot commands, here are the current specs:
Gaming PC Specs: Intel 12900K CPU, RTX 3090Ti GPU, G-Skill 32GB DDR5 6000MHz RAM, 4TB M.2 NVMe SSD
Streaming PC Specs: Intel I9-9900k CPU, RTX 2080Ti GPU, 32GB RAM
Monitor: BenQ ZOWIE XL2546 24.5″ 1080p 240Hz Gaming Monitor
Keyboard: Ducky One White on White TKL RGB LED Keyboard (Cherry MX Red switches)
Mouse: Final Mouse Starlight-12 Pegasus (small) (note: aceu uses a claw grip)
Mousepad: Zowie G-SR-SE Tyloo
Camera: Sony a7 III
Microphone: Shure SM7B
Chair: Herman Miller Embody
Earphones: Apple Earbuds
And that's everything you need to know about the aceu Valorant settings, his full setup, and anything else that might give you a boost in your Valorant ranks grind.