Riot Games' music division remains as busy as ever, pumping out everything from lo-fi bops in the form of Sessions: Vi, to yet another banger Pentakill album. But, of course, there is only one track which is on everyone's minds at this time of year – the League of Legends Worlds song.
This year's track, Burn It All Down, features US alt duo PVRIS, and regardless of if it tops your LoL Worlds song tier list or not, you can't deny it's an absolute tune.
Equally-impressive is the unbelievable accompanying video, which features some amazing animation work from Chinese studio Haoliners Animation League. The video showcases many of the world's top players entering an underground fighting league, with its central conflict taking place between DWG KIA's Heo 'ShowMaker' Su as Syndra, and Hanwha Life Esports' Jeong 'Chovy' Ji-hoon as Orianna.
There are of course some faces present, such as G2 Esports' Martin 'Rekkles' Larsson and Top Esports' Yu 'JackeyLove' Wen-Bo, who didn't make it to this year's LoL Worlds, though this is for good reason. According to Upcomer's Tyler Erzberger, the players were locked in all the way back in February to give Haoliners enough time to work on the animation. As such, players with plenty of time on the Worlds stage were prioritised.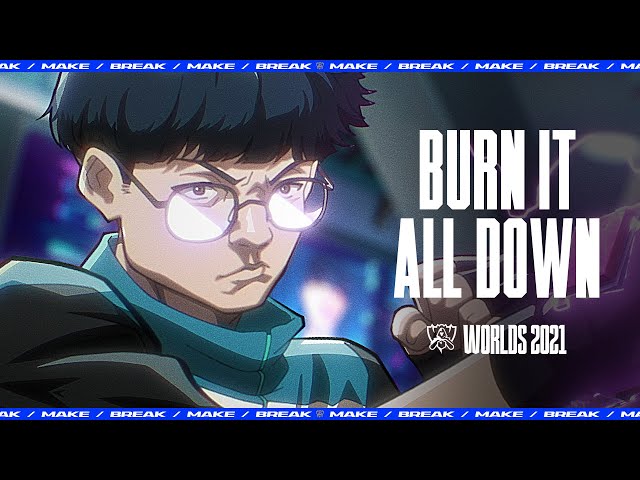 As per usual, the release of Burn It All Down was kept heavily under wraps until its first official teaser appeared on the LoL Esports Twitter page a few days ago. Two more teasers later – which can be seen here and here – and we were finally treated to the new anthem.
With the Worlds Play-In stage but a week away, we now have several days to play the 2021 Worlds song on repeat as much as possible to get even more hyped.