It's been quite the weekend for G2 Esports' League of Legends team. After being knocked down into the lower bracket by Fnatic last week, the team has had to take the long route to the 2022 LEC Spring Playoffs semifinals. Having 3-0'd both Team Vitality and Misfits Gaming to set itself up for a rematch with Fnatic on Saturday, G2 more than showed up this week.
However, as G2 jungler Marcin 'Jankos' Jankowski told us after the first series against Vitality, the team's performance on Friday wasn't too dissimilar to what we saw against Fnatic, but was helped by the fact that the team's opponent this time was "straight up worse."
Vitality's macrogame shortcomings were exposed during the final game of the series, which saw G2 make quite the comeback to close it out. By the 20 minute mark, the team was down several thousand gold, with just one kill on the board and a single outer turret taken. However, the team continued to look for trades wherever it could.
"In this situation, it's often better to go for a play than not," Jankos says. "Because if you wait for them, they will probably get the objectives and win the game. But if you try to contest, maybe you lose the game in 12 minutes instead of 40, but it doesn't matter how long the game is."
Baron Burger coming right up 🍔 #G2GO! @seasonic pic.twitter.com/q9WWkWCxVR

— Marcin Jankowski (@G2Jankos) April 1, 2022
As Jankos highlights, G2 successfully leveraged objective bounties from trading their own lives for turrets, as well as a well-timed baron steal from Jankos himself to start closing the gap. "They kept catching us, but as long as they were catching us when we still had people elsewhere, we could trade objectives. And when you have bounties, it clearly makes sense to trade objectives for the extra gold."
While Jankos initially disliked the introduction of objective bounties at the start of the season, he has gradually warmed to them, and even appreciates how they have helped shape the mentality of players in soloq.
"I feel like it's harder to lose a game that is won in soloq," Jankos says. "People tend to try harder because, well, you don't want to lose a game that is won because you know they [the enemy team] can get bounties."
For this final game, Jankos definitely acknowledges the impact of bounties in G2's comeback, though there's a feeling that the LoL gods have balanced out some sort of bounty-based karma after G2's impressive defeat at the hands of Misfits in the second round of the regular split. However, he doesn't muse on this for too long. "Overall, I don't mind them [objective bounties]. I'm just a person who adapts to how the game changes. And I'm old, so I don't care. I just play."
As a mark of both his skill and veterancy in the league, Jankos secured his 1,500th kill in the LEC during the series – an impressive milestone to say the least. However, unsurprisingly, the Pole places the pursuit of victory above his own personal accolades.
"I just want to win," says Jankos, "and as long as I win – even if I don't get any kills – I'm happy with that. I do whatever I feel is needed for me to win. As long as that's the case, I'm happy, and if I lose – even if I get a pentakill – I'm unhappy… unless of course it's like a regular season game; we can tank one game and I'll get a pentakill.
"But in the playoffs even one game can make a huge difference, so in that case I don't care about KDA. I don't care about milestones. I just care about me and my team playing well, and that we play well as a team."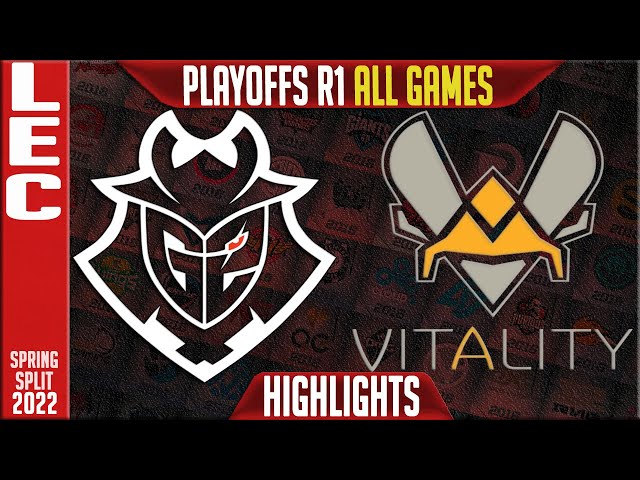 On the other side of the Rift, Vitality's players have struggled at times to play as a cohesive unit throughout their inaugural split together. Coming into the league this year as a 'superteam', the moniker ascribed to Vitality has, traditionally, been somewhat of a curse to LEC or EU LCS teams referred to as one. Be it Elements in 2015 Spring, G2 Esports in 2021, or Vitality so far this year, teams consisting of superstar players have often failed to reach their lofty expectations.
Jankos himself has either played against or been a part of all of these teams, and knows first-hand that the real superteams are often the ones greater than the sum of their parts. "The game is currently played way more as a team than as individuals," Jankos says, "so even if you have a superteam that consists of five great individuals, if you don't play well as a team, I don't think you're going to win. Vitality is a good example, and G2 in 2021 was a good example."
Reflecting on G2's successful 2019 roster which won the Mid-Season Invitational that year and made it to the Worlds Finals, Jankos attributes the team's success not only to the quality of its players, but also to how well they played together. The recipe for success, he feels, lies in "how people learn together, how people do things together, and how people perceive each other" – not just sticking five talented individuals on a team and expecting them to dominate.
So where does this leave Vitality? Well, fortunately, Jankos does believe that there is still plenty of time for them to grow together as a team – especially if the jungle meta shifts into their favour. "I feel like the meta doesn't play into their favour right now because Oskar 'Selfmade' Boderek feels way more free on carry junglers," he says.
While the meta doesn't favour carry junglers right now, Jankos will be looking to help carry his team to victory when G2 takes on Fnatic this Saturday.