Turner 'Tfue' Tenney is one of the most popular streamers in the world. He has found massive success on Twitch after slowly moving away from a career in competitive Fortnite.
Before his meteoric rise thanks to Fortnite, Florida-born Tfue was a professional player in other battle royale titles. In 2017, he represented Denial Esports as an H1Z1 pro player. Later that year, he made a switch in both game and esports organisation, joining Rogue to become a member of its PUBG roster.
In April 2018, Tfue left Rogue and joined FaZe Clan as a professional Fortnite player. In May 2019, Tfue began legal proceedings against FaZe over his contract, which he claimed violated California state law as he was technically an entertainer and not an athlete. After 15 months of lawsuits, both sides eventually reached a settlement in August 2020, releasing Tfue from his FaZe contract.
During his time at FaZe, Tfue competed both as a solo player and as part of a duo with teammate Dennis 'Cloakzy' Lepore. The pair won multiple weekly tournaments and were the victorious duo in the 2018 Fortnite Fall Skirmish Grand Finals. He also made it to the 2019 Fortnite World Cup solos final, in which he placed 67th.
Tfue was no stranger to controversy, even before his contract dispute with FaZe.
In June 2018, Tfue had his Fortnite account banned by developer Epic Games after he was said to have been selling accounts with rare skins on them, which is against Epic's terms and conditions.
He has also received a number of Twitch bans for a variety of reasons, including the use of a racial slur and for his chat behaving in a "toxic" manner towards a smaller streamer.
Despite these controversies, he has continued to attract tens of thousands of viewers to his streams and build one of Twitch's biggest communities.
Here we answer some of the most frequently asked questions about the popular streamer and former Fortnite pro.
Tfue net worth
Tfue's net worth is estimated to be in the region of $4-6 million. This takes into account his revenue from Twitch through subscribers and donations, YouTube revenue, sponsors, and earnings from competitive Fortnite tournaments.
During the legal battle between Tfue and FaZe Clan, it was claimed by FaZe's lawyers that he has made over $20 million (£16.2 million) from streaming, although this was never confirmed or verified and seems to be an overestimate.
How much does Tfue earn?
Tfue earns hundreds of thousands of dollars a year from streaming, and has also made plenty of cash from his days in competitive Fortnite too.
He currently has around 10,000 paying subscribers which, when added to the donations he receives during his streams and his Twitch ad revenue, means he'll be receiving at least $30,000 a month just from streaming.
Related: How much do the biggest streamers earn?
Tfue's YouTube channel, on which he posts vlogs and highlights from his livestreams, also generates a lot of income. With 12 million subscribers and videos regularly reaching a million views, he will likely make around $40,000 – $60,000 per month from YouTube.
Tfue will also rake in money from sponsors, people using his creator code in games like Fortnite, and even recently released a line of NFTs.
As a professional Fortnite player, Tfue has also made a significant amount of money from tournament prize money.
According to esportsearnings.com, Tfue has won a total of $611,000 from Fortnite tournaments. His biggest prize win came in October 2018 when he won the Fortnite Fall Skirmish Grand Final alongside duos partner Cloakzy. The $510,000 grand prize was shared between the two, equating to $255,000 each.
Tfue also placed 67th in the 2019 Fortnite World Cup in the solos event, netting him $50,000.
What is Tfue's streaming setup?
Monitor: ASUS ROG Swift PG258Q
Keyboard: Taeha Types Custom Keycult No.1
Mouse: Logitech G Pro
Headset: Sennheiser HD 800 S
Gaming chair: Herman Miller Embody
Webcam: Logitech Brio
Microphone: Shure SM7B
Like a lot of the big streamers, Tfue's setup includes a high-spec gaming PC, a second PC to stream, as well as top-of-the-range gaming gear and production equipment.
For gaming, he uses an ASUS ROG Swift PG258Q monitor, a Logitech G Pro gaming mouse, and a Sennheiser HD 800 S headset for audio.
Tfue recently revealed his brand new, custom-built gaming keyboard – a luxury one-off from Taeha Types – which is worth $3500 on its own.
His powerful gaming PC build includes an Intel Core I7-9700K CPU, an Nvidia GeForce RTX 2080 graphics card, and an ASUS ROG Strix Z390-E mainboard.
A gaming setup to this kind of spec would set you back around $4000-$5000 (£3200-£4000), but with the new addition of his very expensive custom keyboard, Tfue's gaming gear is likely to total much more.
His streaming gear includes a Shure SM7b microphone, a Logitech Brio webcam, and a GoXLR control panel.
Tfue's gaming chair is a Maxnomic Commander S.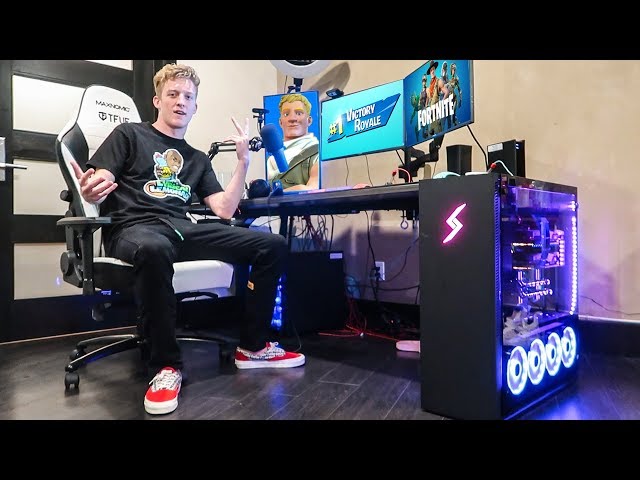 In early 2019, he posted a setup tour vlog to his YouTube channel, claiming the cost of his entire streaming setup was $20,000. However, a lot of his gear has likely changed or been upgraded since then.
What are Tfue's settings?
As Tfue is a pro Fortnite player, many want to know the secrets to his success and emulate his playstyle. Having the right settings can, on occasion, give you that edge over an opponent.
What are Tfue's Fornite settings?
Tfue uses these sensitivity settings when playing Fortnite:
X Sensitivity: 0.10
Y Sensitivity: 0.10
Scope Sensitivity: 0.30
Mouse DPI: 400
Polling Rate: 1000Hz
When it comes to display settings, Tfue has often played with his view distance and textures set to 'Epic.'
All other graphics settings, such as shadows, effects, and motion blur are all turned off or set to 'Low'.
He also plays in the 'Fullscreen' window mode with his resolution set to 100%, which will be 1920 x 1080.
When it comes to keybinds, Tfue uses SPACE to jump and LEFT SHIFT to crouch, while using the normal WASD movement keys.
Related: What is Ninja's Fortnite setup?
When building, he uses R, E, Q, and one of his thumb buttons on his mouse to bring up his various builds. He has three different binds for editing builds: the other thumb button on his mouse, scrolling the mouse wheel up, and the V key.
In combat, he aims and fires with his mouse, reloads with C, uses items and interacts by scrolling down on the mouse wheel, and has his weapon slots set out like this:
Harvest Tool: 1
Weapon Slot 1: 2
Weapon Slot 2: 3
Weapon Slot 3: 4
Weapon Slot 4: 5
Weapon Slot 5: 6
Trap Slot: F
Is Tfue on Twitch?
Yes, Tfue is on Twitch and has over 9 million followers. His channel also has around 10,000 paying subscribers.
His most watched stream was his Fortnite Chapter 2 stream on October 13, 2019, which hit 316,000 peak viewers. This follows his Fortnite World Cup qualifier on June 2, 2019 which pulled in 289,000 peak viewers.
What's the situation with Tfue's FaZe contract?
Tfue is no longer under contract with FaZe Clan after settling a long-running dispute with the organisation in August 2020.
Tfue first started legal proceedings against FaZe in May 2019, claiming that his contract violated California's Talent Agency Act as he was technically an entertainer and not an athlete. FaZe than came back at Tfue, suing him for breaching the conditions of his contract.
However, all legal proceedings between the two parties have now been settled for an undisclosed amount.