Michael 'Shroud' Grzesiek is a popular streamer and former Counter-Strike: Global Offensive professional. The Canadian, who was born in Toronto but is actually of Polish descent, really made a name for himself through streaming on Twitch. In October 2019, he moved to rival site Mixer, only to return to Twitch in August 2020 following the platform's collapse
Shroud plays a variety of games on his streams but leans more towards battle royale games and first-person shooters. His most played games are PUBG, CS:GO, Apex Legends, Valorant, and Escape From Tarkov. However, he has also put a lot of hours into GTA V, Call of Duty: Modern Warfare, and World of Warcraft.
He made a name for himself as part of Cloud9's CS:GO team. He signed for them in 2014 and left both Cloud9 and competitive CS:GO entirely in April 2018. Shroud's most notable achievement from his time at the organisation was helping his team win Season 4 of the ESL Pro League, beating SK Gaming in the finals to net him and his teammates $200,000 (£162,000).
Here we answer some of the most frequently asked questions about the former CS:GO pro and popular streamer.
What is Shroud's net worth?
Shroud's net worth is estimated to be between $8-12 million. The majority of his net worth comes from his streaming career on both Twitch and Mixer, with revenue sourced from subscribers, donations, ads, and sponsored streams. YouTube revenue and sponsorship deals also bring in extra cash.
How much does Shroud earn?
Shroud earns the majority of his income from streaming. A conservative estimate would suggest that during the peak of his popularity on Twitch he would earn roughly $80,000 (£65,000) a month from his subscriptions, although this could be much higher depending on the revenue split he had with the company.
This figure also excludes donations and money earned from ads and sponsored streams. If you add this money to the total his subscribers bring in then the figure goes beyond $100,000 (£81,000) a month.
Shroud moved to stream exclusively on rival platform Mixer last year, but his time on the Microsoft-owned site has come to an end. Although his following was smaller than the massive community he built on Twitch, he still would have made a decent amount of money from each stream. It is likely he was also offered a lucrative contract by Mixer to move over to the platform.
Related: Who's on top on our biggest female streamers list?
Shroud also has a YouTube channel with over five and a half million subscribers and over half a billion total video views. His videos average around 500,000 views each, which would see him earn in the region of $400,000-$500,000 (£320,000-400,000) over the course of a year.
Additionally, there are a number of big name brands that sponsor Shroud, including Logitech and clothing brand J!nx, with which he has an exclusive collection of merch. These deals will also bring in extra income and add to his net worth.
Forbes estimates that in 2019 Shroud made around $12 million in total.
What is Shroud's streaming setup?
Shroud has a high spec streaming setup that, in total, would cost somewhere in the region of $6,000-7,000 (£4,800-5,700).
His gaming PC build uses an Intel I9-9980XE processor. For his graphics card, he has an NVIDIA GeForce RTX 2080Ti. His motherboard is the Gigabyte X299 Designare EX and he has 128GB of Corsair Vengeance RGP Pro RAM. This is all packed inside an Acer Predator Orion 9000 case.
Game like shroud:
For his gaming gear, Shroud uses a BenQ ZOWIE XL2540 240Hz monitor, a wireless Logitech G Pro Ghost gaming mouse, and mechanical keyboard. He also has a Logitech G Pro X headset, but he uses the Shure SM7B microphone to record his voice, instead of the headset's microphone. He also uses a HD Pro C920 webcam.
Shroud doesn't use the kind of chair we're used to seeing on gamer's streams. No noblechairs or DX Racers here; he uses a Herman Miller Aeron office chair.
What are Shroud's settings?
Shroud is one of the best streamers out there to watch if you want to pick up some tips for FPS and battle royale games.
Along with natural skill and a lot of practise, knowing the inner workings of the game and how to tweak the settings to your playstyle is essential, so if you want to play like Shroud then you'll need to know his settings too.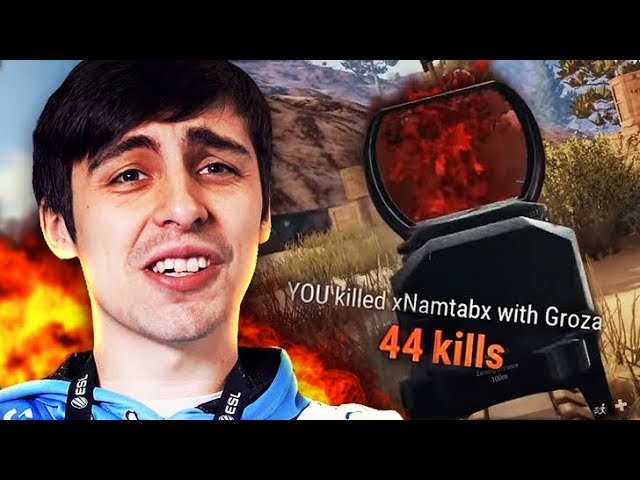 What are Shroud's PUBG settings?
PUBG is one of Shroud's most streamed games and many viewers want to emulate the way he plays.
For his display settings, Shroud turns the majority of graphics options – such as foliage, shadows and effects – to 'very low'. The only exception to this is his textures, which he sets to 'high'.
He plays with the view distance at 'very low' and sets his field of view to 102. His resolution is set to full (1920 x 1080) and his brightness is at 81.
Shroud's mouse settings are as follows:
DPI: 450
Polling Rate: 500Hz
General Sensitivity: 55
Vehicle Sensitivity: 55
Targeting Sensitivity: 55
2X, 3X, 4X and 6X Scope Sensitivity: 50
8X and 15X Scope Sensitivity: 47
Shroud's keybinds for movement are the usual WASD keys. But he uses LEFT ALT for walking, B for prone, clicking the scroll wheel in for auto run, and C and V to peek left and right respectively. He also uses one of the thumb buttons on his gaming mouse to enter freelook.
He uses Q to change fire modes, while SHIFT and the number keys 1, 2, 3, or 4 are used for healing items and consumables.
He also toggles his camera using M and uses E for his map.
What are Shroud's Apex Legends settings?
Shroud is a regular Apex Legends player and fans of his streams have seen some incredible plays in King's Canyon.
For his display settings, he keeps the model detail set to 'high' but turns all other graphics options like shadows and effect details to 'low' or disables them.
Shroud's mouse settings are as follows:
DPI: 400
EDPI: 1200
Polling Rate: 1000Hz
Mouse Sensitivity: 2.9
For keybinds, he has the standard WASD keys bound to movement, uses LEFT SHIFT for sprinting, C for crouching, and SPACE for jumping.
Q is used for a hero's tactical ability, while the key he uses for the ultimate ability varies between Y, X, or one of the thumb buttons on his gaming mouse.
In combat, he aims and fires with his mouse, toggles fire mode with B, reloads with R, melees with V, and cycles through his weapons using the mouse wheel.
What are Shroud's CS:GO settings?
As a former pro player, everyone wants to know Shroud's secrets to becoming one of the best at CS:GO.
There are a whole host of options, settings, and keybinds you can change in CS:GO, but here are the main ones you'll need to know.
For display settings, Shroud plays on full 1920 x 1080 resolution, has his scaling set to "Stretched" and turns off Vsync. His field of view is set to 68.
He uses crosshair style 4 and sets the size to 3.5, the thickness to 1.5, and the gap to -2.
Shroud's mouse settings are as follows:
DPI: 400
EDPI: 1000
Polling Rate: 1000Hz
Game Sensitivity: 2.5
Windows Sensitivity: 6
Zoom/Scope Sensitivity: 1
Basic movement keybinds are WASD for moving, scrolling down on the mouse wheel to jump, and CTRL to crouch.
In combat, Shroud uses R to reload, E to use items, and G to drop items. His ten equipment slots are allocated to the following keys:
Slot 1: 1
Slot 2: 2
Slot 3: 3
Slot 4: 4
Slot 5: 5
Slot 6: C
Slot 7: X
Slot 8: Z
Slot 9: 9
Slot 10: SPACE
He uses B to bring up the buy menu and has dozens of keybind shortcuts to buy specific weapons and grenades.
WHAT ARE SHROUD'S ESCAPE FROM TARKOV SETTINGS?
Escape From Tarkov is quickly becoming one of Shroud's favourite games. His skill in game has led to many players wanting to replicate his settings. We don't have a full settings guide just yet, but this is what we know so far.
Shroud plays with custom graphics settings – his textures are on high, shadows on low, and object LOD is set at two. His V-sync is off, overall visibility is set at 400, shadow visibility at 40, sharpness at 0, and anti-aliasing on TAA.
Shroud's custom binds are as follows:
Toggle tactical device: Press mouse 4
Switch tactical device: Double click mouse 4
Throw grenade: Double click G
Check ammo: Press T
Fire mode: Double click B
Check fire mode: Press B
Change aim scope: Press mouse 3
Change aim magnification: Double click mouse 3
WHAT ARE SHROUD'S valorant SETTINGS?
Like most streamers out there at the moment, Shroud is playing a lot of Valorant right now. Shroud plays with custom graphics settings – his material, texture, and detail quality are all on high, UI quality is on low, and distortion, vignette and shadows are turned off. His V-sync is also disabled.
Shroud's mouse settings are as follows:
DPI: 450
EDPI: 351
Polling Rate: 1000Hz
Game Sensitivity: 0.78
Windows Sensitivity: 6
Zoom/Scope Sensitivity: 1
Shroud uses mouse wheel down instead of space bar to jump, F to use objects, and X to use his ultimate ability.
Shroud's Valorant crosshair settings are as follows:
Colour: Cyan
Outlines: Off
Center Dot: Off
Inner Lines: 1/8/2/3
Outer Lines: 0/0/0/0
Movement/Firing Error: Off
Is Shroud on Twitch?
Yes, Shroud has returned to Twitch following the shut down of Mixer. After initially leaving Twitch in October 2019 for a lucrative streaming deal, he's now back and streaming on Twitch after Microsoft announced it would be pulling the cord on the platform.
Shroud has the third most followed channel on Twitch with over 7.1 million followers.
Is shroud on Mixer?
No, Shroud does not stream on Mixer anymore.
He announced on October 24, 2019 that he would leaving Twitch to join the rival streaming site. In that time he's gained over one million followers on the site, but his efforts have been in vain.
Same shroud. New home.https://t.co/eZV2GBBSsY pic.twitter.com/AHaajkjees

— Michael Grzesiek (@shroud) October 24, 2019
Microsoft announced it was going to close Mixer on July 22, 2020, moving all its streamers over to Facebook Gaming. Reports indicate that Shroud was offered double his Mixer contract to move to Facebook Gaming, but it's widely believed this offer was turned down.
Is Shroud with Cloud9?
No, Shroud is no longer a part of Cloud9.
He joined Cloud9's CS:GO roster in 2014 but hung up his boots in April 2018, leaving both the organisation and CS:GO esports behind him to focus on streaming.
That turned out to be a pretty good decision, with Shroud becoming one of the gaming world's favourite and most diverse streamers.