It has been almost a year since Spongebob Squarepants The Cosmic Shake was announced and after an extended period of silence August 12, 2022, is a day that will be remembered! We just got our first look at Spongebob Squarepants The Cosmic Shake gameplay, which is focused on platforming across the various Wishworlds Spongebob and the crew will explore.
The gameplay trailer, which stitches together a number of levels it looks like, shows off a number of different ways you will traverse the worlds in the game. One level has you hiding from a giant Gary, who is angry and suffering from a sugar rush after eating candy bars, while another level has you travelling back to the prehistoric era and sliding down mudslides.
We also get smaller glimpses at traversal options like bounce pads and Spongebob using a pizza box as a glider.
Combat also is looking slick, like with Purple Lamp Studios' remake of Spongebob Squarepants Battle For Bikini Bottom Rehydrated. Dodges and attacking bosses look enjoyable and the bright visuals really pop.
If you aren't caught up on the story of The Cosmic Shake, Mermaid's Tears have fallen into the hands of Spongebob and Patrick and they end up tearing apart the fabric of reality. This opens up portals to various Wishworlds filled with knights, cowboys, prehistoric people and creatures and more. The goal? Rescue your friends and get back to Bikini Bottom.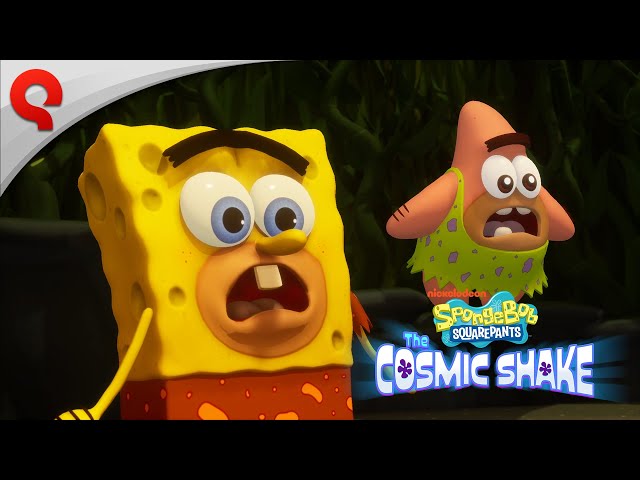 The game still seems like it has a bit of a way to go before release, but the gameplay looks excellent and hopefully will end up being better than what was done with the original release of Battle For Bikini Bottom back two decades ago.
Set to release on PS4, Xbox One, PC, and Nintendo Switch, we still have a while until the Spongebob Squarepants The Cosmic Shake release date, so you will have to be patient before you can take a trip back to Bikini Bottom.