Rocket League developer Psyonix has announced that it is branching the series out into the mobile market. Rocket League Sideswipe will see the hugely successful vehicular soccer game make its way to iOS and Android later this year.
According to the studio, Rocket League Sideswipe will see players "compete in fast-paced, two minute, 1v1 or 2v2 matches." Psyonix also boasts "intuitive touchscreen controls that make [Sideswipe] easy to pick up and play," for both newcomers and seasoned Rocket League veterans alike. From the screenshots we've seen so far, Sideswipe looks to pack much of the glitz and glamour we've become accustomed to in its big brother.
While most won't be able to get involved until regional betas are launched later this year, a limited alpha test is now available to players with devices supporting Google Play in Australia and New Zealand. Fans of high-speed car-ball action down under will be able to get their hands on Rocket League Sideswipe from 10:00 PDT on March 24 (04:00 AEDT on March 25).
The screenshots also show that Sideswipe will have full car customisation, different Arenas, and different game modes – including fan favourite basketball-style Hoops mode.
At this stage, customisation seems limited to wheels, toppers, trails, paint finish, and goal explosions. Different car bodies are definitely available, but seem to be chosen on a different screen.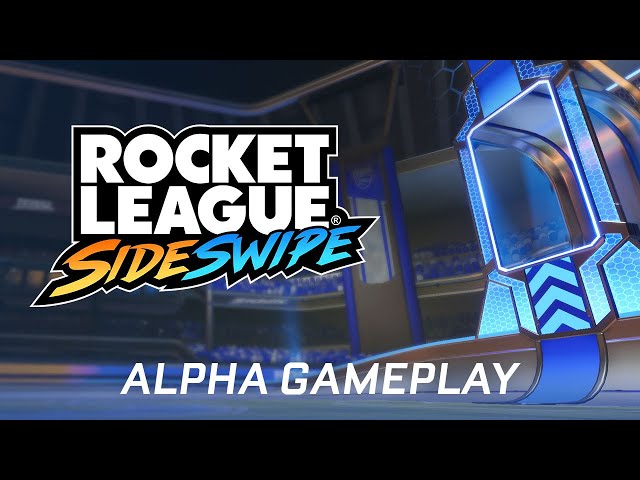 The addition of a whole new game for mobile players means they won't be queueing up in lobbies with console and PC players, and the focus on shorter matches with smaller teams will hopefully keep players engaged for the duration of a game session.
If you're a fan of Rocket League and want to stay always on the move, Sideswipe promises "intuitive touchscreen controls" so you can take the action on the road.
More information on Rocket League Sidesweep can be found in the latest official Rocket League blog entry here.